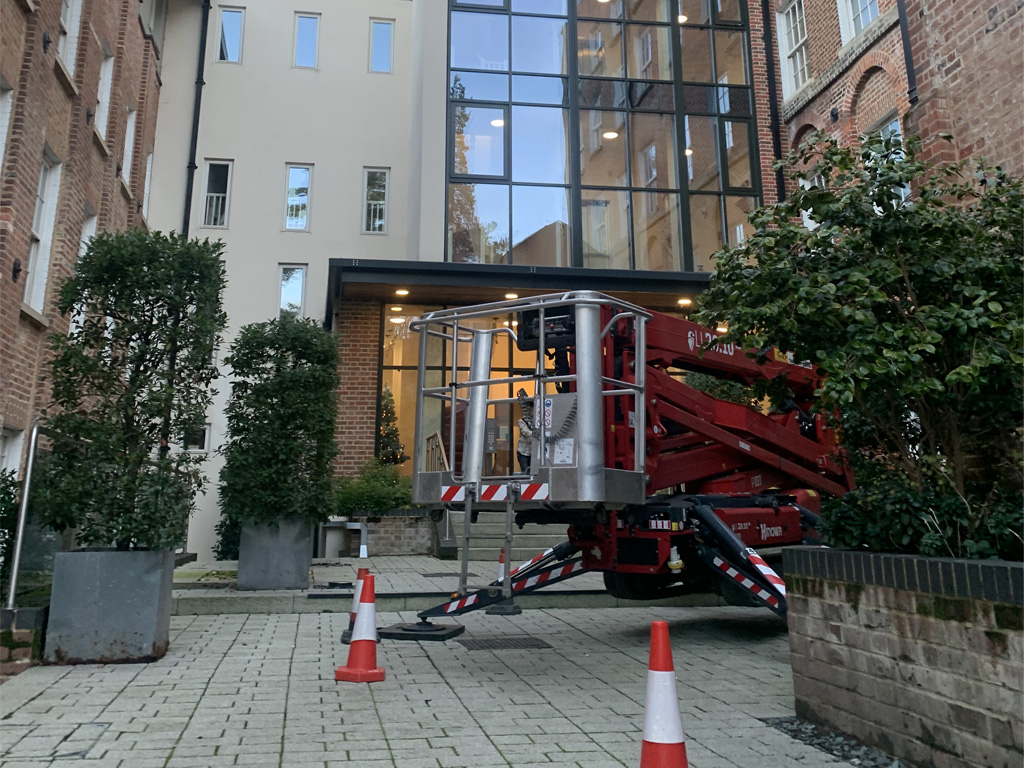 A building maintenance specialist has put the capabilities of its Hinowa Lightlift 20.10 Performance IIIS spider boom to perfect use to clean gutters and carry out repairs at a large apartment block.
C&A Maintenance and Access was tasked with the project and, after carrying out a site survey, selected its Hinowa Lightlift 20.10 as the ideal platform for the challenges its operatives faced during the project in Norwich, Norfolk.
The spider platform was supplied by Access Platform Sales, the UK and Ireland distributor for all Hinowa products.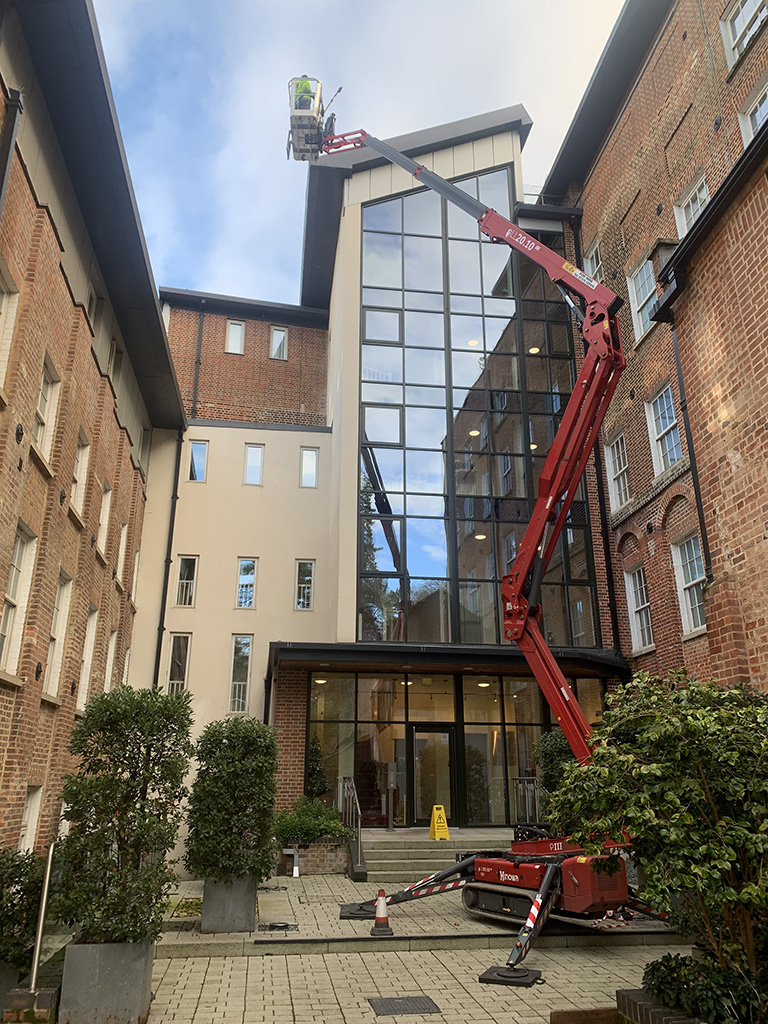 Narrow tracking width
C&A Maintenance and Access Director Aaron Freeman said: "We had to work in small courtyard which we could only access through a narrow passage and up a set of steps.
"This made the Hinowa spider platform the best option. Its tracking width of 790 millimetres and rubber tracks meant it could handle all the access challenges we faced with some ease.
"We had to boom over some lower roofs to reach the gutters we were working on, and the Hinowa 20.10's 9.7m outreach meant we had more than enough reach to get there.
"It also meant we could work on multiple locations without having to reposition. Also, the very flexible fly jib on the Hinowa Lightlift range made it easier to position the basket to safely reach every point on the block we had to work on.
"Once set up, we could also operate the platform with mains electricity which eliminated fumes and greatly reduced noise levels in what was a quite constrained space, so residents were happy as well."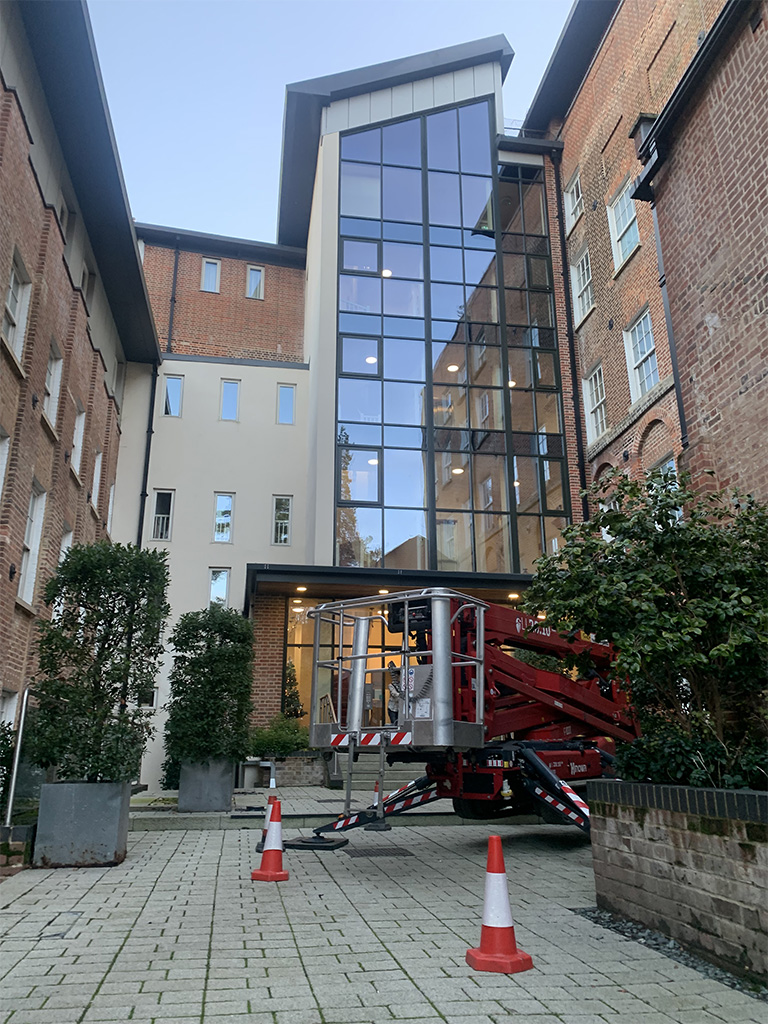 Unrestricted basket capacity
The Hinowa Lightlift 20.10 spider cherry picker operated by C&A Maintenance and Access has both a Kubota Z602 diesel engine and can be operated on 110v mains electricity.
It has a maximum working height of 20.15m and an unrestricted basket capacity of 230kg. This means it allows two-person operation at all points of its working envelope.
Compressed air and water supply to the basket also support maintenance projects – and the platform can be towed on a compact 3.5t trailer by a van or 4x4 vehicle with a standard car driving licence.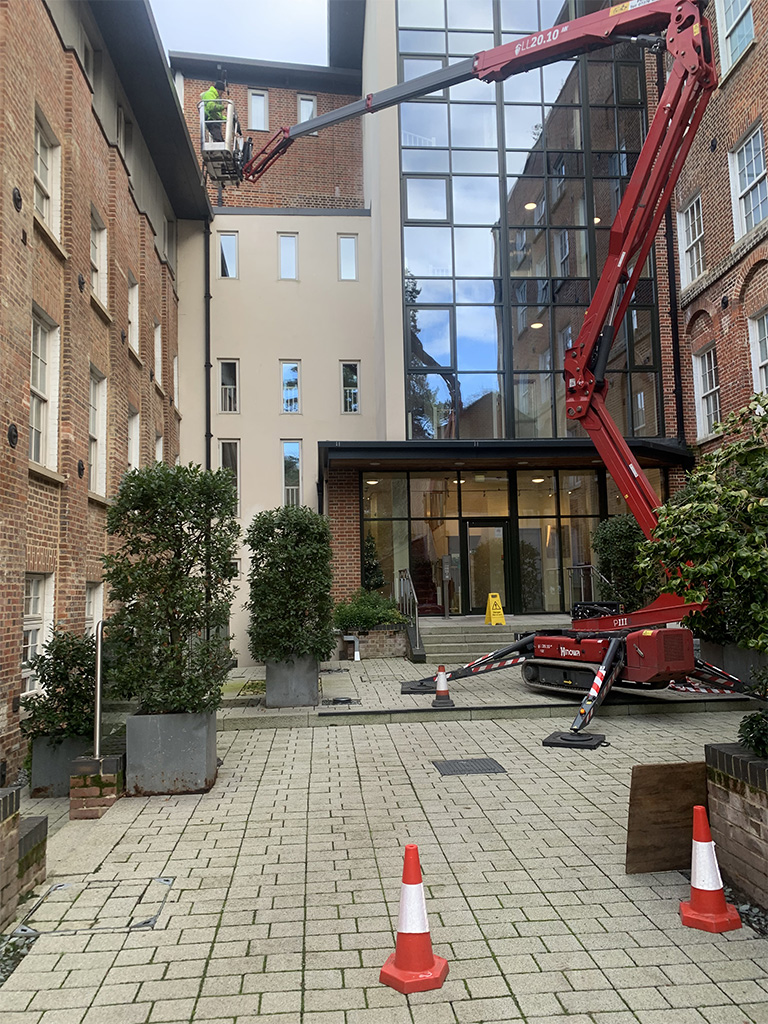 'Excellent' APS service
Aaron Freeman added: "A significant advantage when using Hinowas is being able to work with APS, which provides excellent after-sales support and technical advice. Their customer service is second to none."
C&A Maintenance and Access, a family-run business established in 2017, operates a fleet of MEWPs, which also includes a Hinowa Lightlift 17.75 Performance IIIS.
It provides operated MEWP hire services across East Anglia and Greater London.
Find out more about the Hinowa range of spider boom lifts – with working heights from 13m to 33m – and a range of power options, including all-electric lithium battery platforms.
Talk to APS today. Telephone 01482 891251.