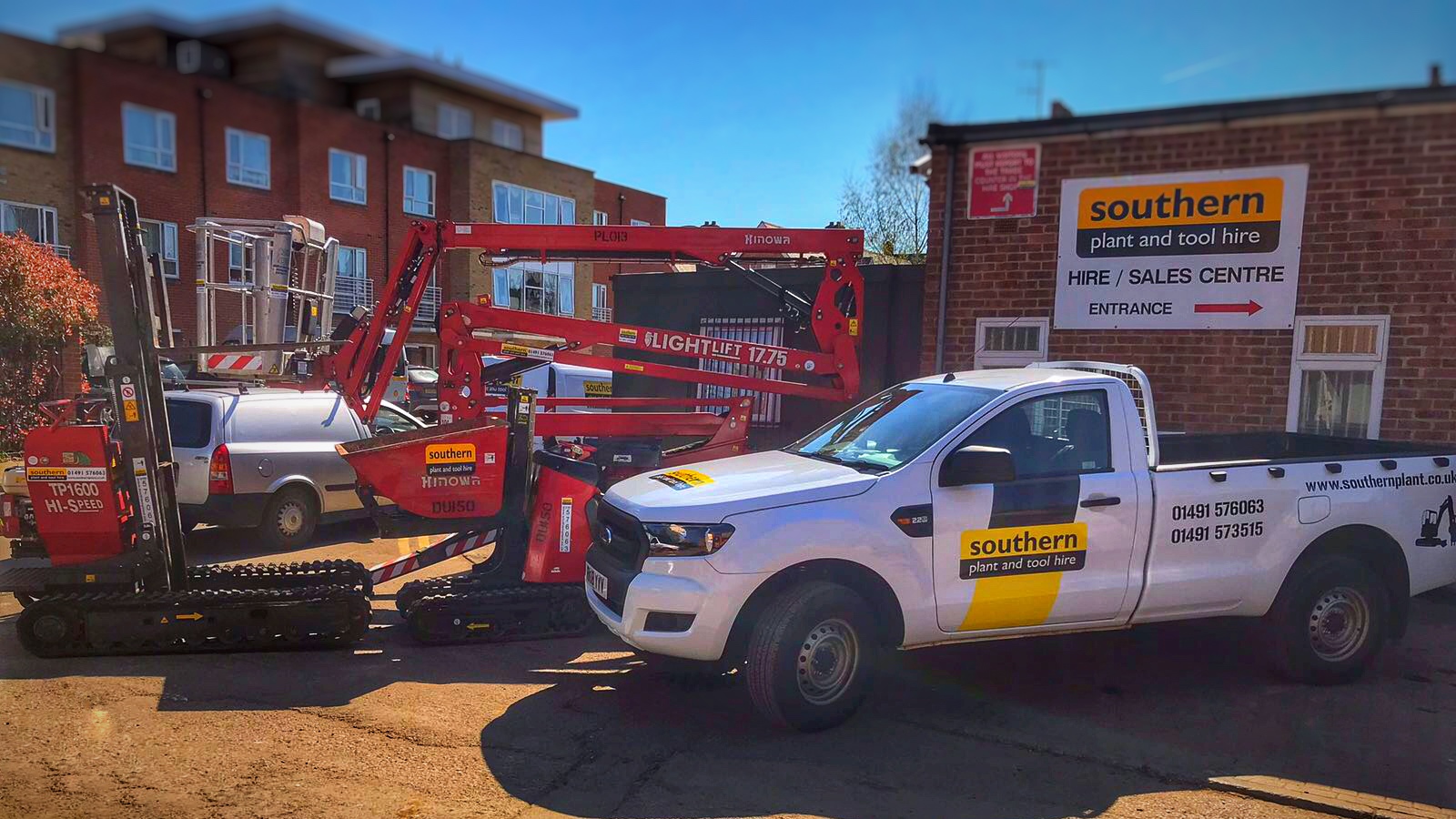 A plant hire company marking 30 years in business has expanded its fleet, with the addition of a Hinowa tracked forklift.
Southern Plant & Tool Hire has invested its second Hinowa TP1600 machine, to meet customer demand. With a lift capacity of up to 1,600kg, the Hinowa TP1600 makes light work of lifting heavy and bulky loads. This stand-on tracked forklift has superb rough terrain capabilities, thanks to hydraulically-widening axles for extra stability.
Weighing just 1,330kg, and with compact dimensions including a width of just 1.24m, it can be easily towed on a trailer. With a maximum lifting height of 1.78m, the TP1600 is deal for construction, farm, horticulture and estates management applications.
Vincent Rose, director at Southern Plant & Tool Hire, said: "The TP1600 is quite a specialised piece of kit, but is pretty popular with our core customer base of builders and landscapers.
"We invested in a second machine due to increased customer demand, and also as part of our policy of continually refreshing the fleet so that our clients benefit from modern and reliable machines."
The TP1600's are part of a growing fleet of Hinowa machines at Southern Plant, including Hinowa 14.70 and Hinowa 17.75 tracked booms; and four Hinowa HS701 mini-dumpers. The company purchased them all from Access Platform Sales (APS), the authorised UK distributor for Hinowa. APS provides nationwide sales and after-sales support for Hinowa products. This includes replacement parts, expert technical support, and refurbishment or part-exchange of old machines.
"We have run the Hinowa mini-dumpers and tracked booms for some years now," added Vincent. "The build quality is always excellent and our customers like the ease of operation. The mini-dumpers are very compact and work extremely well in tandem with our Kubota mini-excavators.
"The booms are well-liked by tree surgeons for working at height, and we'll be adding another Hinowa tracked boom to our fleet in due course."
Founded in Henley-on-Thames in Oxfordshire in 1988, the company is known throughout the Thames Valley as experts in plant and tool hire.
"We're proud to be celebrating 30 years in business," said Vincent. "Our philosophy has always been about building long-term, sustainable relationships. Our customers trust us because they know we'll give them the right advice and the right machines, every time."