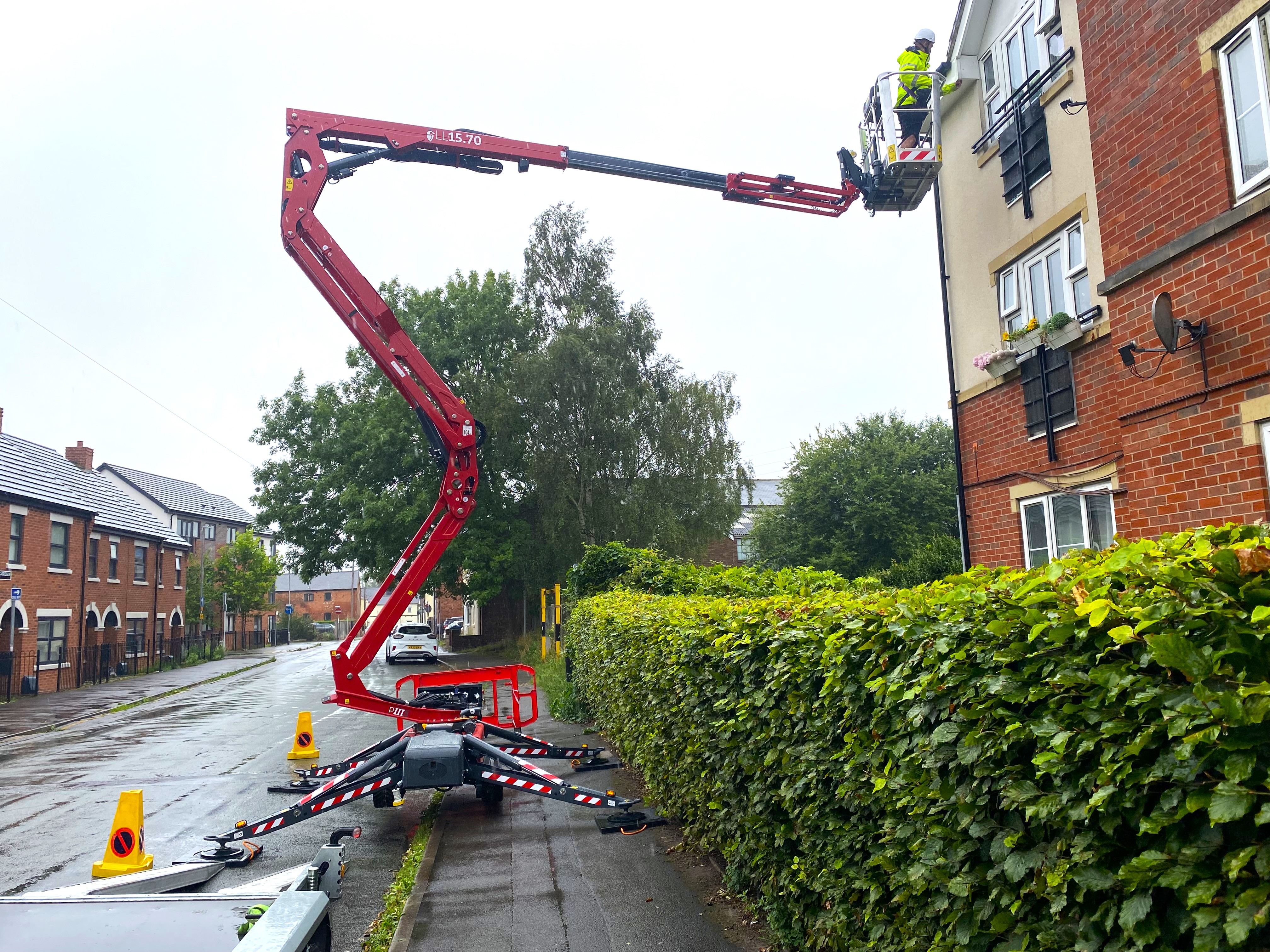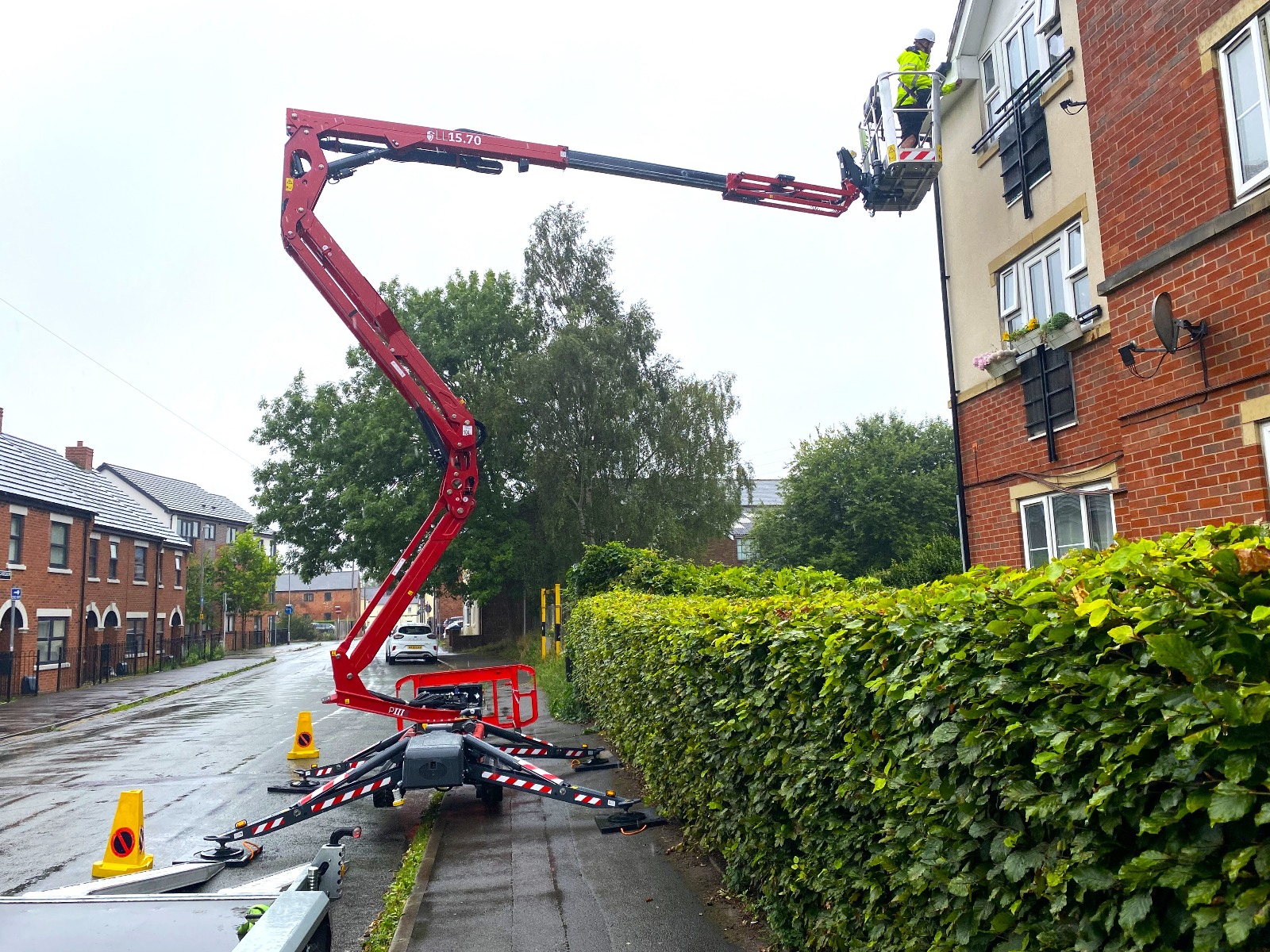 A housing association has begun using its own Hinowa spider lifts to carry out high level maintenance and says the benefits to its operations are already exceeding expectations.
Access Platform Sales (APS) supplied Bromford Group with two Hinowa Lightlift 15.70 Performance IIIS articulating spider cherry pickers to carry out a wide range of high level maintenance tasks.
The social housing landlord calculated the investment would save it £350,000 a year while improving its repair service for customers and the overall quality of the building fabric of its high-rise homes.
Savings achievable
Just two months in to operating the Hinowa Lightlift 15.70 spider lifts, members of Bromford's maintenance team are already very impressed.
Bromford Maintenance Manager Steve Brookes said: "The new platforms have already exceeded expectations. Having our own spider lifts is achieving what we set out to and more.
"They've been helping us to respond quickly to urgent calls for assistance at a time when unseasonably wet weather is generating calls about leaks that inconvenience customers and can cause expensive damage.
"We're certainly pleased, so far, with how the Hinowa spider lifts are helping us. It's giving us confidence that the savings and maintenance service uplift we want should be achievable."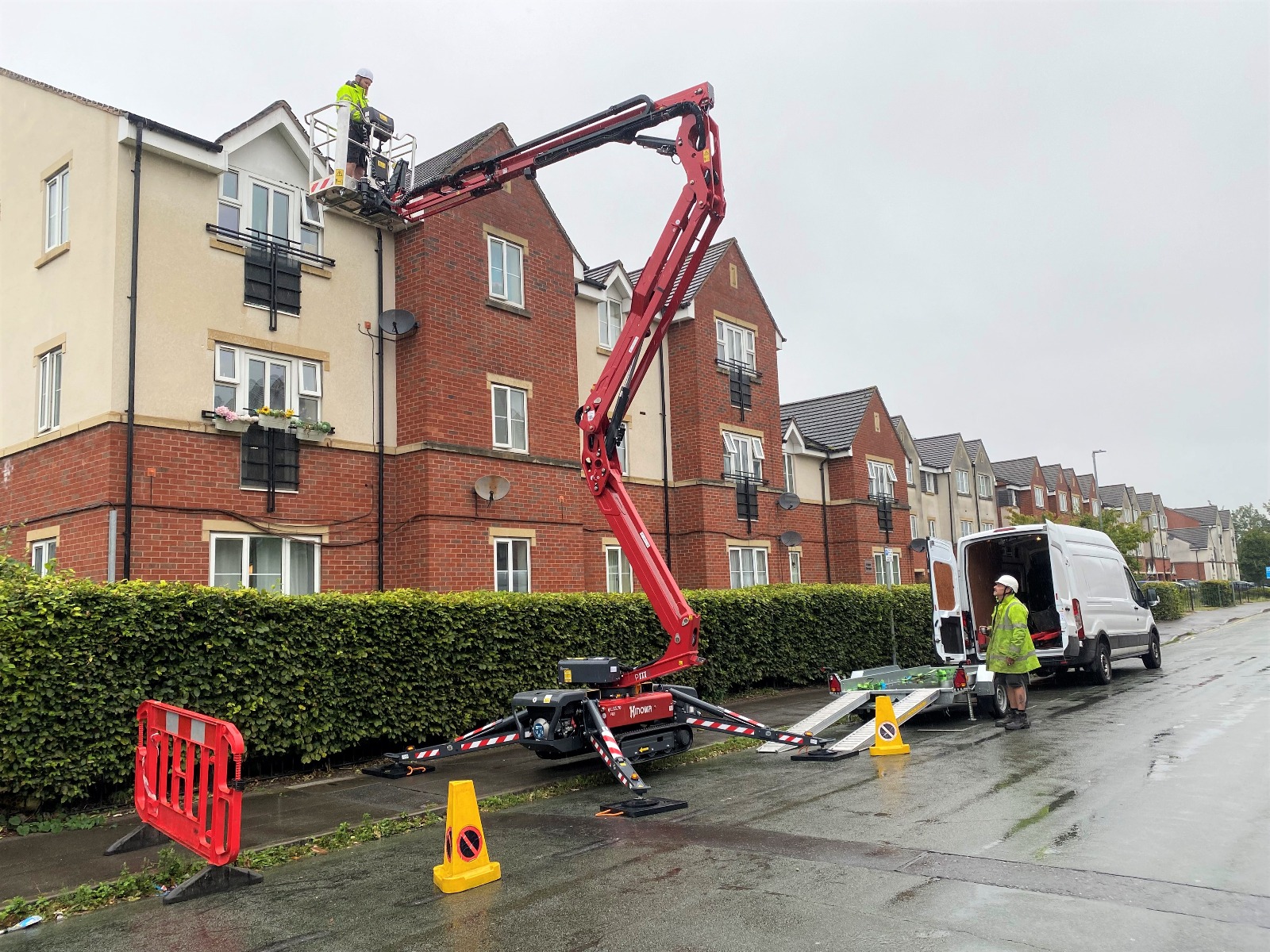 Roof inspection
Bromford manages 46,500 homes across central and south west England, providing places to live for 110,000 customers, making it one of the largest social housing groups in the UK.
After APS, the UK and Ireland distributor for Hinowa, provided familiarisation training, Bromford has located one spider lift in the West Midlands and the other in Gloucestershire.
The MEWPs will be used to carry out around 1,300 high level maintenance tasks every year that had previously been completed using hired in spider-lifts. They will also be available, if housing maintenance schedules allow, for tree management plus gas flue inspection and installation.
A roof inspection task at a three storey block of flats in Stafford, Staffordshire, illustrated the advantages the Hinowa spider lifts are giving Bromford's maintenance teams.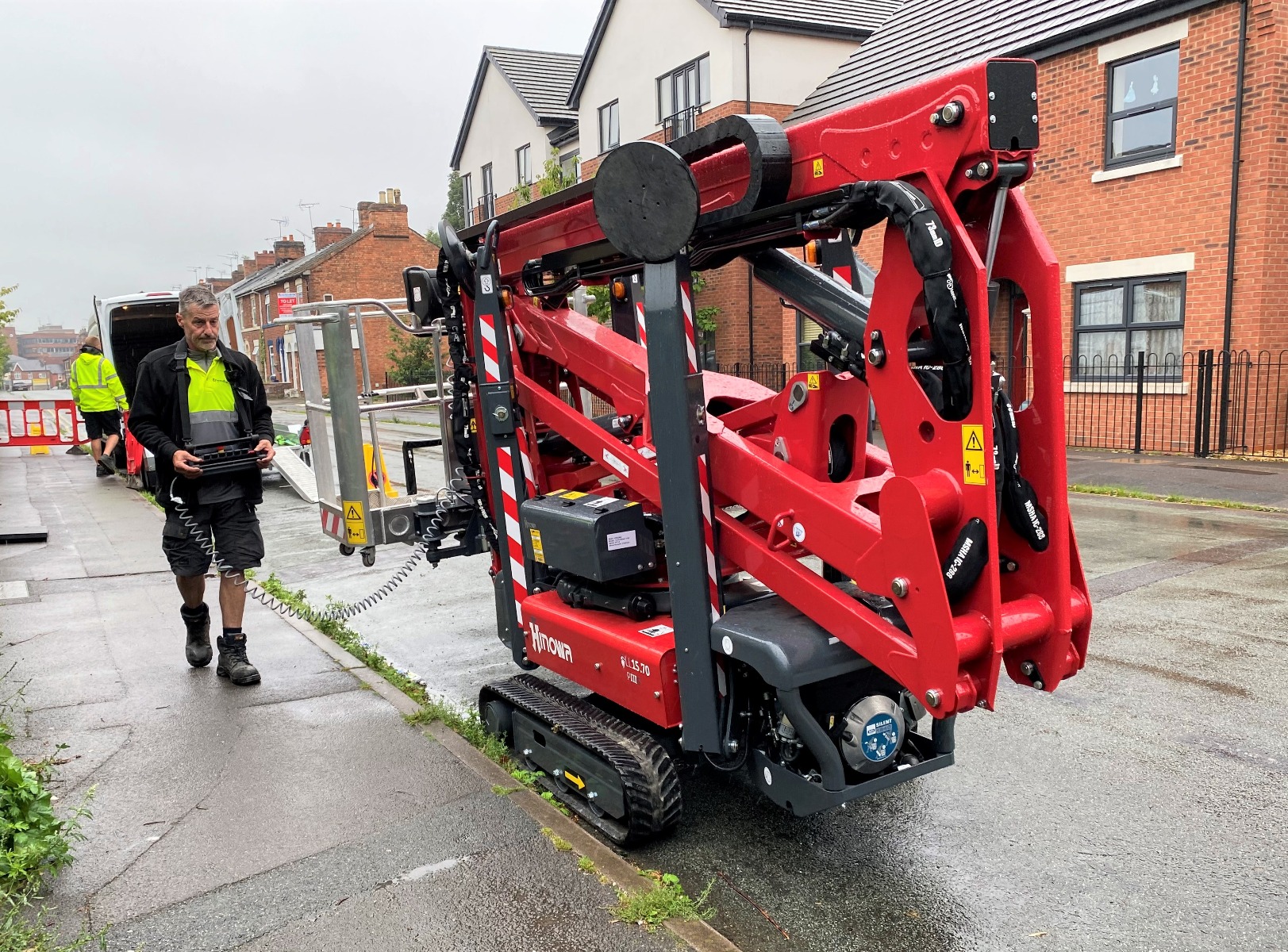 Customer satisfaction
A customer had advised the housing association of water ingress near a window. Within minutes of the Hinowa 15.70 arriving on the scene, a roofer had used it to carry out an external inspection.
This found that a possible entry point for water into the property via a roof drainage channel. Remedial work was planned. The solution could then be monitored to make sure the leak had stopped.
Tony Allingham is operating Bromford's Hinowa spider lift in the central England region. He said: "If we'd not got the Hinowa, we'd have had to hire in a platform or scaffold the building.
"Both take longer and tenants don't like their homes being scaffolded. We can now carry out more assessments on the first visit, so first time fixes will go up and customer satisfaction should go up as well."
Zero-emissions working
The Hinowa Lightlift 15.70 spider lift has a maximum working height of 15.4m and a maximum working outreach of 6.6m, allowing it to operate from the roadside over fences and hedges, as was done for the Stafford roof inspection task.
With a travel width of 780mm and stowed height of 1990mm, the platform is compact enough to be tracked through side gates, down garden paths and into enclose courtyards. Basket capacity is an unrestricted 230kg.
Bromford has selected the bi-energy diesel and 110v mains electric powered version. This means it can be operated on electric power in areas where low-noise and zero-emission working is needed, for example, indoors or close to sensitive sites, such as hospitals, care homes and schools.
Caption: Bromford Maintenance Manager Steve Brookes (L) and Maintenance Operative Tony Allington (R) – they say their Hinowa spider platforms have exceeded expectations.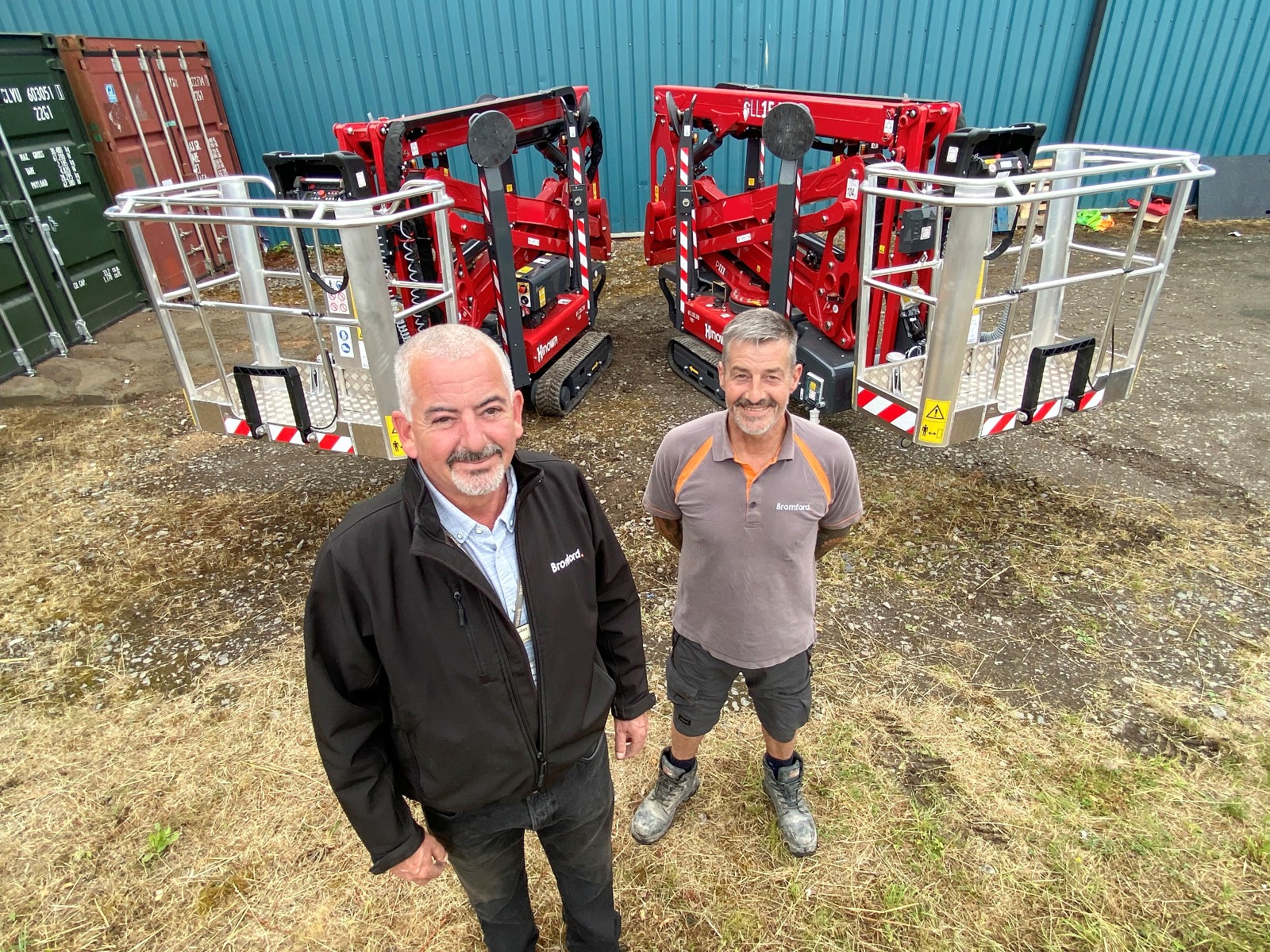 Caption: Bromford Maintenance Manager Steve Brookes (L) and Maintenance Operative Tony Allington (R) – they say their Hinowa spider platforms have exceeded expectations.
Maintenance support
APS can also supply the platform with all-electric lithium batteries.
Bromford transports its spider booms on 3.5t trailers, supplied by APS, which allow them to be towed behind a van or 4x4 vehicle using a standard driving licence.
APS is providing a full ongoing LOLER inspection and maintenance service, backed by a fleet of mobile engineers, so Bromford's platforms are kept in the best possible condition.
Find out more
Talk to APS today about the power of Hinowa spider platforms to transform high level housing maintenance – reducing costs, improving outcomes and customer satisfaction, and boosting sustainability.
We can supply spider cherry pickers with working heights from 13m to 40m – including a range of lithium battery all electric versions.
Telephone: 01490 891251. Email: sales@accessplatforms.co.uk.