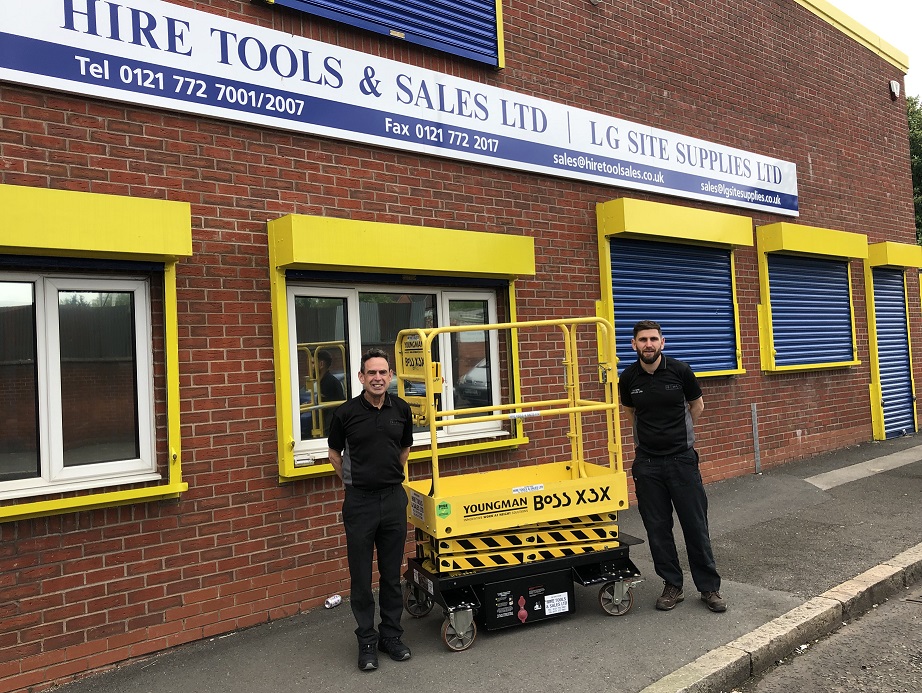 A Youngman BoSS X3X scissor lift offered by Access Platform Sales in a prize draw has been won – and has gone straight out on hire.
APS ran the competition to win the highly popular push-around low-level powered access machine on its website and during Vertikal Days. The winner was Hire Tools and Sales in Birmingham where the hire team sent the machine straight out to a customer.
Hire Tools and Sales Managing Director Roy Gardner said: "We were delighted to have won, not just because the BoSS X3X is a great scissor, but because we had a hire customer who wanted one on the day we took delivery. It's now being used to support maintenance work in a student accommodation block at Warwick University in Coventry."
APS Managing Director Steve Couling said: "It's great to hear that Roy and his team at Hire Tools and Sales are already putting their new BoSS X3X scissor lift to such good use. These are high performing and very robust machines that deliver safe and productive service in equal measure when working at low height."
The battery-powered BoSS X3X has a maximum working height of 5.2m and a travel width of 0.76m. It is the slightly larger version of the BoSS X3, which has a maximum working height of 4.6m and a travel width of 0.70m.
Roy runs Hire Tools and Sales with his son, Lee. He had no doubt his new BoSS X3X would be popular with customers because he had more than 40 BoSS powered access machines already. Roy explained: "We've been stocking BoSS X-Series scissor lifts for five to seven years now. They are among our most popular machines.
"Because they are seen on so many worksites and do such a good job, they sell themselves. We always get calls from people saying, 'I saw one of your BoSS X3Xs on a job, can you supply us with some?'"
Many customers have moved across to the BoSS X3 and X3X after previously using scaffold towers. The push-around scissor lifts are faster to move about and set up, greatly improving productivity.
The prize BoSS X3X was delivered at the same time as two other BoSS X3 scissor lifts bought by Hire Tools and Sales, and both of those also went straight out on hire, to a site in Cambridge.
Roy said: "Our customers like the versatility of BoSS scissors and the way they can be moved quickly into and out of rooms through standard doors and in small lifts. They're very reliable, and if they need on-site maintenance and repair that can usually be done by very quickly and simply."
Key applications Hire Tools and Sales customers use the BoSS X3X scissor lift for include electrical and mechanical installation and maintenance, ducting work and air conditioning maintenance. The machines are popular for refurbishment projects in schools, hospitals and shopping centres because they are low-noise, fume-free and can be operated in restricted space.
Roy said they also regularly supply BoSS X3 and X3X machines to Birmingham chocolate makers Cadbury, where the scissors are used to support maintenance of production machinery.