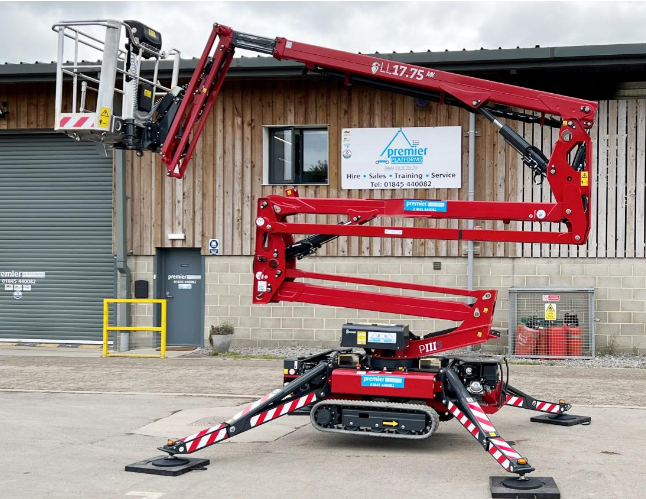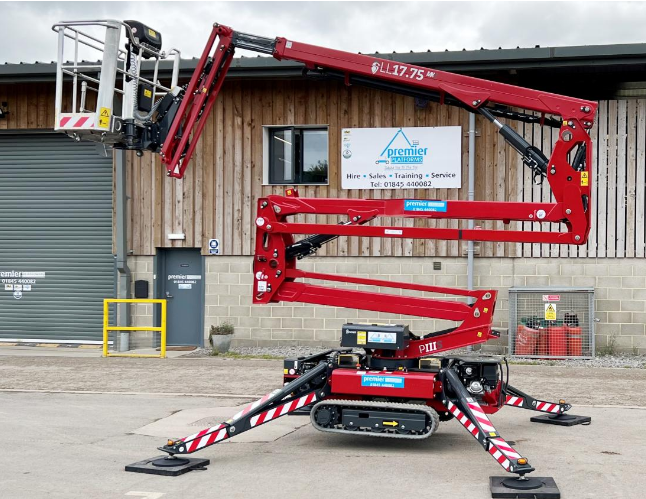 Premier Platforms has become the latest access rental company to enter the spider lift hire market with the purchase of a Hinowa Lightlift 17.75.
It has taken delivery of a new Hinowa Lightlift 17.75 Performance IIIS Mk2 from Access Platform Sales (APS), the UK and Ireland distributor for Hinowa products.
The tracked spider cherry picker has been taken into Premier Platform's fleet at its Thirsk depot in North Yorkshire.
The Hinowa Lightlift 17.75 provides a maximum working height of 17.06m, maximum outreach of 7.5m, and an up and over working height of 7.8m, with an unrestricted 230kg basket capacity.
Meeting customer demand
Premier Platforms Operations Manager Mark Robinson explained the company had been cross-hiring Hinowa platforms for clients in increasing numbers in recent months.
He added: "Given the increasing popularity of the Hinowa spider lifts it made sense for us to have them in our own fleet.
"They're very easy for our clients to operate. Most have used Hinowas in the past. The Hinowa 17.75 can be towed by trailer so it's easy to deliver and collect, and it's very reliable."
Among Premier Platforms' growing roster of Hinowa spider cherry picker hire customers are tree surgeons, high level cleaners, painter and decorators, and building surveyors.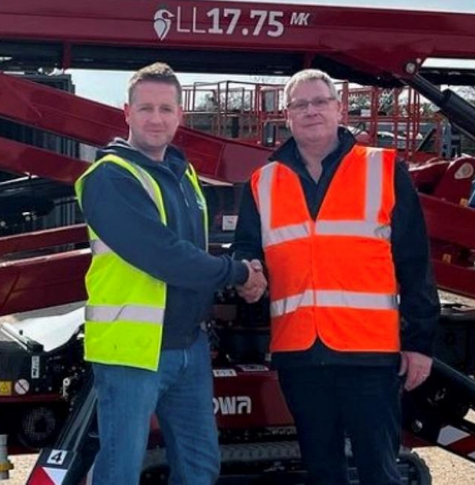 Premier investment – Dan Williamson, Thirsk depot manager for Premier Platforms (left) with Mike Weatherill of APS
Premium hire rates
APS Regional Sales Manager Mike Weatherill says: "We're delighted that Premier Platforms is so impressed with its Hinowa spider lift.
"It fills a growing niche in the access rental market, and strong demand for its unique features mean it commands premium hire rates, maximising return on investment."
Premier Platforms provides a national access platform rental and IPAF-approved training service through three depots in Cannock, Staffordshire, Thirsk, and Aylesbury, Buckinghamshire.
The Hinowa Lightlift 17.75 spider cherry picker weighs just 2,230kg and is narrow enough when stowed for tracking to fit through a 800mm doorway or a single garden gate.
Low noise engine
Premier Platforms has selected a bi-energy version with a low-noise Honda petrol engine, which can also be operated on 110v mains electric power, so it can be used for both indoor and outdoor working.
APS can also provide the Hinowa Lightlift 17.75 as a zero-emissions electric platform with long-lasting lithium batteries, which can be recharged from the mains or a generator while in operation.
Hinowa tracked spider lifts can be supplied with working heights that range from 13m to 33m – all designed to operate in highly constrained space and across sensitive or low load-bearing floors.
The range now includes the Hinowa TeleCrawler13 and TeleCrawler22, telescopic spider lifts with working heights of 13m and 22m respectively, that have especially small operating footprints.
Contact APS today to find out more about Hinowa spider platforms. Tel: 01480 891251. Email: sales@accessplatforms.co.uk.