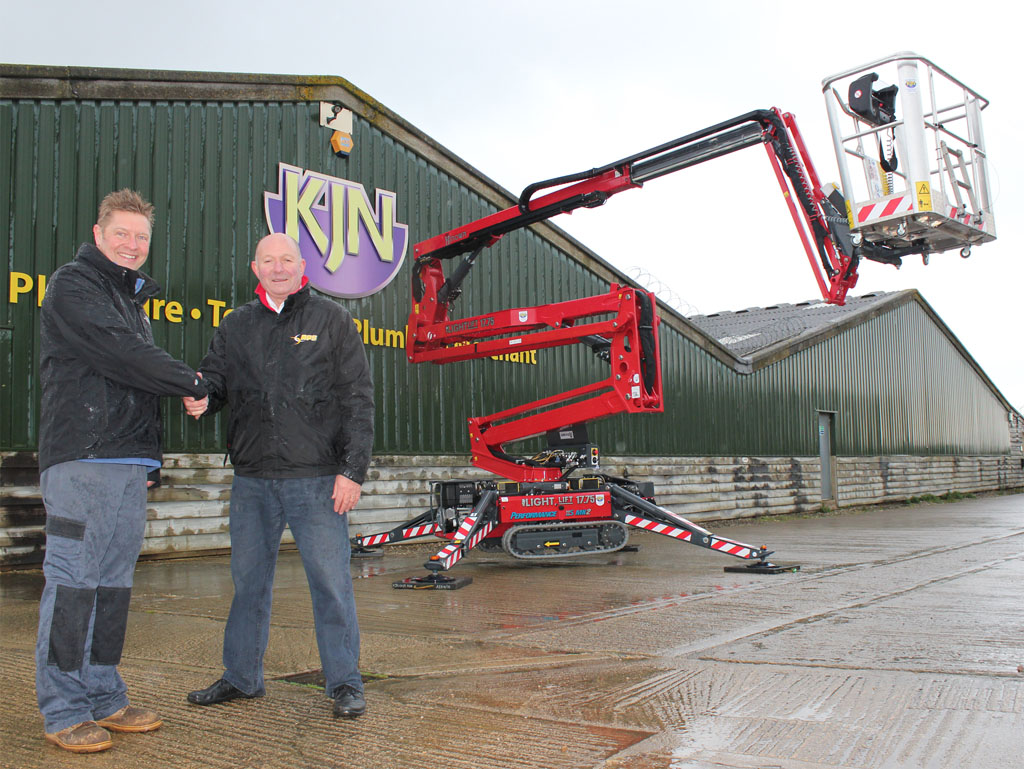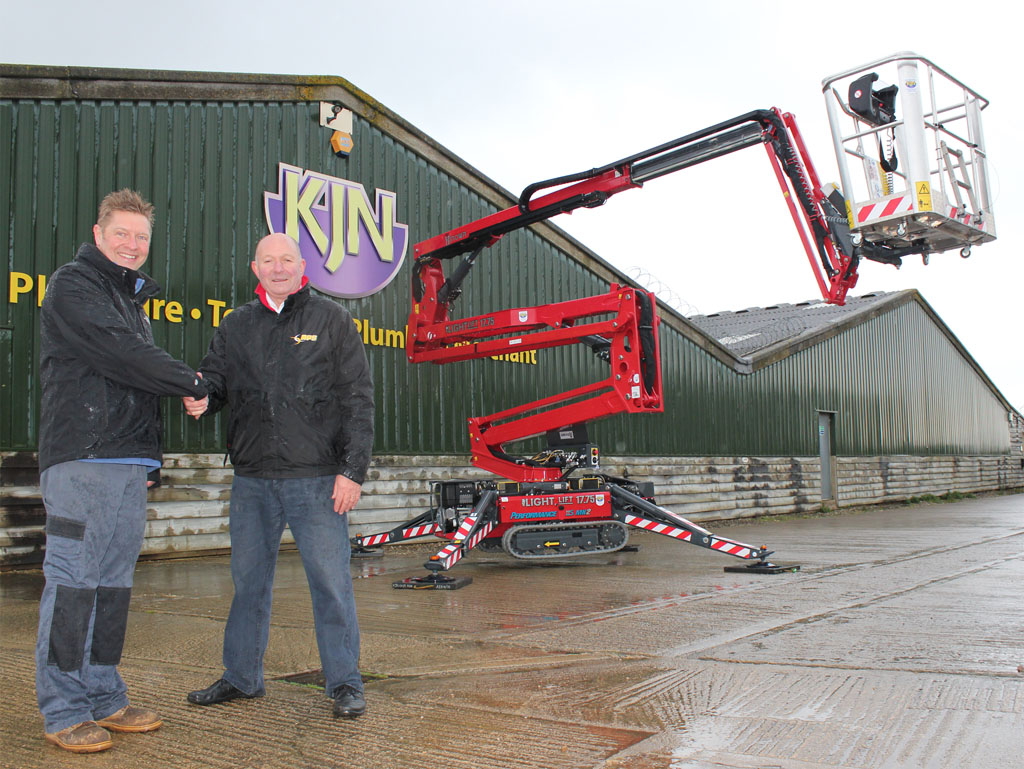 A plant hire firm has given its customers a major working at height advantage with its purchase of a new Hinowa tracked aerial lift from Access Platform Sales.
KJN Services, near Bicester, in Oxfordshire, has taken delivery of a Hinowa Lightlift 17.75 Performance IIIS spider platform.
Company Director Alastair North said he and his whole team are impressed with their new platform.
"We needed to replace a spider platform we've had for a number of years," he added. "After considering all options, we came to the firm conclusion that the Hinowa Lightlift 17.75 was the ideal choice.
"It will allow us to market capabilities that are streets ahead of the platform we're replacing. Customers are going to get a real performance boost which they're sure to appreciate.
"Features we think they will particularly like are the platform's simple and smooth controls, fast travel speed across the ground and the ability to auto-level outriggers with one push of a button.
"It also promises to be reliable and easy to maintain, which is very good for us as a hire company, and APS has been a very helpful supply partner."
Alastair North is pictures above, left, receiving the Hinowa Lightlift 17.75 Performance IIIS from APS Sales Manager Jonathan Wiseman.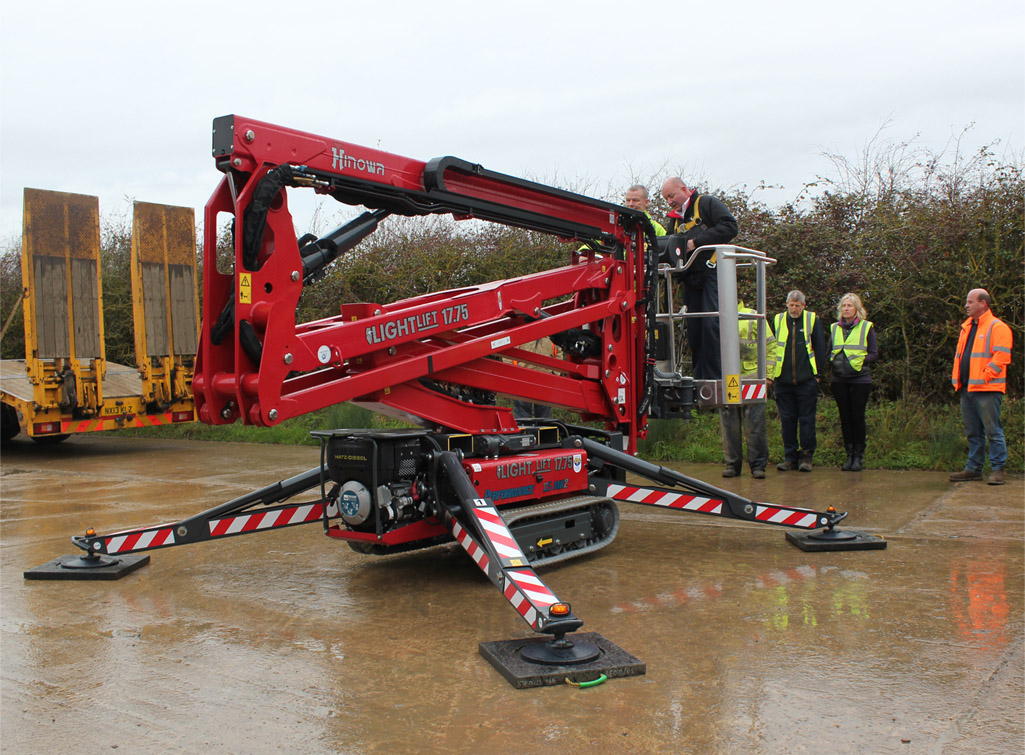 Access Platform Sales (APS) has been the exclusive UK distributor for Hinowa products since 2003. As well as spider platforms, the Italian manufacturer makes mini-dumpers and tracked forklifts.
The Hinowa Lightlift 17.75 tracked spider platform has a maximum working height of just over 17m, excellent maximum outreach of 7.5m, and an impressive unrestricted basket capacity of 230kg.
Yet when fully stowed for tracking is just 790mm wide. This makes it ideal for moving through narrow gaps and operating in confined spaces. Hinowa's Auto2Speed system also makes it fast to track, boosting productivity.
KJN Services has chosen a popular hire company option with a low-emission Hatz diesel engine combined with 110v mains electric power. This makes it ideal for any working environment, including building sites with inflammable liquid restrictions.
Two other options are a petrol engine plus mains electric, or lithium battery all-electric power for quiet, pollution-free operation.
APS Sales Manager Jonathan Wiseman said: "We're delighted that Alastair and his team at KJN Services are so pleased with their Hinowa spider boom lift.
"For smaller plant hire specialists, especially, it's vital that every platform is as productive as possible, for them and for customers. That's what Hinowa delivers. It's one reason why, in their height range, Hinowa spider platforms are clear market leaders in the UK."
The aluminium basket can be quickly detached to aid tracking through narrow gaps and has wheels on its base to reduce manual handling.
The advanced hydraulic operating system developed by Hinowa for its Performance platforms give them the fluid controls and precision for which they have become widely recognised.
Built into every Hinowa Performance model are smart handling features including forklift or telehandler slots, crane lifting points and integral strapping down points.
KJN Services is an established family-run firm specialising in plant and tool hire. It also sells tools, plumbing and drainage products plus oil and water storage tanks and sewage treatment systems. Key service sectors include construction, civil engineering, building maintenance and agriculture.