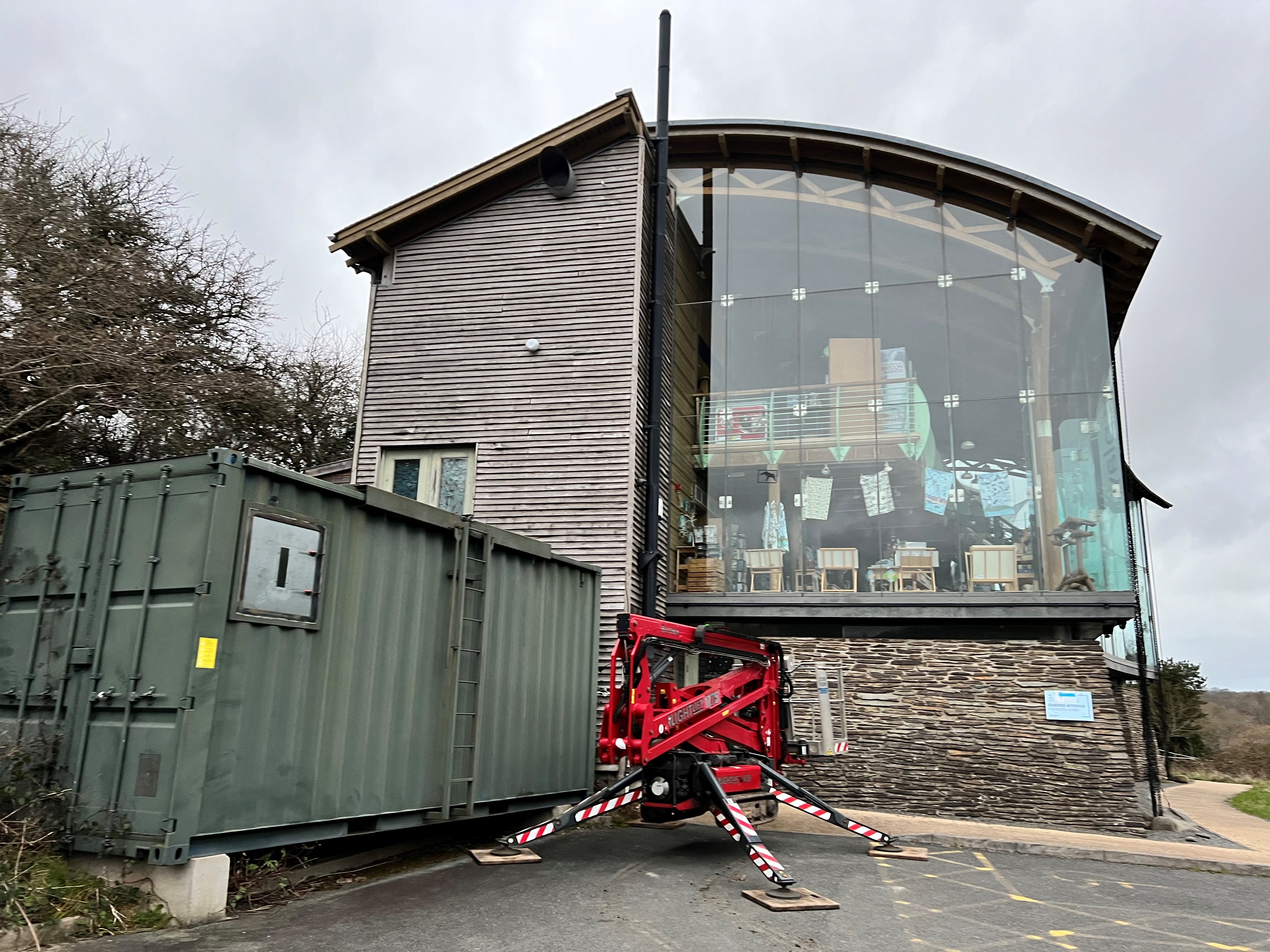 The managing director of a specialist cleaning firm has hailed the Hinowa Lightlift 17.75 spider boom as the ideal access platform for the high level cleaning work his company carries out.
Ben Giles, who runs Ultima Cleaning, based in Cardigan, West Wales, says the tracked spider boom lift provides the safest possible platform for his operatives to work from and is also easy to maintain.
"The Hinowa Lightlift 17.75 is really the perfect spider MEWP for high level cleaning. It's got excellent height and reach, and is light enough to be towed on a trailer and taken anywhere behind our 4x4 vehicle.
"Because it can be operated on diesel and electric power, the platform can be used for internal and external jobs. Also, because it's so compact, when stowed, it can be stored in our warehouse when not used, keeping it secure and out of the elements."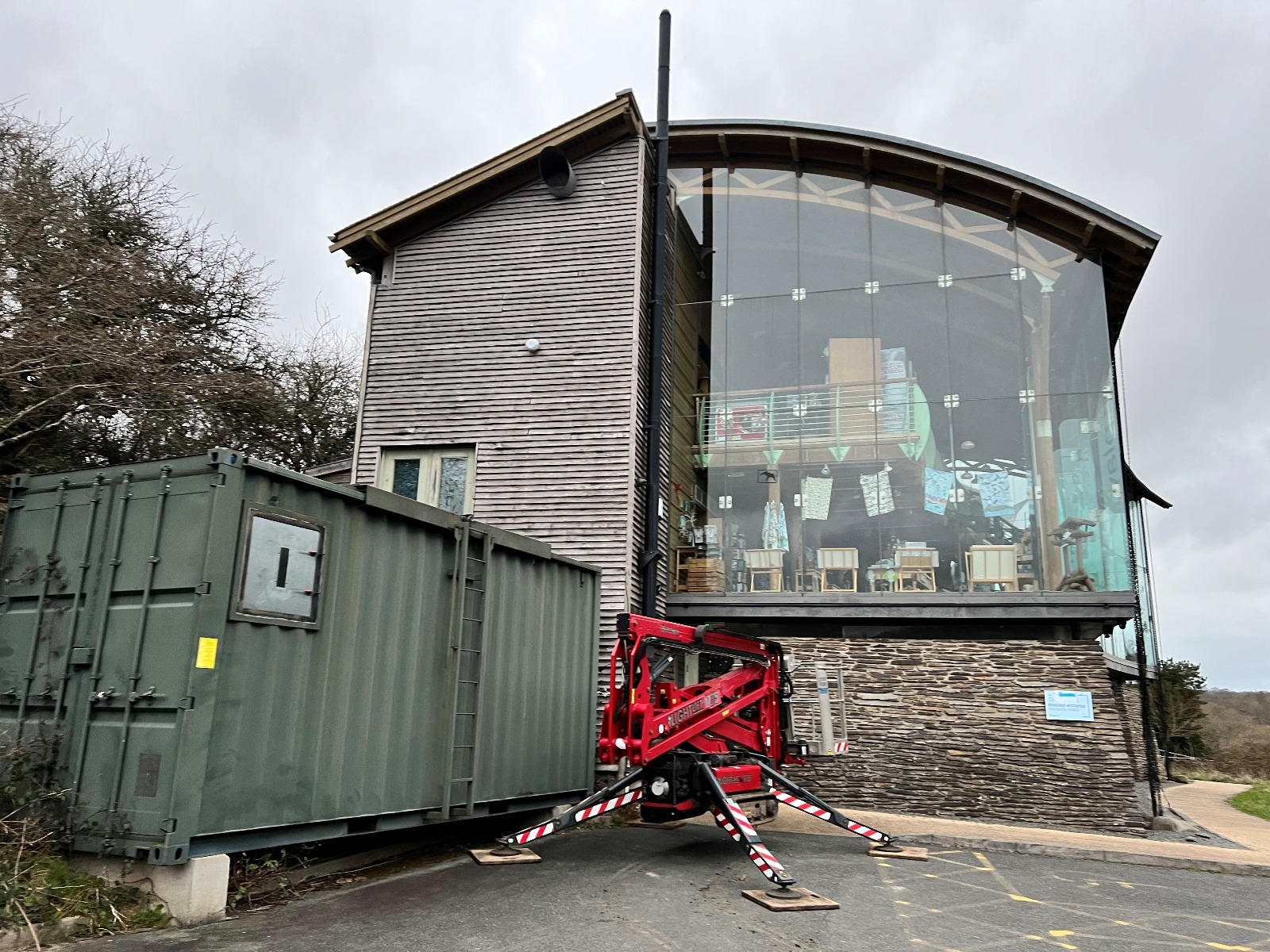 Guaranteed service levels
Ultima Cleaning delivers a range of specialist cleaning services throughout West Wales, including hygienic deep cleans, bio-hazard cleaning and periodic cleaning – as well as high level tasks, for graffiti removal, cladding cleaning, roof cleaning and window cleaning.
The company, which also operates a national trauma scene cleaning service, bought its Hinowa Lightlift 17.75 Performance IIIS spider cherry picker to fulfil new contracts won from local authorities to provide high level cleaning services.
Ben Giles said: "Without having our own Hinowa spider lift, we'd have to rely on renting platforms. Given our very rural location, this created delays in platforms being delivered to us.
"Also, we couldn't rely on rental machines being available when we needed them, which could have compromised our high service standards. So the answer was to have our own. I'm glad we made that decision, because the Hinowa has been fantastic for us.
Excellent return on investment
Having the Hinowa Lightlift 17.75 has also won Ultima Cleaning additional contracts and has provided the company with significant secondary income by hiring the MEWP out to other local businesses.
Jonathan Wiseman, Regional Sales Manager for APS, the UK and Ireland Distributor for Hinowa platforms and tracked plant, said: "I'm delighted that Ben and his team are getting such a good return on investment from their Hinowa Lightlift 17.75.
"It's the perfect example of how Hinowa can support business success and open up new income streams because of its industry-leading capabilities. These advantages can only grow over time."
The Hinowa Lightlift 17.75 has a maximum working height of 17.05m and a maximum outreach of 7.5m. It has an unrestricted maximum capacity of 230kg, giving operatives full confidence of safe and productive working throughout its working envelope.
Bi-energy power for flexible working
When stowed for tracking, the platform is just 790mm wide, allowing it to be moved through narrow doorways or gates, making it ideal for operating inside buildings, in courtyards or from rear gardens.
As a tracked MEWPs, Hinowa spider lifts are also the best options for working across low load bearing or sensitive ground and flooring, with weight spread even further when their outrigger legs are deployed.
Ultima Cleaning's platform has a powerful diesel engine and can also be operated on 110v mains electricity, ideal for internal zero-emissions working or where low-noise operation is needed, for example close to care homes or schools.
The Hinowa Lightlift 17.75 spider platform can also be supplied with a petrol engine or in an all-electric version with lithium batteries.
Ultima Cleaning bought an APS Approved Used machine, making the investment particularly cost-effective – with the platform steam-cleaned and serviced with 6-month LOLER certification and 3-months warranty.
Ben Giles said: "Given the quality of Hinowa platforms and the excellent technical support we received from APS, I was very confident that having a used Hinowa platform was a good choice, and that's certainly proved to be the case."
Hinowa spider boom range
APS can supply Hinowa spider platforms with working heights ranging from 13m up to 33m – in the articulating platform format, or as a telescopic spider platform, thanks to the introduction of the new Hinowa TeleCrawler range.
Call today to find out more about the Hinowa spider cherry picker range from APS. Telephone: 01480 891250. Email: info@accessplatforms.co.uk.