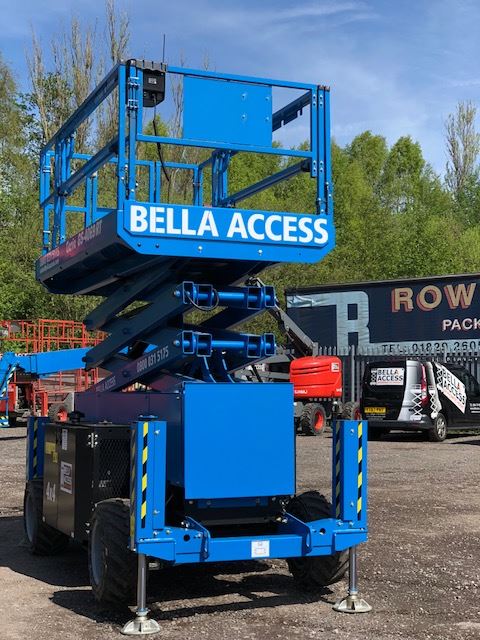 Bella Access is investing in Genie rough terrain scissor lifts, as it continues to expand its fleet.
The latest addition is a Genie 4069RT, supplied by authorised Genie distributor Access Platform Sales. The Genie GS-4069 RT is the largest of Genie's rough terrain scissors on its compact chassis. It provides a working height of more than 14m and can be driven when fully-elevated, significantly increasing productivity.
Jason Dalmas, Managing Director of Bella Access, said: "We are experiencing high demand for 40-foot scissors, particularly from our clients in the construction sector. Predominantly we have always favoured Skyjack, pretty much since we started the business eight years ago - however we wanted to mix it up a little this time. We already run Genie booms in our fleet so we knew all about the quality and performance that Genie delivers; and the 4069RT is very true to form in this regard."
Founded in 2011 in Staffordshire, Bella Access has grown to become a leading independent provider of powered access equipment. Along with providing access platforms for hire, it also offers training and sales of used equipment. Based in Stoke, its fleet now ranges from electric, diesel and bi-energy booms and scissors, to specialist vehicle mounts and tracked booms such as the Hinowa Lightlift 20.10.
"We have grown organically and in a sustainable way," said Jason. "Our strategy has always been to expand the fleet when there is high demand and high utilisation rates for that type of machine. It is about anticipating our customers' needs and making sure we have the right platforms available at the right time for them."