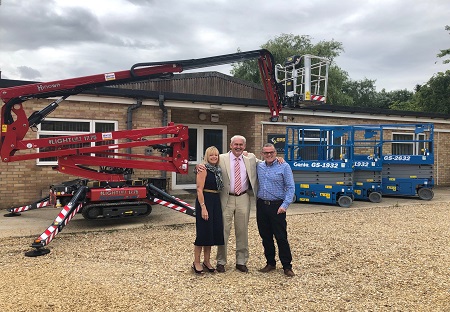 Access Platform Sales co-founder Jim Daintith has made his last platform sales before retiring – to long-standing customer Warren Access.
Reflecting his consistent attention to personal service, Jim handed over the Hinowa Lightlift 17.75 Performance IIIS and three Genie scissor lifts in person to Warren Access Directors Michelle and Graeme Warren.
Coincidently, it was the same model of Hinowa aerial platform Warren Access first bought from Jim in 2013. His final deal also included two Genie GS-1932 scissor and a Genie GS-2632 scissor.
Warren Access Managing Director Graeme Warren said: "We're very pleased to be Jim's final customer, because he's been such an influential and inspiring figure in the UK powered access industry for more than 30 years and a great supporter of our business."
Michelle Warren said: "Jim is one of a kind. He has a very positive outlook on life. He's also one of the kindest, most helpful and generous people we have had the pleasure to meet, which is why we affectionately call him Gentleman Jim!
"He has always given excellent advice and been very helpful in moving on older kit in a way that still defines APS's approach to customer service today."
Jim's business relationship and friendship with Michelle and Graeme began in 2012 when he sold his Height for Hire rental business and APS's training operation, both based at Upton, in Cambridgeshire, to Warren Access, which had been looking to set up a new depot in East Anglia.
Jim said: "That deal represented a win-win for both of us at the time, just the kind of business I like. It resulted in our two companies sharing space at Upton until 2018, when Michelle and Graeme moved their expanding operation to a larger site in Huntingdon.
"It has been a pleasure to have such a close working relationship with such a well-run and friendly business over the years, and I am sure I will visit in the years to come. It just won't be driving behind an aerial platform delivery truck."
Through Jim, APS has supplied the Warren Access depots in Newcastle upon Tyne and Huntingdon with a wide range of access platforms, including aerial booms, scissor lifts and truck mounted platforms.
In completing Jim's last sale, of the Hinowa LL 17.75 spider boom, Warren Access has taken delivery of a platform with a maximum working height of 17.05m, an outreach of 7.5m and a travel width of just 0.79m.
The Genie GS-1932 is a highly reliable battery-powered electric scissor with a maximum working height of 7.8m. The GS-2632 is a battery electric scissor that delivers a working height of 9.92m.
Jim and Malcolm Brown co-founded APS in May 1987 in Upton, near Huntingdon, Cambridgeshire, starting a business that has grown to become the largest independent new and used powered access platform distributer in the UK.
Jim has played a pivotal role in guiding APS to become an authorised full-range Genie dealer, a UK distributer for Hinowa tracked boom lifts, BoSS low-level access equipment and MEC access platforms.
In the last three years, he has been winding down his workload, while still supporting key accounts like Warren Access.
Jim said: "People joke that they will have to change the locks to keep me out because I've retired several times already, but this really has been my last deal!
"I've worked with wonderful people over the years, in a great team. I'm leaving APS in great shape, led by talented entrepreneurs, with young professionals behind them who have fire in their belly and will take the business on the next stage in its exciting journey."