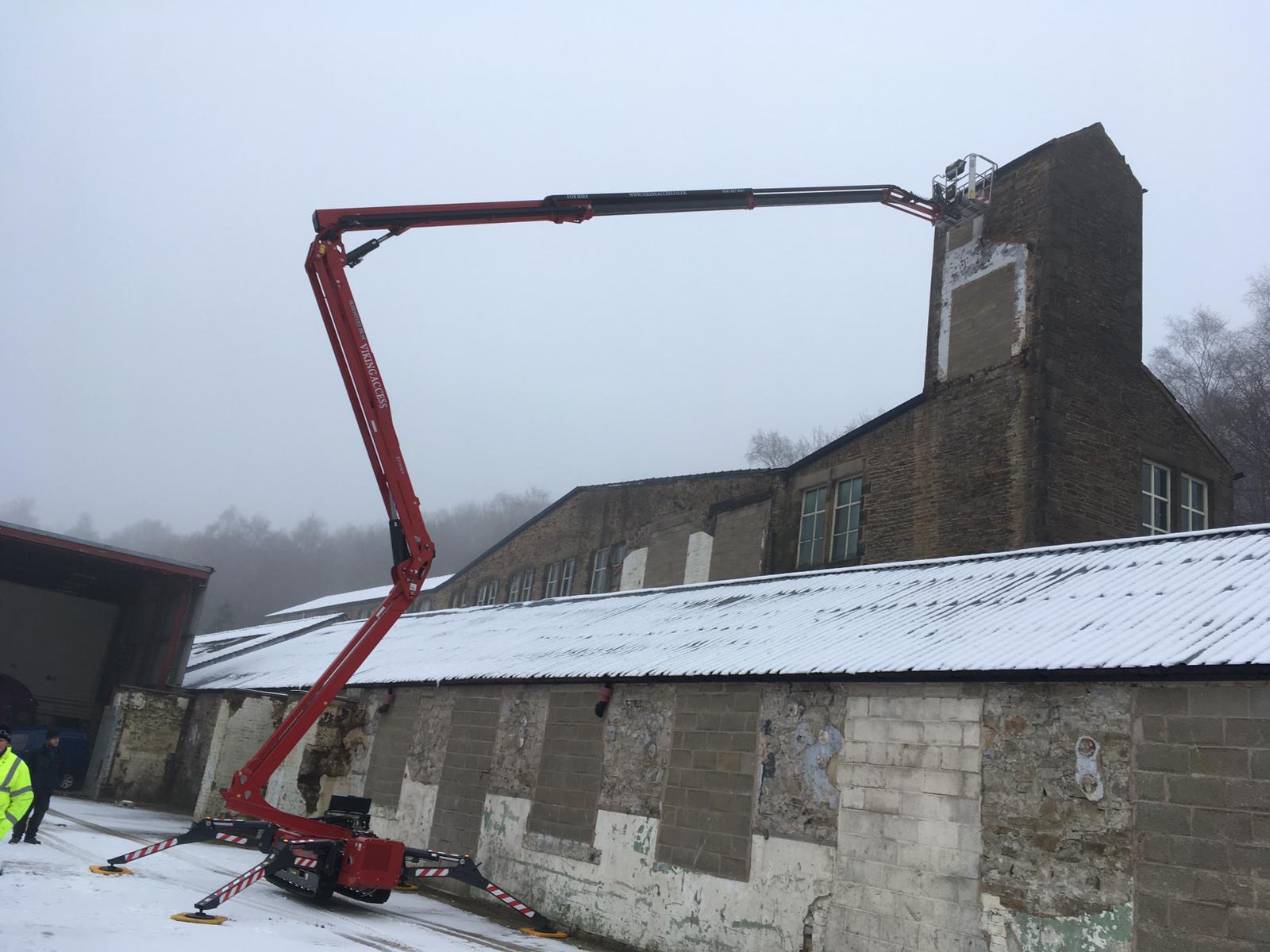 The expertise of a tracked boom specialist has solved a property developer's tricky working at height challenge.
B&E Boys Ltd, based in the Rossendale valley in Lancashire, required an access platform in order to erect a sign, do some pointing, and inspect some guttering at a former mill. The task required 14 metres of outreach at 15m height to reach a chimney – and in order to reach the job site, the machine had to climb two ramps and pass through an opening just 3m high. The access platform also had to be dual fuel, so that it could work in and around the building.
The company had approached a couple of well-known access rental companies, both of whom said it couldn't be done. However, Garry Buck of Viking Access assessed the site and came up with a solution – the Hinowa Lightlift 26.14 tracked boom.
B&E Boys made good use of the Hinowa's safe working load of 215kg for repointing and sign installation. They also benefited from a January sales promotion by Viking Access.
Garry Buck, owner and founder of Viking Access, said: "The customer couldn't believe we got the machine in with the minimum of fuss, and that it had plenty of reach to enable the gutter repairs and other activities.
"This is the reason why we run Hinowa tracked booms – they really can achieve things that would be impossible for other boom lifts."
Viking Access purchased its Hinowa booms from Access Platform Sales (APS), the official UK distributor for all Hinowa access platforms and tracked mini-dumpers.
Steve Couling, Managing Director of APS, said: "This is a great example of how specialist knowledge can really add value when it comes to site surveys. Garry really knows his trade and has a great understanding of the capabilities of Hinowa tracked booms."
The Hinowa 26.14 is the largest tracked boom in the Lightlift Performance IIIs range, providing a working height of up to 25.7m and maximum outreach of 13.6m. Hinowa's advanced technology ensures safe tracking and smooth operation on a variety of ground conditions. Its fully automatic levelling and deployment ensures a safe and speedy set-up, while the boom design enables the working flush against a wall.