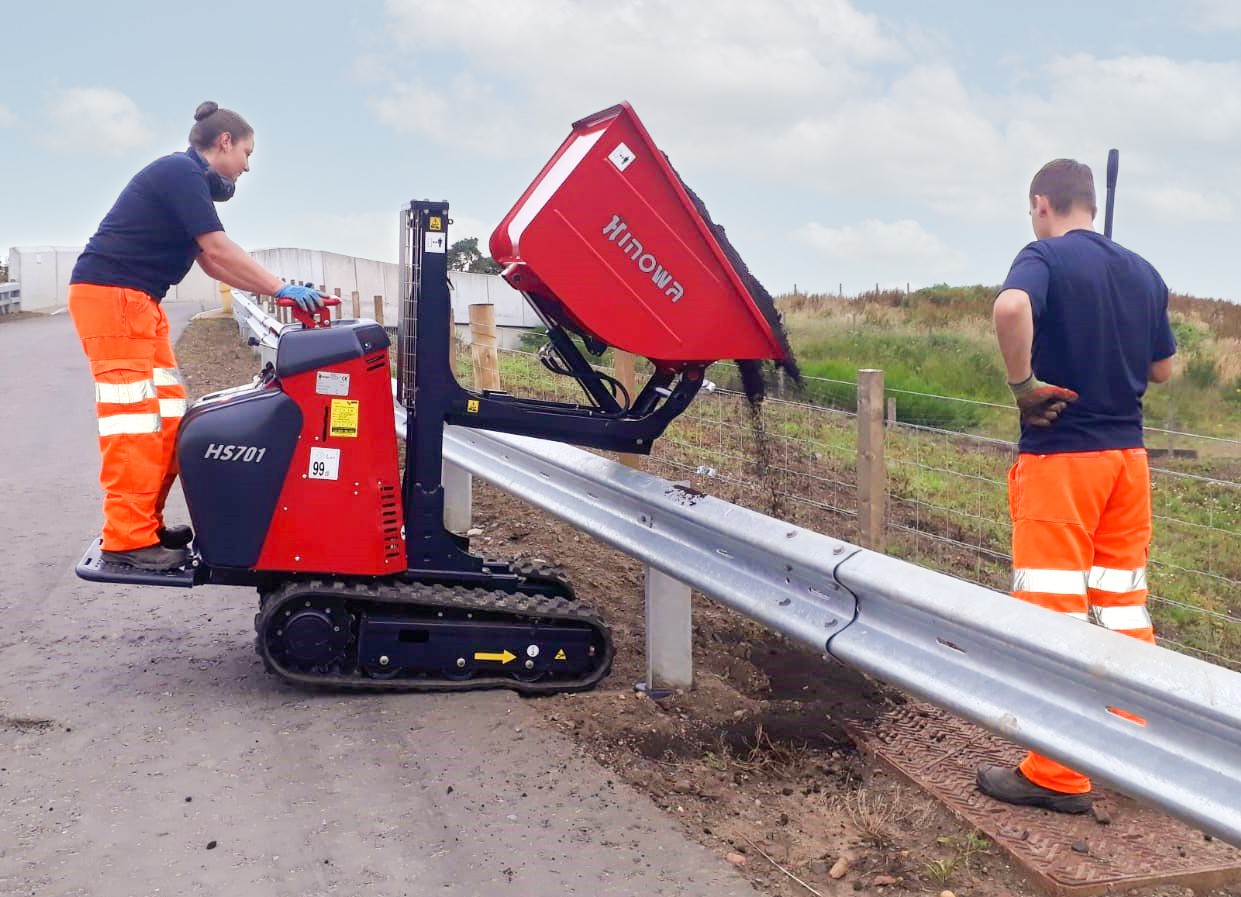 A trend towards building plots having tighter access is a key reason for growing demand for Hinowa minidumpers, says the owner of a West Country plant hire specialist.
Rob Pasqualitto of Rapid Hire Swindon says rental requests for his Hinowa HS701 minidumpers have never been higher, partly because developers want to maximise the size of new homes on smaller plots.
He has just invested in another Hinowa HS701 high-tip minidumper, supplied by Access Platform Sales (APS), the UK and Ireland authorised dealer for all Hinowa products.
Smaller construction plots
Rob says: "Our Hinowa minidumpers are always out on hire. They're very popular, especially for moving material on tight construction plots. Because they're very compact and particularly narrow, they can get through much small gaps than standard dumpers.
"Construction plots around here are getting smaller and developers want to maximise the size of homes they build on them to get the biggest return. That means more work for our Hinowa minidumpers."
Rob's latest machine is a ride-on HS701 high-tip mini dumper bed. With fixed tracks that are just 758mm wide, it can be driven through narrow gaps between homes on a development site.
The same model can be supplied with tracks that extend to 1058mm for added stability, especially across uneven ground.
Fast hire turnaround
Rob says: "What's really good about Hinowa minidumpers is their turnaround time. They're very reliable so they can be quickly cleaned up and sent out again. Maintenance time is kept to a minimum and they're very strong."
APS sales manager Jonathan Wiseman says: "It's good to hear that Rob and his team are having such great success with Hinowa minidumpers. As construction techniques and requirement change it certainly appears they're coming into their own.
"Another big plus, especially for the high-tip and extra high-tip minidumper versions, is the productivity and safety benefits. Manual handling is minimised and one machine cover multiple functions on a building site."
Self-loading productivity
That is enhanced even further with self-loading versions, which allow loading, carrying and unloading of materials to be carried out with just one Hinowa minidumper and one operative who does not require specialist training to use the machine.
The HS701 tracked high-tip minidumper has a load capacity of 550kg and can lift its bucket to a dumping height of 1355mm (the height of the bottom edge of the bucket when tipped).
It has a powerful and reliable Kubota single cylinder 416cc engine – and can also be supplied with a Honda petrol engine and, now, in an all-electric version with power provided by lithium-ion batteries.
The HS701 diesel-powered high-tip weighs 660kg which increases to 740kg if fitted with widening undercarriage. As well as buildings, other regular customers for plant hire companies include landscape gardeners and building maintenance specialists.
Find out more about how Hinowa minidumpers can transform material handling on your site. Telephone APS on 01480 891251.