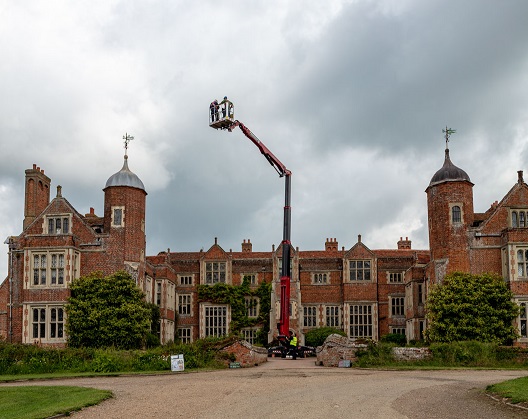 The first Hinowa boom of its kind in the UK has helped engineers inspect the roof of a popular Suffolk stately home.

Access specialists Paramount Platforms Ltd recently took delivery of the first Hinowa 33.17 Lightlift tracked boom in the UK. One of the first jobs for the new Hinowa boom was inspecting the domed roof of the towers at Kentwell Hall in Long Melford, Suffolk. The lead around the base of the dome had sprung a leak.

Richard Riley is the brother of the owner of Kentwell, Patrick Phillips. Richard said: "The dome underneath the weather cock is a considerable height off the ground and difficult to access. The tracked boom lift from Paramount Platforms enabled us to inspect and repair the leak in a quick yet safe manner."
Lee Kerr, Sales Director at Paramount Platforms, said: "Kentwell was an ideal job for the Hinowa 33.17.
The owners required a boom lift with substantial working height and a large basket with room for the operator, inspector and equipment.

"They also required a machine with very low ground pressure, as it was operating in the courtyard featuring a stunning brick mosaic of a Tudor rose."
Paramount purchased the 33.17 from Access Platform Sales, the authorised UK distributor for all Hinowa products. It is a bi-energy machine, running on a diesel engine or three-phase mains electric.

The Hinowa 33.17 is the largest tracked spider boom in the Lightlift Performance IIIs range, providing a working height of up to 32.5m and maximum outreach of 16.5m. Productivity improvements include a larger basket area measuring 1.6m x 1.4m and new jib design allowing +/- 90° rotation.

The 33.17 is also the first of Hinowa's tracked booms to offer negative reach, allowing for the inspection of dockyards and bridges. With a stowed width of 1.7m, the Hinowa 33.17 can pass through doorways, allowing for indoor applications as well as outdoor.

Furthermore, it is the first boom to feature Hinowa's new 'Go Home' button, allowing for the machine to be returned to its stowed compact position with just the touch of a button.