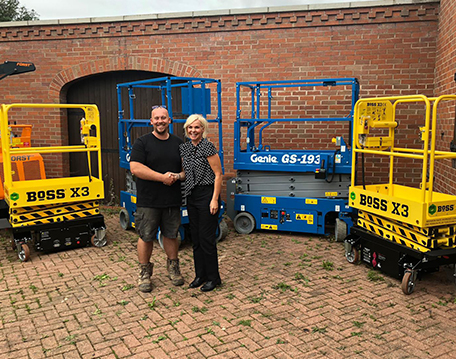 A fast-expanding East Midlands plant hire company has bought its first powered access platforms in a deal with Access Platform Sales (APS).
APS has supplied True Plant Hire Ltd with two Genie GS-1932 scissor lifts and two BoSS X3X micro scissor lifts, along with a Hinowa TX2500 TraXporter tracked dumper.
The company, based in Wymeswold, Leicestershire, has invested £4.5m in new plant since starting its hire business in 2017. It also has a construction and interior fit-out arm.
True Plant Hire Managing Director Tom Macfarlane said: "These are the first powered access machines we've bought, and we're pleased to be working with APS to source them.
"Their advice and service has been very good. They're pricing is also competitive. The Genie and Youngman scissor lifts are good quality machines and should hold strong residual value.
"The TX2500 TraXporter will be a very useful piece of kit for moving material over particularly rough and unstable ground, or where low ground pressure is needed to protect delicate surfaces."
True Plant Hire is a sister company of Trueline Midlands Ltd, a construction, groundworks and internal fit-out specialist.
The Genie GS-1932 self-propelled electric scissor lift has a maxim working height of 7.79m and a platform capacity of 227kg.
It has a 1.63m-long platform which extends a further 0.93m. The scissor lift has proportional controls for precise and safe platform positioning and dual front wheel drive.
The battery-powered BoSS X3X is a push around scissor with a maximum working height of 5.2m and a travel width of 0.76m.
Both scissor lifts are ideal for a range of tasks, including facilities maintenance, construction, internal fit-out and low-level inspection.
The Hinowa TX2500 TraXporter is diesel-powered and has a maximum load capacity of 2.5t. Its driving seat can be swivelled through 180 degrees so the driver is always facing forward.
APS is an authorised UK distributor for Genie, BoSS, and Hinowa, which also manufacturers tracked boom lifts and tracked forklifts.
APS Major Accounts Manager Linda Betts said: "We're delighted to be working with True Plant Hire to source for them the best quality, most capable access platforms on the market.
"Dynamic hire companies like True Plant Hire need to respond rapidly to business opportunities. We aim to match that agility with the speed and consistency of our service."
True Plant Hire had 25 plant assets when it set up its hire business 18 months ago. It now has 120 machines available for hire.
They include excavators ranging in size from 0.5t to 22t and forward-tipping dumpers from 1t to 9t.