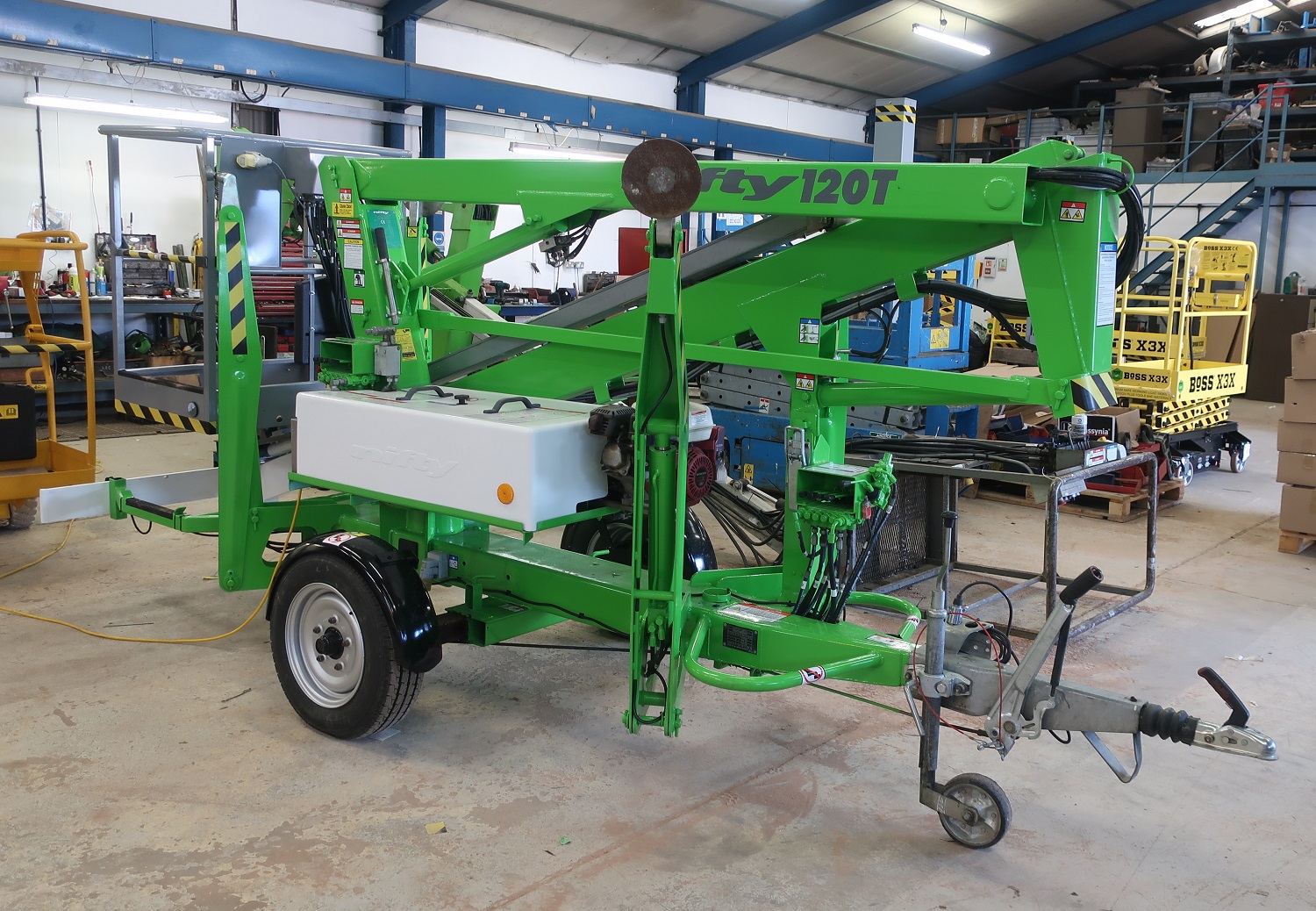 A camping and holiday home business has bought a trailer mounted platform from Access Platform Sales after deciding it needed safer and more effective ways to carry out maintenance work at height.
Trewan Hall, near Newquay in Cornwall, is using its Niftylift 120TPE towable boom platform to maintain a Jacobean manor house and outbuildings and to prune trees in its grounds.
Access Platform Sales (APS) Sales Manager Jonathan Wiseman helped the holiday company select the Nifty boom platform based in its working at height needs. Then, to fit in with Trewan Hall's budget, APS sourced a high-quality used Nifty 120T from its extensive used stocks.
The family-run firm bought the quality used boom lift after its staff had been carrying out maintenance tasks using ladders and aluminium towers for several years.
Business owner Matthew Hill said: "I was impressed with APS's response to my enquiry. They came back to me straight away, could supply the platform I wanted at the right price and went the extra mile to deliver it to me quickly.
"We very much wanted a safe working at height solution, especially to replace using ladders, and having the Nifty 120TPE has proved to be an excellent option.
"Having the boom platform is allowing us to catch up with maintenance work not ideally done with ladders such as cleaning the high gutters on Trewan Hall.
"We're also using it to prune trees in the grounds, a task previously done by a tree surgeon. So, having the Nifty platform is extending the scope of our maintenance capabilities and saving us money."
He said the Nifty 120TPE is the ideal platform for their business. It is robust and easy to use, highly compact and can be transported anywhere across their 36 acres of grounds, towed behind a pick-up truck.
The Nifty 120TPE trailer-mounted articulating boom lift has a maximum working height of 12.2m, working outreach of 6.1m and a maximum safe working load of 200kg.
It is a bi-energy platform, with electric batteries and a petrol engine. The standard machine width of 1.5m can be reduced to 1.1m by retracting the trailer wheels to get through particularly narrow gaps.
The boom has hydraulic outriggers for fast and easy setup and weighs just 1400kg so is ideally suited to being operated across low load bearing or sensitive surfaces.
A key benefit of the Nifty 120T, compared with the Nifty 120, is its telescopic upper boom section, which giving it a shorter travel length and makes it easier to position, especially in confined spaces.
"Using electric power, the Nifty is very quiet, which is important because we don't want to disturb our guests," said Matthew Hill. "But we have the petrol engine for back up, so we don't have to rely on battery power all the time."
APS Sales Manager Jonathan Wiseman said: "We're very pleased to have solved all Trewan Hall's working at height challenges with just one machine.
"The Nifty 120TPE has proved to be safer, more productive, and made maintenance easier to carry out, while providing a low-cost working at height solution."
Nifty trailer-mounted boom lifts are designed to be versatile and inexpensive-to-use. APS can supply Niftys in different power formats: mains power, battery power, diesel or petrol engine, or bi-energy with either diesel or petrol engines.
APS is a distributor of new Genie, Hinowa, Niftylift and BoSS access platforms and is also one the UK's most trusted suppliers of used boom lifts, scissor lifts and personnel masts. Continuous turnaround of used stock means there is always a wide selection of platforms to choose from.
The expertise of the company's workshop team in inspecting, servicing refurbishing used access platforms, plus APS's industry-leading warranties, makes them the next best thing to buying new.
Customers can select used platforms with 'Gold', 'Silver' or 'Trade' service levels. Gold platforms are refurbished to as-new standard. Both Gold and Silver platforms are inspected, repaired, if necessary, and provided with LOLER certificates and warranties.