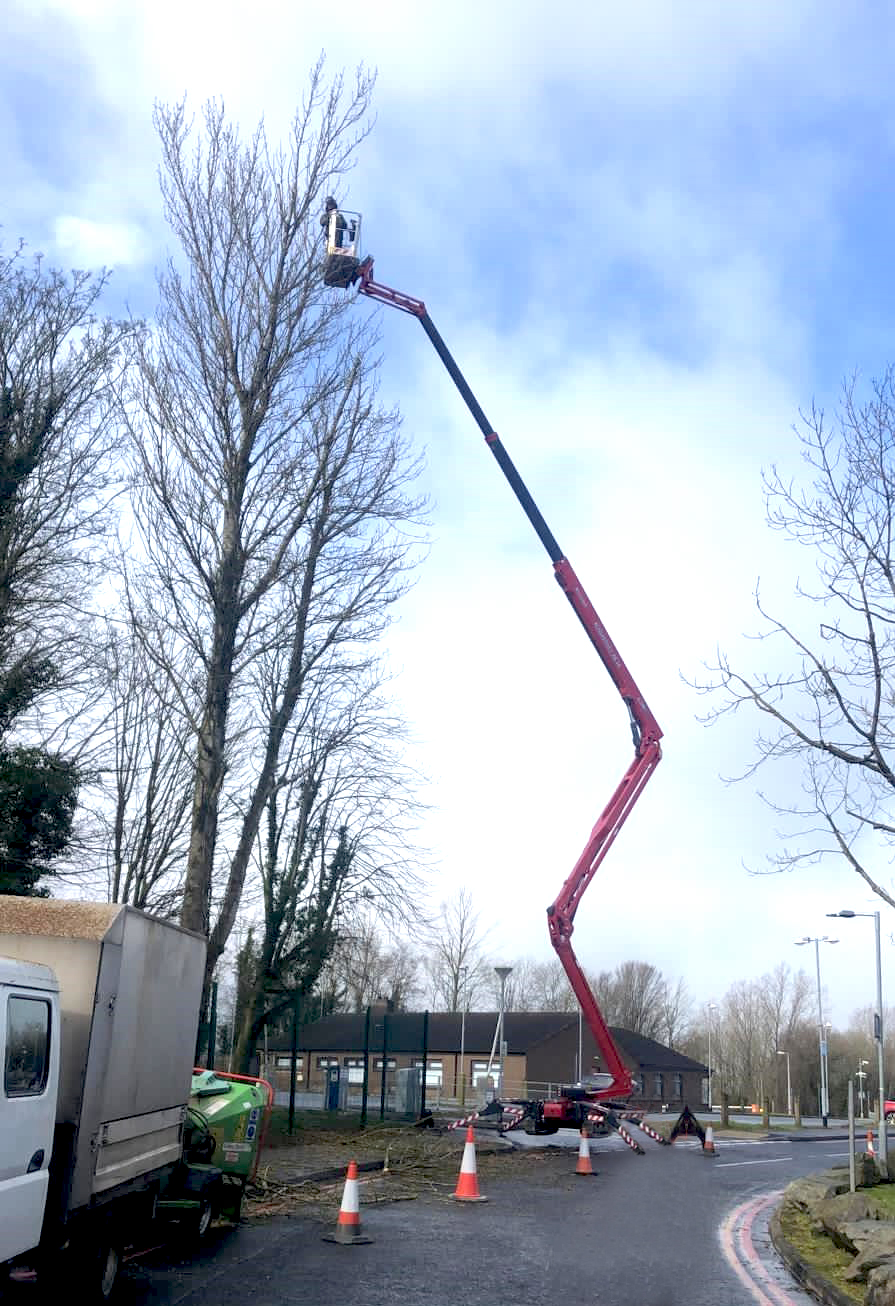 One of Northern Ireland's largest tree management specialists has invested in a lithium battery 26-metre Hinowa spider platform – and its teams are already impressed with its capabilities.
R&M Greenkeepers, in Cookstown, County Tyrone, has taken delivery of an all-electric Hinowa Lightlift 26.14 Performance IIIS spider platform supplied by Access Platform Sales (APS).
The company wanted the extra height and reach the spider platform delivers and valued the safely and sustainability benefits of the machine, said R&M Greenkeepers Managing Director Kyle Smyth.
He added: "The lithium Hinowa Lightlift 26.14 has been very well received by our teams already. It's powerful and very responsive and the extra reach it provides makes their work easier and more productive.
"The platform combines the operational capabilities we need with zero carbon and low-noise operation, which sits very well with our aim of providing safe and eco-friendly service.
"A lot of our customers, which include many public sector organisations, are encouraging suppliers to move towards low carbon footprint operations, and the Lightlift 26.14 does that.
"We can see the all-electric power being more cost-effective in the long-run, in terms of fuel cost savings, while the low noise working supports safety by greatly improving communication between members of the team."
The lithium electric Hinowa Lightlift 26.14 spider platform has a maximum working height of 25.7m and a maximum outreach of 13.6m, along with an unrestricted basket capacity of 230kg.
It also has the full range of other industry-leading features in the Performance range, including one button safe set up and stow, two speed tracking and compressed air and water supply to the basket.
R&M Greenkeepers has six tree management teams and employs 68 people delivering tree management, landscaping and golf greenkeeping across Northern Ireland.
It already operated a petrol-powered Hinowa Goldlift 23.13 IIIS before selecting the Lightlift 26.14 and the improved performance was significant.
Kyle Smyth said: "With the lithium electric 26.14, power delivery is instant. It's very quick to get to height, positioning the basket is precise and it's very stable. Teams that have used it already love it.
"As a business, moving to lithium all-electric power will also help us maintain our ISO 14001 environmental accreditation and will impress a lot of customers who are also transitioning to low-carbon methods of working."
He said they were already confident that they will achieve the productivity levels they require, knowing that they can use a small mobile generator to charge the battery on site if the need arises.
R&M Greenkeepers already used lithium battery chainsaws because of the safety and customer benefits of low-noise working. Investing in the lithium Hinowa LL 26.14 was part of the same process of change for the better.
APS is the UK and Ireland authorised distributor for all Hinowa products.
Shane Paver, APS Northern Sales Director, said: "We're delighted to be working with forward thinking tree management specialists like R&M Greenkeepers.
"They're experience mirrors other contractors who are finding there are multiple benefits from going all electric to work at height.
"Hinowa is a world leader in lithium power systems for aerial platforms and APS provides after sales service and expert advice that makes it easy to adopt a technology that's safer, greener and enhances operational performance."
APS can supply lithium battery powered spider platforms across the Hinowa range from the 14m Hinowa Goldlift 14.70 to the 33m Hinowa Lightlift 33.17.
Bi-energy versions, with lithium batteries and diesel motors, can be supplied for the Hinowa LL 26.14 and Hinowa LL 33.17 models.
Find out more about all electric lithium battery Hinowa spider platforms from APS. Call 01480 891251.