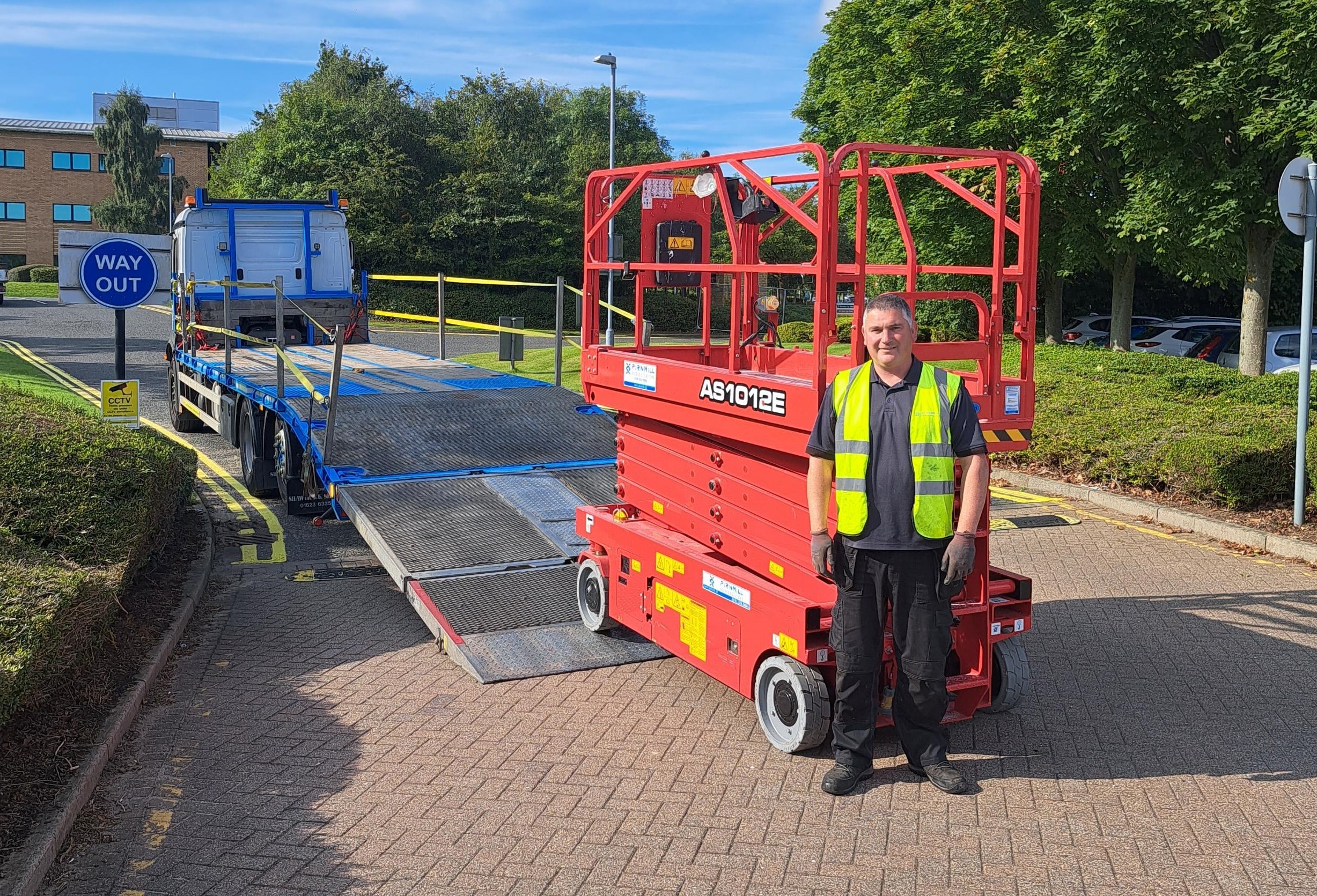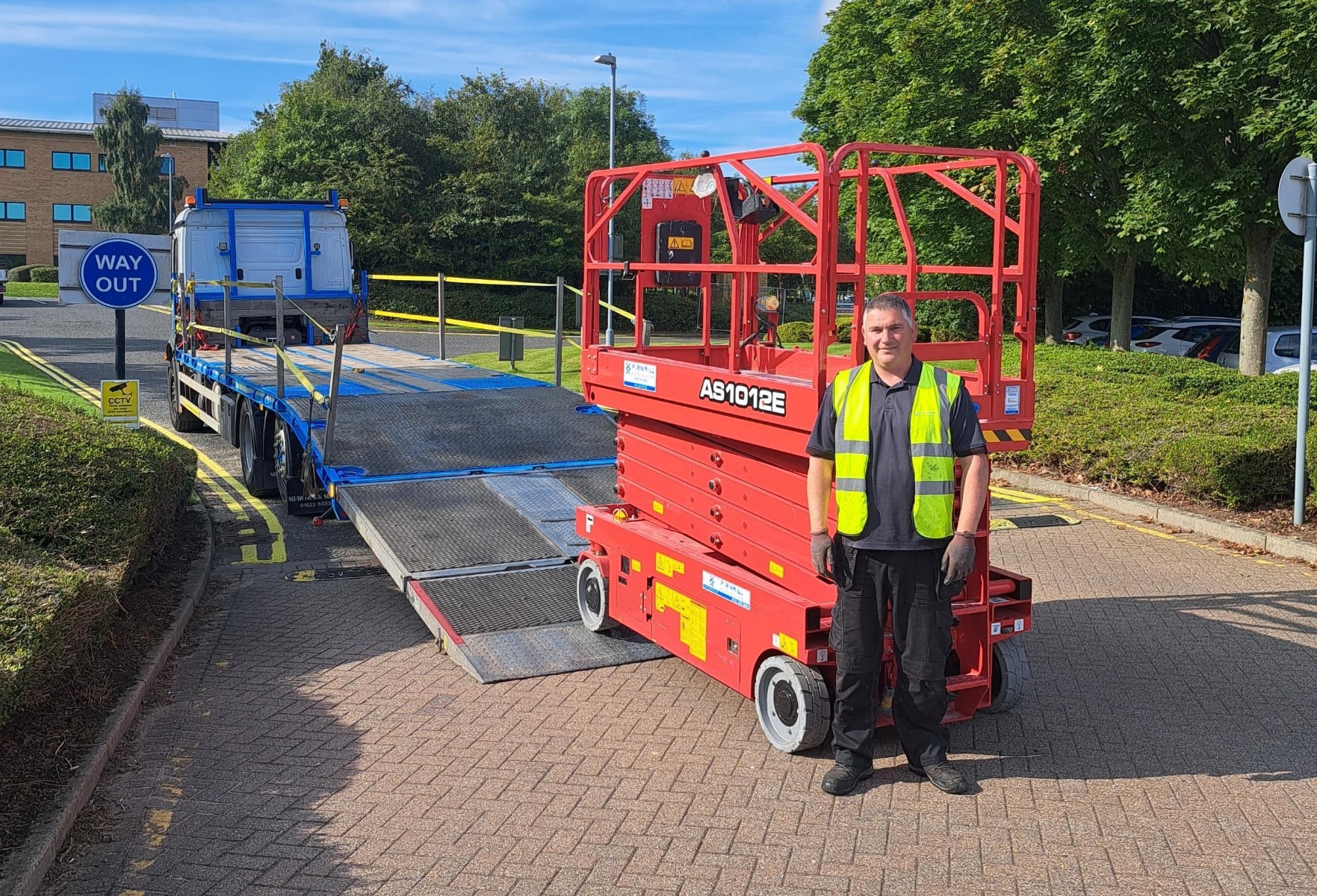 Investment in LGMG electric scissor lifts supplied by Access Platform Sales is a key component in the growth of the platform fleet operated by Pirnmill Access Solutions.
The powered access and site equipment hire specialist, based in Durham, has taken 17 LGMG scissor lifts in the last six months as it continues to expand its rental fleet.
Business owner Carl Roberts, pictured above, says high levels of customer satisfaction and APS's ability to fulfill orders quickly have been key factors in deciding to invest in LGMG scissor lifts.
Reliable from day one
The platforms' excellent reliability and other key attributes, including their direct drive electric motors, which enhance performance and support high utilisation rates, have also impressed.
Carl Roberts said: "The LGMG scissor lifts we've added to our hire fleet have worked well from day one with almost none of the teething problems we can get from other brands.
"Customers really like using them because of their smooth drive controls. They're easy to operate and, as direct drive platforms, they have much longer battery cycles than hydraulic drive scissor lifts."
Pirnmill Access Solutions' platform hire fleet has doubled in size since the start of the year. Demand for low-level scissors has been particularly strong, with the success of LGMG platforms playing a key role.
Winning formula
APS Sales Manager Mike Weatherill said: "APS is delighted to be able to support Carl in the growth of his access rental business.
"Our ability to combine the quality and performance of LGMG platforms with the industry-leading after-sales service APS can provide is a proving to be a winning formula with our clients and their customers."
Pirnmill Access Solutions supplies a range of electric boom lifts and electric scissor lifts alongside site equipment that includes telehandlers, forklifts, storage containers, mobile offices and welfare units.
APS has supplied the company with three electric scissor lift models – the LGMG SS0407E, the LGMG SS0607E and the LGMG AS1012E.
Powerful direct drive
The LGMG SS0407E scissor lift has a maximum working height of 5.6m and a lift capacity of 240kg and is designed to be exceptionally compact and manoeuvrable, with a zero inside turning radius.
Its powerful direct drive motors are appreciated by hire companies as much as rental customers as they support easier loading and unloading of machines and are fast to charge for quicker turnarounds.
The LGMG SS0607E electric scissor lift has a maximum working height of 7.8m, a travel width of just 230kg and a lift capacity of 230kg. Like other the LGMG platforms it has a slide-out deck and an array of practical safety features.
The LGMG AS1012E electric scissor lift provides a maximum working height of 12m and a lift capacity of 320kg. Again, like other LGMG scissor lifts, it is specifically designed to be less costly to maintain and has LGMG's industry-leading diagnostic system for faster and easier troubleshooting.
APS can supply electric and diesel LGMG scissor lifts (including electric all-terrain scissor lifts) with working heights ranging from 5.6m to the 18m LGMG S1623D.
Find out more
Talk to APS's friendly technical sales team about how electric LGMG scissor lifts can underpin the growth of your access rental fleet.
APS also supplies electric and diesel LGMG boom lifts, including a growing range of lithium battery all-terrain booms.
Telephone: 01480 891251 Email: sales@accessplatforms.co.uk