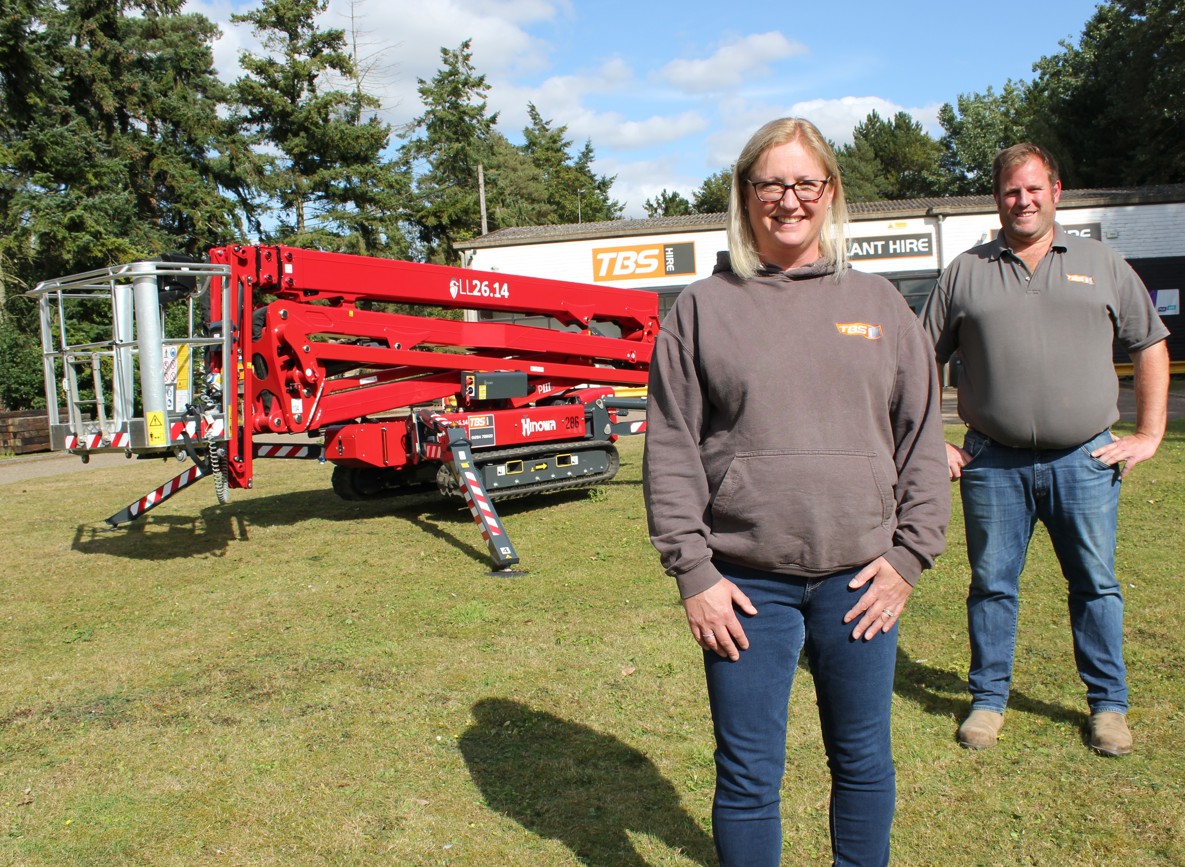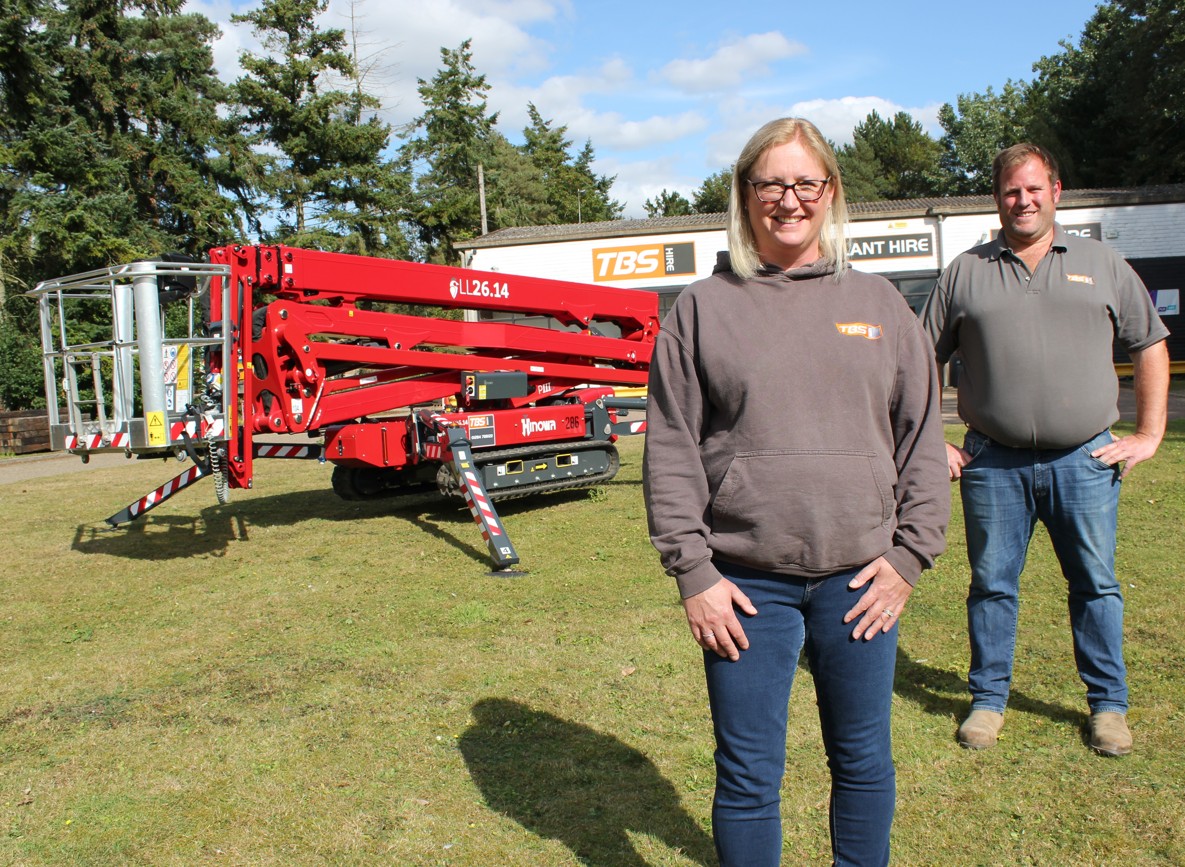 Plant, access and tool hire specialist TBS Hire has expanded its Hinowa spider boom fleet by investing in its biggest access platform to date.
The company has taken delivery of a Hinowa Lightlift 26.14 Performance IIIS supplied by Access Platform Sales (APS).
The platform, with a working height of 25.7m and an outreach of 13.6m, joins four other Hinowa spider boom lifts already in the company's access fleet.
More capability
TBS Hire Director Emma Jackson said: "We have very good utilisation rates for our other Hinowa spider platforms so we wanted to add even more capability for our customers.
"The Hinowa LL 26.14 adds over six metres in working height and three metres in outreach compared with other platforms in our Hinowa fleet.
"As soon as announced it was on its way, we had customers keen to hire it. It's such a capable machine and can reach places at height that other types of platform will never get to."
Emma Jackson said the service provided by Access Platform Sales, the UK and Ireland authorised distributor for Hinowa, also played a key part in the decision to invest.
Excellent service
She added: "APS is always extremely helpful. Its technical support is second to none and we can call at any time for advice on behalf of customers. It makes our job as an access hire company so much easier."
APS Major Accounts Manager Linda Betts said: "We're delighted that Emma and the TBS team are finding their Hinowa spider booms are so popular with customers.
"The platforms are designed from the bottom up to allow people to work at height in the most challenging environments, whether that means over rough terrain or in complex aerial environments."
Hinowa fleet
TBS Hire, in Great Barton, near Bury St Edmunds, Suffolk, provides a comprehensive tool hire service. It also supplies dumpers, diggers, and rollers.
The business invested in its first Hinowa tracked crawler boom in 2017, and now has five of the platforms – two Hinowa LL 17.75s, two Hinowa LL 20.10s, and now the new Hinowa LL 26.14.
The Hinowa LL 17.75 has a maximum working height of 17.06m and maximum outreach of 7.5m. The Hinowa LL 20.10 allows working heights up to 20.1m and an outreach of up to 9.7m.
TBS Hire also offers scissor lifts with working heights up to 11.5m as well as towed and self-propelled boom lifts with working heights up to 21.2m.
High demand
The company's Hinowa spider platforms are in demand from flue and stove installers, tree surgeons, cleaning specialists and building maintenance companies, among others.
Every year, they are kept busy helping install festive lights in communities across Suffolk, Norfolk, and Essex.
Emma Jackson said: "The combination of the excellent working height and reach makes the Hinowa LL 26.14 ideal for working in highly restricted space or for working over the top of obstructions.
"Hinowa's operating system is easy to learn and there are a lot of safety features, including single button automatic set up and levelling, that make the spider platforms very popular with customers.
"All our Hinowa platforms share the same operating system so our customers can select precisely the right boom, at the right cost, for the task they need it for, knowing their operatives will be familiar with the controls."
Sustainable power
TBS Hire has selected a diesel and 110v AC mains electric version of the spider boom, which means it can be used for working at height in both external and indoor environments.
The Hinowa LL 26.14 can also be supplied with petrol engine, with lithium battery electric power or as a bi-energy platform, combining a lithium electric battery and a diesel engine.
All version have an unrestricted basket capacity of 230kg, a travel width of just 990mm and a travel height of 1981mm, with variable width tracks as standard.
Find out about how Hinowa spider platforms from APS can enhance your powered access hire fleet. Call APS on 01481 891251.