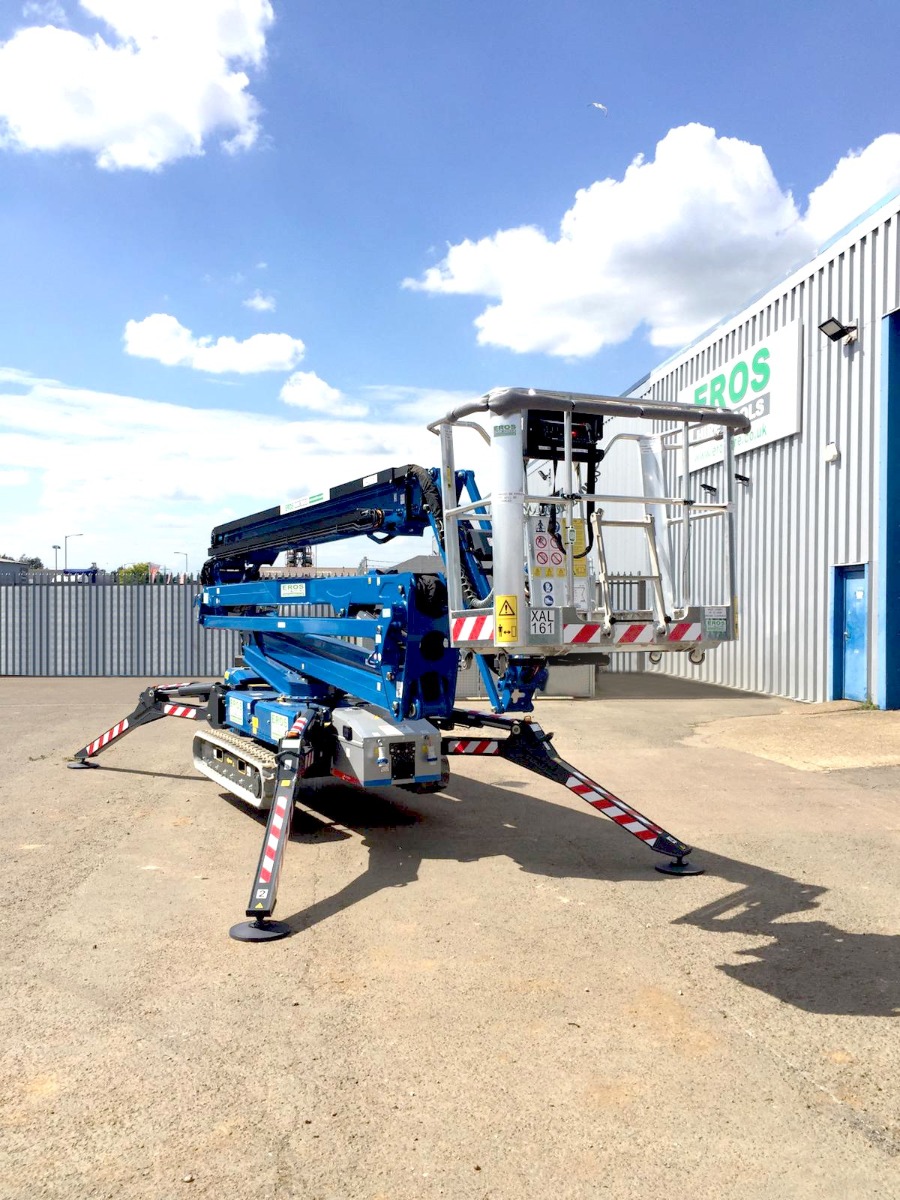 Plant and tool hire company Eros Hire has selected Hinowa spider platforms as it takes a first step towards building an access platform fleet.
Access Platform Sales (APS) has supplied the Buckinghamshire hire specialist with a Lightlift 20.10 Performance IIIS and a Lightlift 26.14 Performance IIIS.
The investment represents a significant step for Eros, which has depots in High Wycombe and Aylesbury, but it is confident that selecting Hinowas first was the right decision.
Most popular spider platform
Eros Manager Shane Sutton said: "We wanted to select platforms that would be in demand, would give us a good return and would set us apart from other access hire companies in the area.
"We could see that, as a specialist machine, Hinowa spider platforms are very popular for working in confines spaces and for tasks like cleaning and tree surgery.
"On top of that, they're recognised leaders in their field, so we were confident from the start that we'd get a lot of interest in them, and that's certainly turned out to be the case."
The Hinowa Lightlift 20.10 has an industry-leading maximum working height of 20.15m and outreach of 9.7m, with an unrestricted basket capacity of 230kg, yet is just 790mm wide in tracking mode so can fit through a single doorway.
As with all Hinowa platforms, there is also water and compressed air supply to the basket, which will make the platform popular with high-level cleaning companies and construction companies.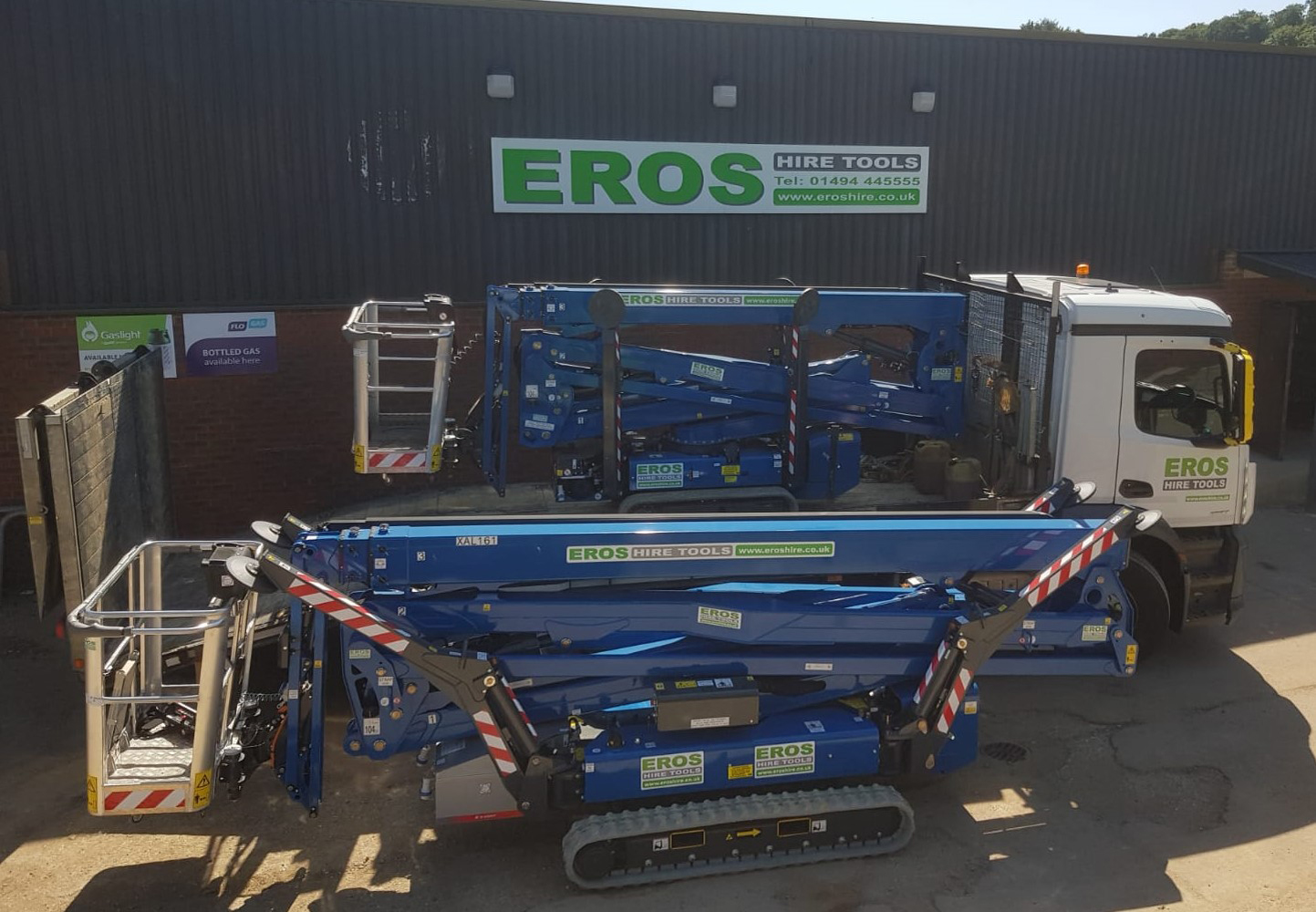 Bi-energy spider boom lift
The spider platform has two power options – a low emission, low-noise diesel engine or zero-emission 110v mains electric power for working inside buildings, for example to clean or maintain atriums.
Eros has also selected a bi-energy Hinowa Lightlift 26.14, pictured above. It has a maximum working height of 25.5m and a working outreach of 13.75, with the same unrestricted 230kg basket capacity, yet is just 990mm wide when tracking.
As a bi-energy spider platform can be powered by a diesel engine or electricity from lithium batteries, with an onboard rapid battery charger. The platform is also fitted with an earthing cable, which is in addition to the standard specification.
Shane Sutton said: "Taking these two Hinowa platforms is a big investment for us, but APS's service helped us make an informed choice, including bringing a demonstrator platform to us to try out.
"What's also important is APS's commitment to providing ongoing technical advice and support. It's 100% behind the Hinowa brand, and with the popularity of the platforms in the marketplace I don't see how we can go wrong."
Award-winning operating system
APS is the UK and Ireland authorised dealer for all Hinowa products.
APS Regional Sales Director Shane Paver said: "Eros now has two extremely capable spider platforms. Hinowa are designed to be rugged and reliable as well as to do things other platforms just can't. That's why they're market leaders in the UK."
Eros's hire customers will benefit from the platforms sharing the same award-winning Performance operating system, so their operators can switch between the two machines without additional training.
It also means both platforms offer Hinowa's unrivalled smooth and precise basket control and positioning, two-speed tracking for enhanced productivity, and popular safety features like one-touch platform set up and de-rig functions.
Eros Tool Hire was founded in 1969 and has grown particularly quickly since 2012. It supplies a wide range of other equipment, including diggers, forklifts and telehandlers, breakers and drills, material lifts, and cutting tools.