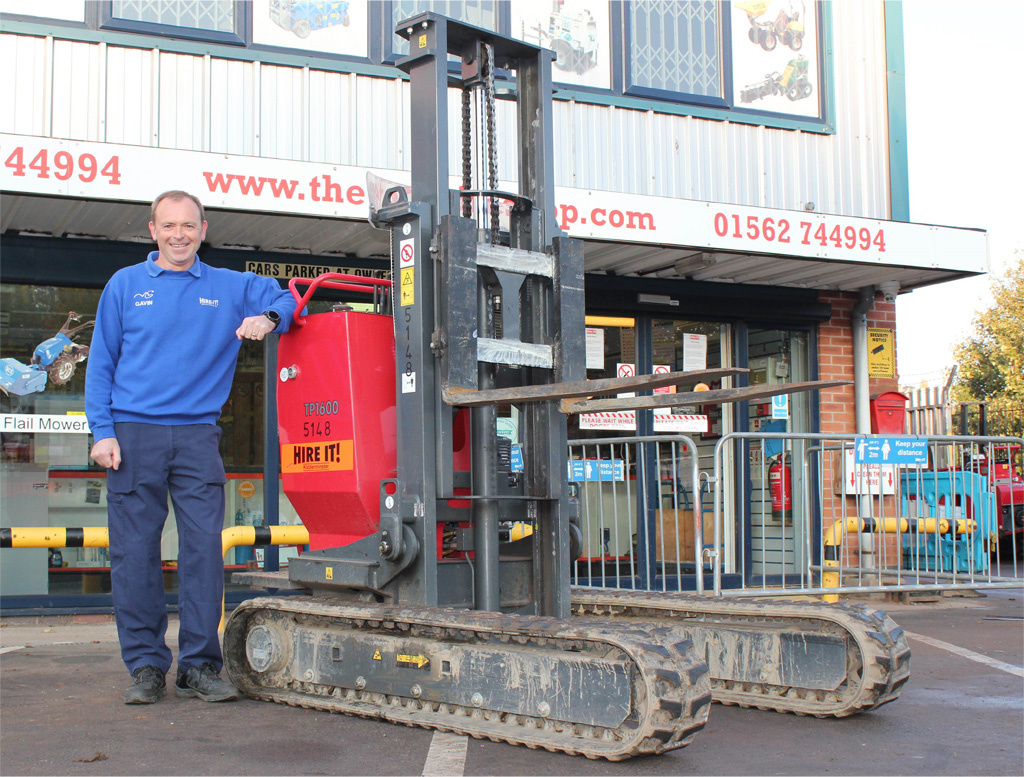 Plant hire specialist Hire It has solved some of its customers' most knotty problems with the purchase of a Hinowa TP1600 tracked forklift.
The plant rental company, in Kidderminster, Worcestershire, was being asked frequently if it had a machine that could move palletised materials and brick packs delivered by builders' merchants.
When it invested in a Hinowa TP1600 tracked mini forklift supplied by Access Platform Sales, its hire team could say that it did.
Wow, what a machine
Hire It depot manager Gavin Lawrence said: "I don't think of the Hinowa TP1600 as a forklift. I think if it as a solution provider. Since we've had it, that's what we've been able to do for our customers."
The stand-on Hinowa TP1600 tracked forklift can be used to lift and carry palletised loads weighing up to 1600kg. At just 1240mm wide, with tracked retracted, it can be operated in highly restricted space.
"Lifting and moving materials delivered to the curbside is a big problem for our customers, especially if site access is constrained," explained Gavin Lawrence, pictured with Hire It's TP 1600 forklift.
"In most cases, the only option is to hand-ball materials which adds to health and safety risks and is unproductive use of time. Using the Hinowa TP1600 does away with those issues.
"Now, when our customers use the TP1600 they say, 'wow, what a machine!'. It's having quite an impact. Also, as a specialist machine, it's bringing new customers into the depot, which is good for us."
Lift for cider maker
Hire It's Hinowa TP1600 is being used by landscapers, block paving companies and builders. Because brick packs can be moved in one go, it is allowing bricklayers to efficiently mix bricks as they work, helping them get an even, high quality finish.
A cider maker is also using the TP1600 to carry IBC tanks of cider up a farm track to a lorry so it can be taken away and bottled.
Without it, the drinks company would have had to consider using smaller containers, which would have been more costly and time-consuming.
Gavin Lawrence said: "The Hinowa TP1600 has been very good for us since we've introduced it. It's more than paid its way, and we can see it becoming more and more popular with customers."
APS Sales Manager Jonathan Wiseman said: "I'm delighted Gavin and his team at Hire It are doing such good business with the Hinowa TP 1600. It sounds like they have a hit on their hands.
"As Gavin said, plant hire companies want to offer machines that add real value to their customers' operations through improved safety and productivity. Hinowa tracked forklifts represent a very cost-effective way to do that."
Tracked forklift to crane
The Hinowa TP1600 tracked forklift, also known as a tracked pallet jack, weighs 1.33t and is powered by a Honda GX390 single cylinder petrol engine.
The mini forklift's tracks can be set to a width of 1800mm or withdrawn, at a touch a button, to 1240mm to drive through narrow gaps and operate in confined spaces.
Its forks can be lifted to 1775mm and tilted down from the horizontal by 3 degrees or up by 7 degrees. It can also be fitted with a lifting boom to turn it into a pick and carry crane.
The mini forklift's 250mm-wide rubber tracks greatly assist in working on low load-bearing surfaces such as lawns, gravel paths and stone patios.
APS also supplied the Hinowa TP1800 tracked forklift, which has a maximum SWL of 1.8t.