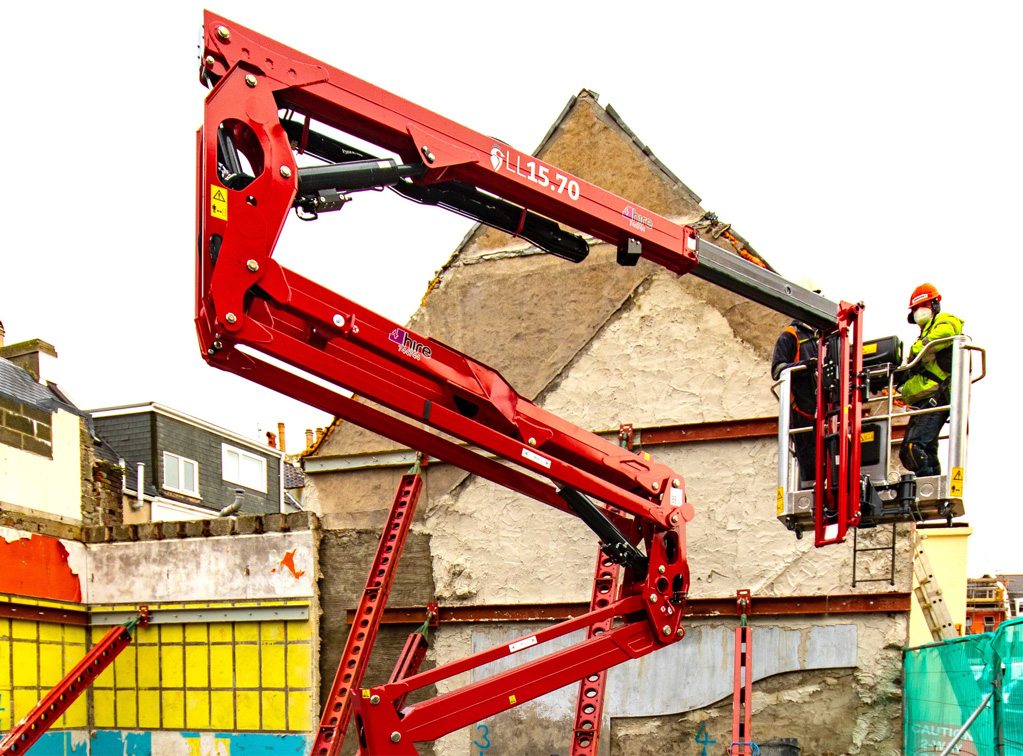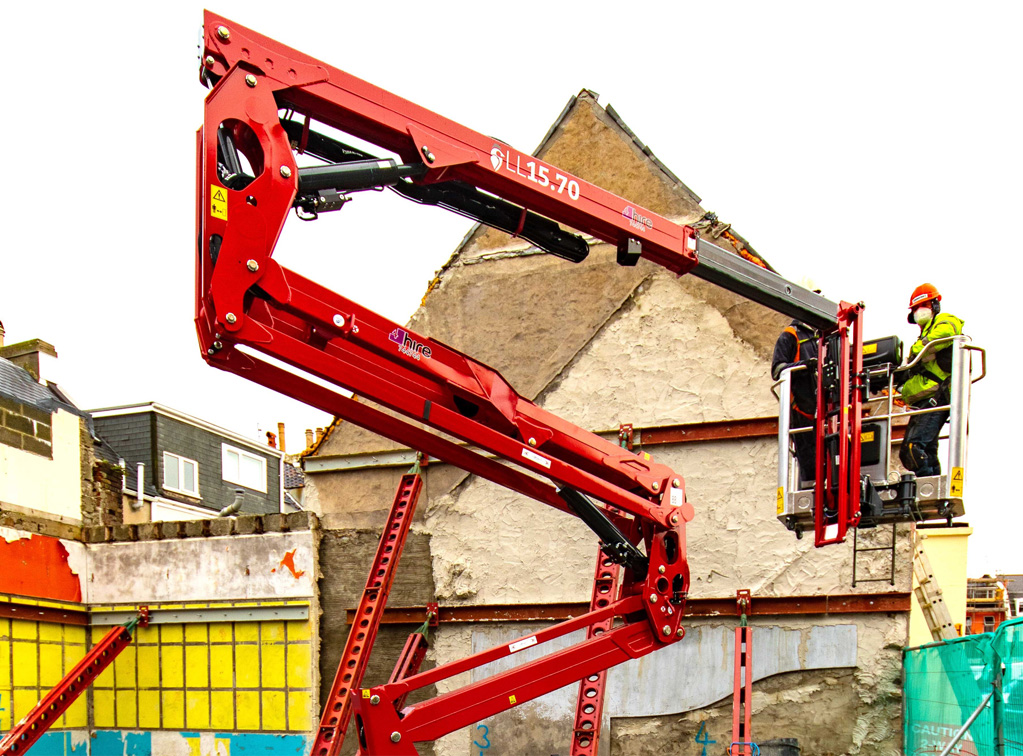 A lithium electric Hinowa spider platform was the first machine on the order book as a business pledged to make itself one of the most sustainable plant hire specialists in the UK.
Two years ago, 4hire, on Jersey, committed itself to an environmental revolution and the first piece of new equipment it bought was a Hinowa lithium battery powered electric Hinowa Lightlift 15.70 Performance IIIS.
The platform was supplied by Access Platform Sales (APS), Hinowa's distributor in the UK and Ireland.
Since then, 4hire, the Channel Islands' leading plant hire specialist, which also has a training division, has powered through major changes, with more planned.
Hinowa – first investment
It is determined to stick to its promise to drastically reduce its carbon footprint and provide a growing range of plant and equipment to allow customers to do the same.
The company has created a mini-website to promote its campaign and invites visitors to use 4hire's expertise to find out how much 'mess' – carbon equivalent emissions – they create by using conventional thermal engine machines.
4Hire Director Nigel Blandin said: "We had been talking about improving sustainability. It's always been a hobby horse of mine. Then we decided, to hell with it, if we don't do something, nobody will.
"So, we made a decision to commit 100% to developing a sustainable business model and we would do all we could to persuade our customers to join us on the journey. And, so far, it is working.
"Buying the Hinowa Lightlift 15.70 was our first investment under the new plan. We'd had Hinowas on our fleet for years. They're at the forefront of battery technology for MEWPs so it was a telling coincidence."
'Brilliant' green champion
4Hire, established by Nigel Blandin but now owned by GAP, has now taken delivery of a second Hinowa Lightlift 15.70, another lithium battery version of course, as demand for the tracked spider platforms grows.
"Our Hinowa has championed our cause brilliantly," he said: "It's very popular, very capable, simple to use, and very reliable. No one has ever said it has run out of charge. It goes out on hire, makes our customers happy, comes back and goes straight back out again."
APS Southern Regional Sales Director, Lee Louder, said: "We're delighted to be able to support 4Hire's green business revolution, which is hugely impressive.
"Working at height sustainability, whether driven by forward-thinking rental suppliers like 4hire, or by end-use clients, is beginning to take centre stage, and Hinowa provides clear solutions."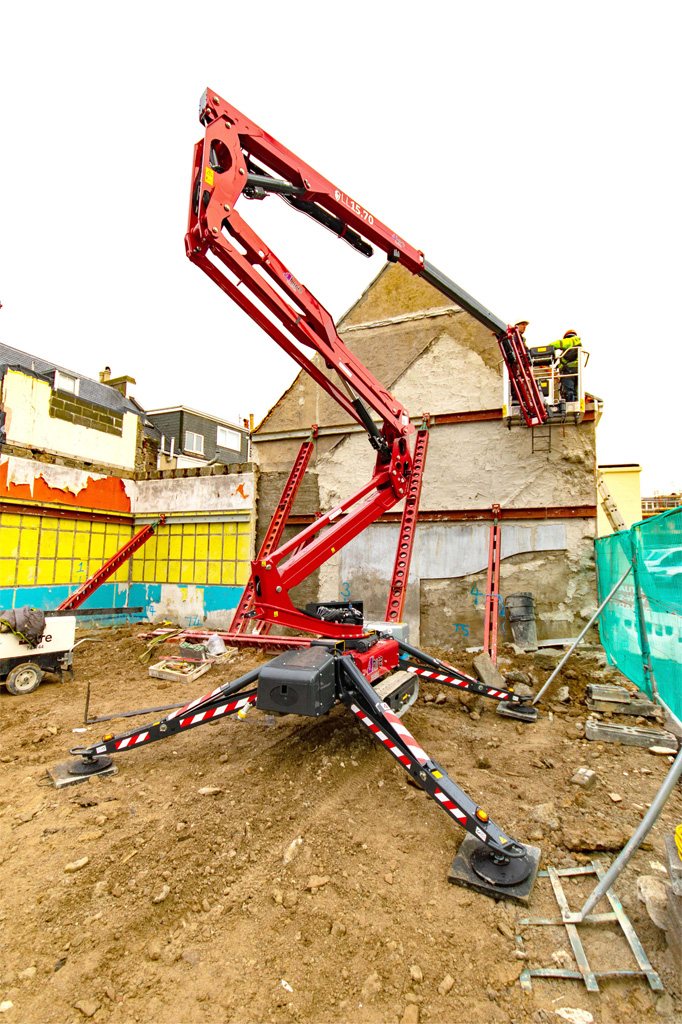 Focus on sustainability
4hire's sustainability strategy is touching every aspect of the business. Half all platforms in the access hire fleet are electric or hybrid. The others can be operated on hydrotreated vegetable oil (HVO), a renewable diesel fuel that reduces emissions by 90%.
The rental company has also invested in electric vans, electric dumpers, electric mini excavators, solar powered generators, and solar hybrid welfare units. As of October 2020, 15% of all plant and equipment on hire is electric, and the percentage is growing all the time.
Next year, it is installing solar panels on its roof so it can charge all its machines, including the Hinowas, with sun power. If the sun then goes in and the building runs low of power, it will be able to draw it back from the machine batteries.
Creating an Ecofleet
Collectively, the electric and hybrid machines are known as 4hire's Ecofleet, which is branded in blue, with each machine identified by a blue badge.
4Hire gives every customer a 'Mess Report' for each piece of plant or equipment that goes out on hire, detailing how much carbon is created by the items they have selected.
This data gathering allows Nigel Blandin to reveal that, between January 2019 and October 2020, their Hinowa Lightlift 15.70 spider platform saved their clients 6.5 tonnes of carbon (CO2 equivalent), which would have been created if the spider platform had been diesel-powered.
As a business, 4hire knows its hire fleet is generating 100 tonnes of carbon per month. But it also knows that its carbon footprint has reduced by 30% in the last 12 months. It is heading in the right direction.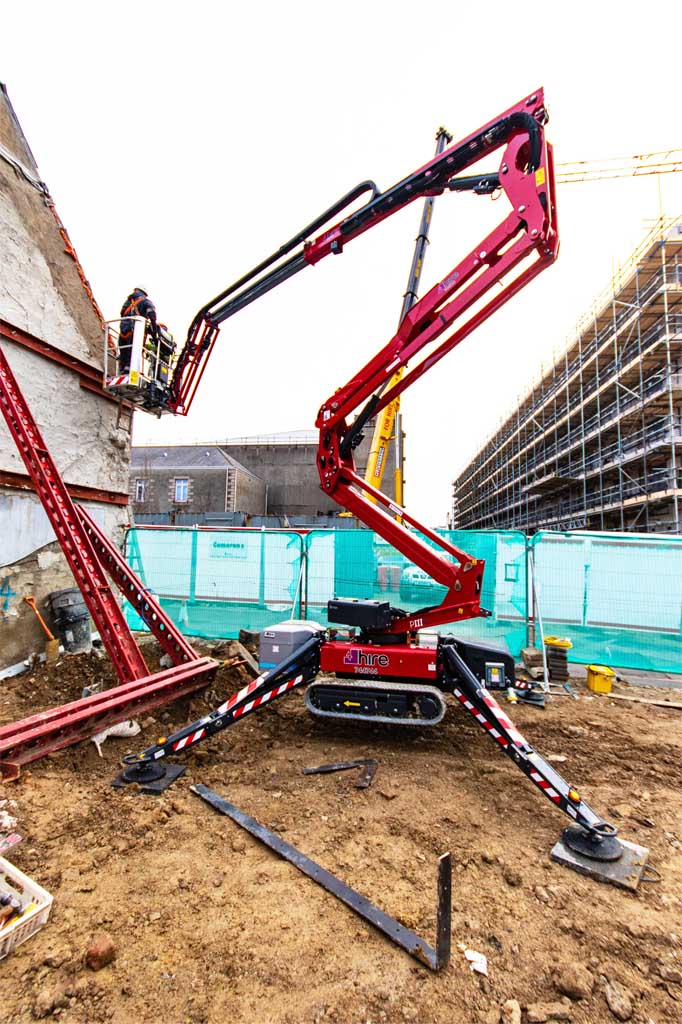 Plant performance vital
The performance of the Hinowa LL 15.70 illustrates the importance of electric plant and equipment being as good as the conventional machines it has replaced, if not better.
The spider platform has a maximum working height of 15.4m and a maximum outreach of 6.6m. Its unrestricted basket capacity of 230kg impresses clients. As does its 780mm travel width. There are few places the spider platform cannot be tracked into.
Nigel Blandin said: "We need to demonstrate that sustainable solutions are better solutions. Hinowa spider platforms do that. People come to us because they know we operate Hinowas. They don't want to use anything else.
"Some people thought we were mad when we started down this road, but others were intrigued and supportive. We haven't lost customers, in fact I think we've generated loyalty and respect. By us making a stand, we're giving our clients the tools to do the same.
"It's a long process, but we're still making a good profit, and we see this as sustaining our business as well as the planet. Ten or 20 years from now, this will be the norm, so we're getting in early so we can learn the ropes and make a success of it."
Hinowa - continuous improvement
He has been impressed with how Hinowa has continuously developed every aspect of its product design, not just providing sustainable electric versions.
That includes greatly simplifying the platform's controls, while adding features, like one touch levelling and stow, which makes it easier and safer for relatively inexperienced access platform users to operate their machines.
"Our customers like how quiet and smooth it is to operate and how easy it is to operate in tight spaces," he said. "That's certainly important in our towns and villages. It's very popular with tree surgeons, stone masons, chimney specialists and FM clients, who can take it through buildings, such as our hotels, and work in back gardens."
Public sector support
It is also popular with public sector clients. Jersey has its own government. Environmental protection and sustainability are big priorities over the next decade.
"Being able to tell government representatives that the Hinowa has lithium batteries and is so eco-friendly is a big advantage for us. It impresses them," said Nigel Blandin. "They get it straight away."
Find out more about 4hire's campaign against plant equipment 'mess'. Go to: www.4hire.je.