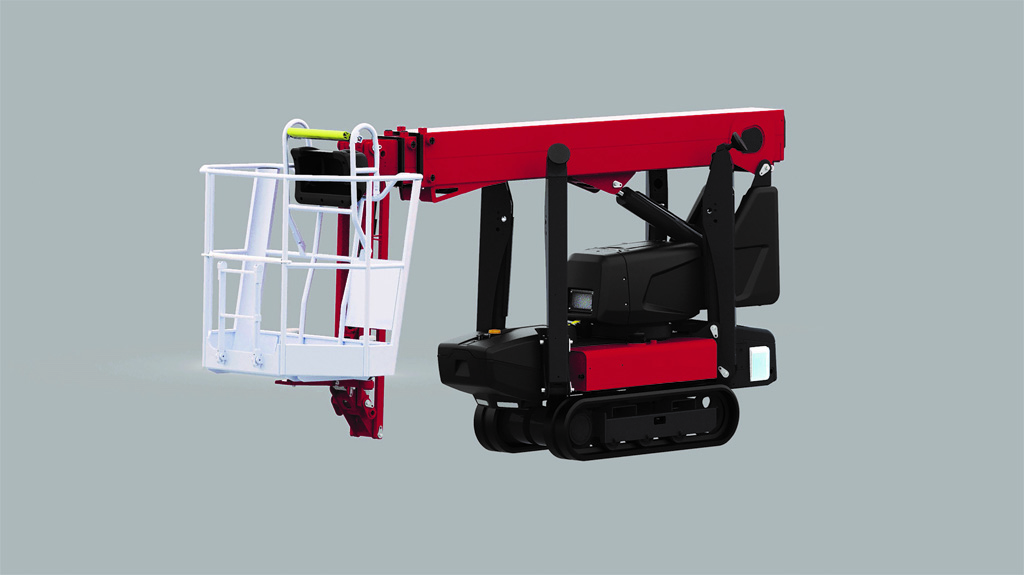 Italian manufacturer Hinowa is introducing the first in a new series of tracked platforms that sets new standards of compactness and delivers important operational and sustainablity advantages for the construction industry.
The Hinowa TeleCrawler13's ultra compact stabilisation area allows it to be set up in a single parking space.
It is powered by lithium batteries and is the first telescopic aerial platform with a full electric tracked undercarriage, eliminating the risk of hydraulic oil leaks and providing an IP67 waterproof rating.
The Hinowa TeleCrawler13 can reach a height of 13m and has a horizontal outreach of 6.4m. Without its detachable basket it is 3695mm in length and just 748mm wide so can be tracked through a single doorway. The stablilisation area is 2450mm by 2901mm.
Steve Couling, Managing Director of Access Platform Sales, the UK and Ireland distributor for Hinowa products, said: "Hinowa's success is based on a determination to innovate and the TeleCrawler13 reflects this approach.
"The platform redefines what's possible in terms of compactness, safety and ease of use. As demand for the sustainability advantages of all-electric operation grow, we see a strong market for these new machines, not least in the construciton and fit-out industries."
The Hinowa TeleCrawler13 is designed from the tracks upwards in a completely different way to the company's already highly successful Goldlift, IIIS and Performance IIIS platform ranges.
It provides automatic control of extension and retraction of the telescopic arm as the boom is raised or lowered. This allows the operator to follow a vertical line up or down the building at the same distance from the wall to a height of 9m.
The Hinowa TeleCrawler13 has a 'go home' and 'go back' function. With a single touch of a button, the operator can close and align the telescopic arm and bring the platform to the transport position.
It is also the first tracked platform on the market with electric drive motors that do not need hydraulic oil. Its permanent magnets motors use stored energy more efficiently than standard electric motors so the platform can operate for longer between charges.
This translates into a full electric system that is four times as efficient as one that relies on hydraulics, allowing the Hinowa TeleCrawler13 to have a more compact lithium ion battery, reducing weight.
Not having a hydraulic system means there can be no oil leakage, eliminating the risk of ground contamination. Also, the electric track motors allows the Hinowa TeleCrawler13 to have an IP67 waterproof rating, so it can be operated on muddy and dusty ground.