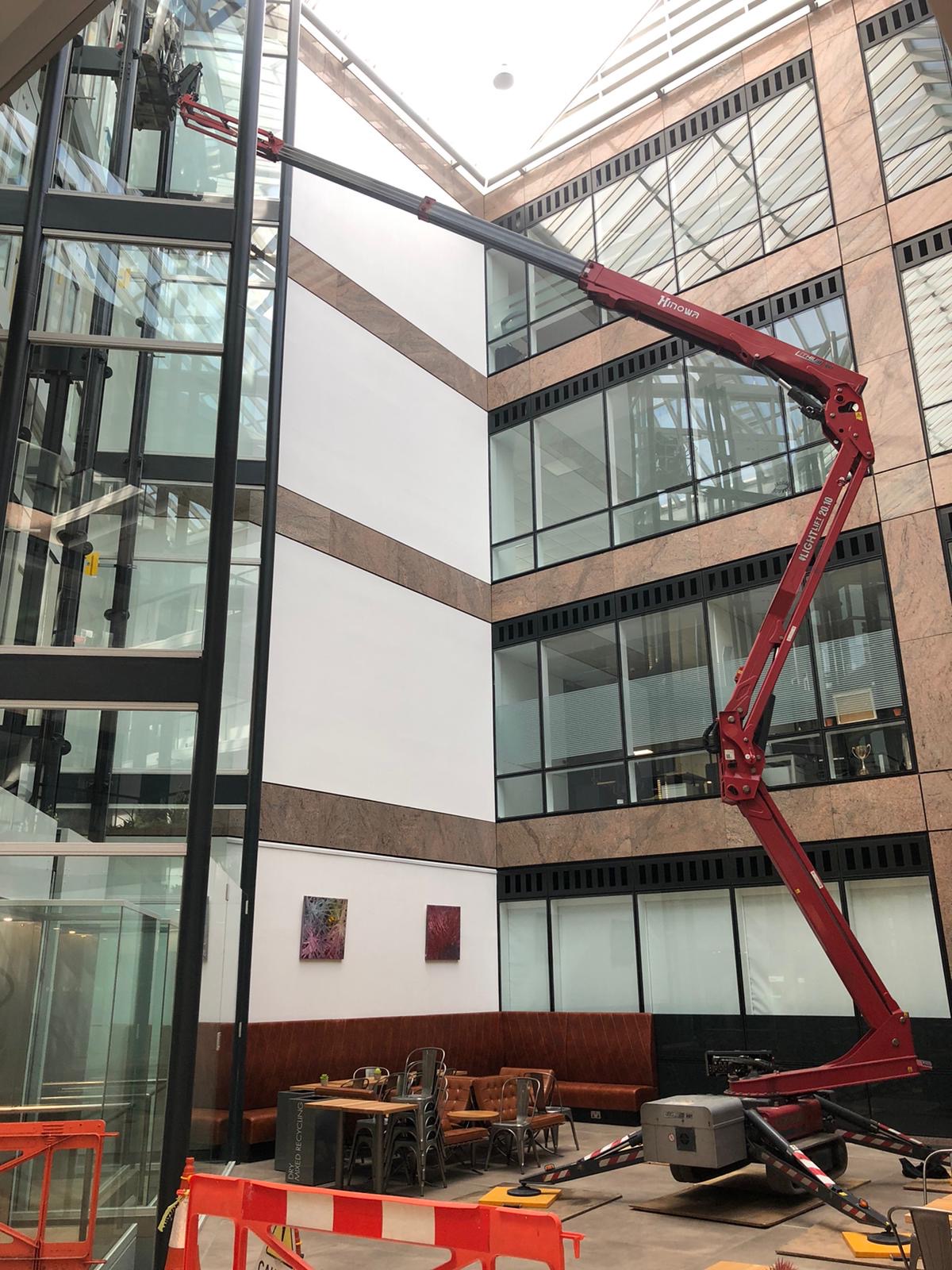 The Covid-19 pandemic is likely to boost demand for cleaner buildings even when the grime is well out of reach of the people using them.
That is the view of Charlie Price, Managing Director of the Price Group, one of the UK's leading specialist cleaning and high-level maintenance contractors based in Hemel Hempstead, Hertfordshire.
The company, which employs nearly 100 people and delivers services to more than 4,000 properties, uses a Hinowa Lightlift 20.10 Performance IIIS tracked spider platform supplied by Access Platform Sales.
Its highly skilled teams use it to provide enhanced high-level cleaning for a wide range of clients, including offices, shopping centres and transport providers.
Visibly clean buildings
Charlie Price said: "Post-Covid-19 I can see building users valuing cleanliness more and being less tolerate of environments they consider to be dirty.
"That will certainly apply to work desks and kitchen areas, places they can touch. But I think it will also apply to the wider environment. People will be happier in spaces that look clean from ceiling to basement, which presents facilities managers with a new set of priorities."
As lockdown eases, he says, there is pent up demand for companies like Price Group to get buildings back up to a level of cleanliness that satisfies facilities team and building users alike.
It is also likely, he adds, to mean cleaning regimes will be reviewed and are likely to be intensified to make all areas of work spaces "visibly clean".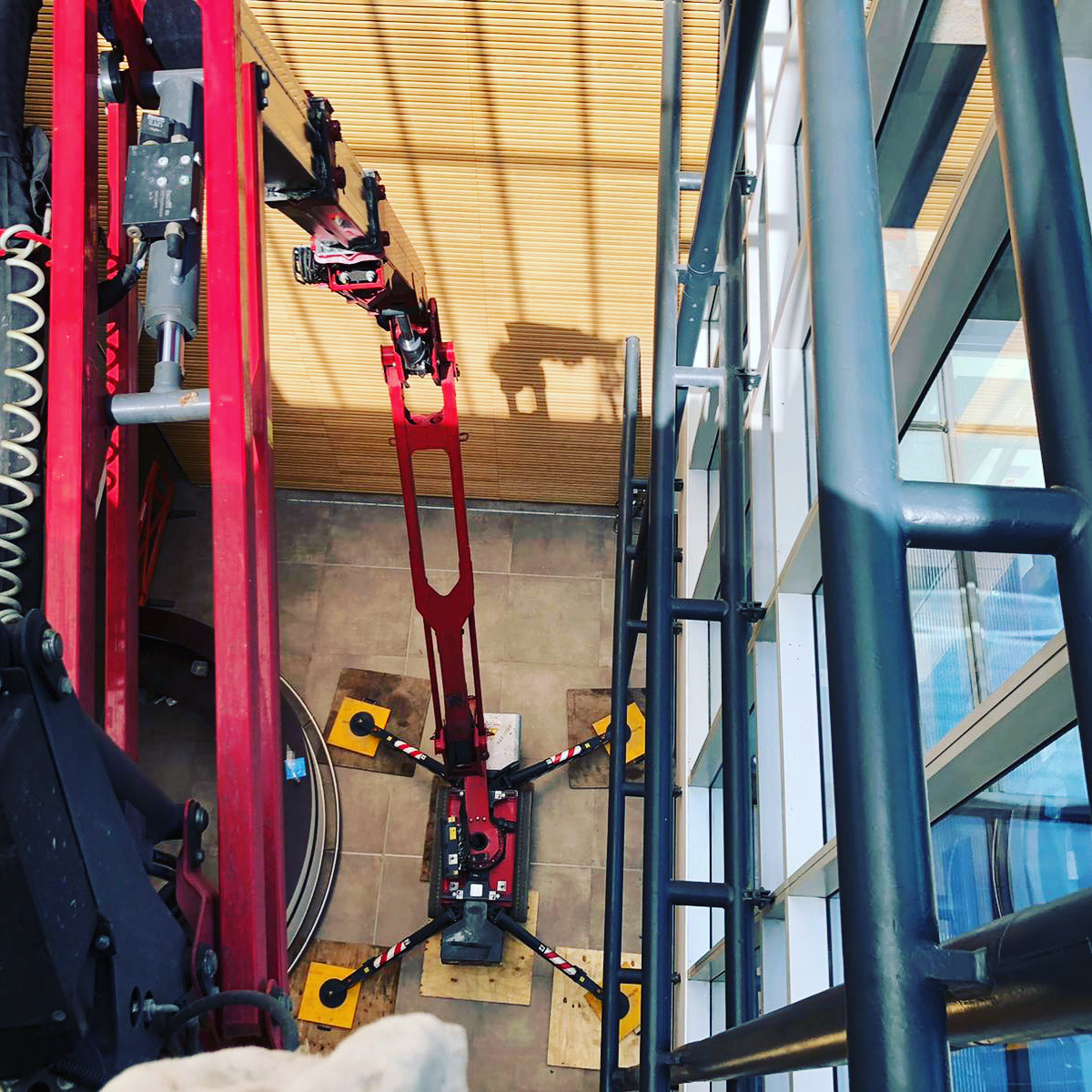 Post-pandemic deep cleans
Charlie Price says their Hinowa LL 20.10 lithium battery platform will be busier than ever as they use it to meet growing demand for post-lockdown back to business deep cleans.
"It may seem a bit strange that a spider platform should be a key tool in a post-Covid-19 world, but for us it certainly will be," he says.
"It allows us to get into the most challenging spaces and get to work quickly and safely to carry out environmental deep cleans, with least disruption to building users.
"That's an ability that our customers valued before the Coronavirus pandemic. Now they need us to support a critical phase in their business continuity planning, it's even more important."
Confined space working
Price Group uses the Hinowa LL 20.10 primarily for internal cleaning of atriums, though it is excellent for external work too. Its highly compact design allows it to be tracked into highly confined spaces.
The spider platform gives the cleaning teams a maximum working height of 20.15m and an outreach of 9.7m. Yet, in tracking mode, it is 1099mm high and the tracks can be retracted to just 795mm wide, allowing the platform to be moved through a single doorway.
With an unrestricted capacity of 230kg, the large basket has room for two operatives plus plenty of equipment and cleaning product to maintain high levels of productivity.
Hinowa's two-speed tracking system reduces down-time, while the smooth and precise controls, plus one-touch set up and stow, make the platform fast and safe for Price Group's experienced operatives to use.
Many of the new buildings the company is commissioned to work on are built on ever more constrained plots. Where once there was an access road around an office block, now there is a walkway.
Newly installed security barriers around buildings, plus access control systems inside them, add more obstacles that prevent conventional wheeled boom lifts from gaining easy access.
Hinowa – total flexibility
Another trend, the installing of basement levels in new office and high-rise residential towers, is imposing weight limits on atrium floors. That often makes spider platforms the only option for working at height.
"Our Hinowa LL 20.10 gives us total flexibility which allows us to make commitments to our customers that competitors can't," says Charlie Price. "We can get the Hinowa into unbelievably constrained spaces.
"It's light and compact enough to be towed behind a pick-up truck, so we can get it right to where it needs to be used, which saves both us and our clients a significant amount of set-up time.
"Also, as we have our own platform, we can commit to cleaning a building exactly when and where we need to. Often that means out of hours for our clients.
"We can do jobs that other systems can't. A lot of our clients first think of using reach and wash systems to clean at height, then realise there is no way to control the water run-off.
"The only option is then using scaffold systems, which are cumbersome and time-consuming, or MEWPs – and in our experience the Hinowa is the best platform on the market for doing this work."
Excellent customer service
The company has been just as impressed by the service delivered by APS, the UK and Ireland authorised distributor for all Hinowa products. "The service is excellent, we get exactly the right specification and delivery is fast and smooth," says Charlie Price.
Lee Louder, Regional Sales Director for APS, said: "We're delighted that the Price Group is getting such good use from its Hinowa spider platform.
"As we recover from the Covid-19 pandemic, demand for innovative, productive and sustainable cleaning technologies is only going to grow. And Hinowa platforms will play a significant role in giving building managers the cleaning systems they need."
The Price Group has opted for the lithium battery powered Hinowa LL 20.10 platform which provides low-noise and zero-emissions operation essential for indoor operation. If necessary, the platform can be run via a 110v mains cable, so power is always available.
The Hinowa LL 20.10 tracked spider lift can also be supplied with a low-emissions diesel or petrol engine and mains electric power – or as a bi-energy platform with a diesel engine and lithium batteries.
The Price Group was founded 1970 and is still a family-owned business. Its management team combines an innovative approach with more than 200 years of experience in the cleaning and maintenance sector.