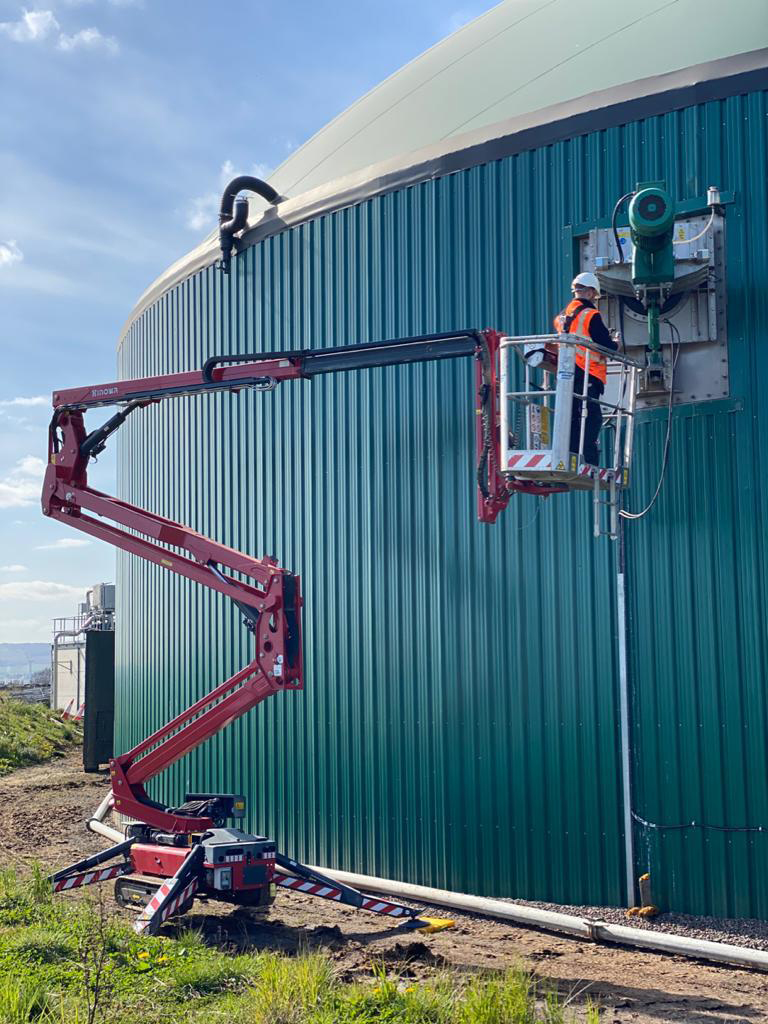 A Hinowa spider platform supplied by Access Platform Sales has proved to be the perfect working at height solution for maintaining biogas plants.
J Todd Plant Services has selected a Hinowa Lightlift 17.75 Performance IIIS tracked spider lift to fulfil a contract to provide maintenance at three biogas plants in Fife, in East Scotland.
"Our Hinowa is proving to be the perfect choice," says company owner Jamie Todd. "It can get anywhere on the biogas plant sites we work on, is quick to set up and easy to smooth to operate. It can't be faulted."
J Todd Plant Services, based in Glenrothes, Fife, uses the Hinowa LL 17.75 to carry out routine inspections and maintenance on a wide range of equipment on anaerobic digestion biogas plants, including pipes, valves, mixers and pumping systems.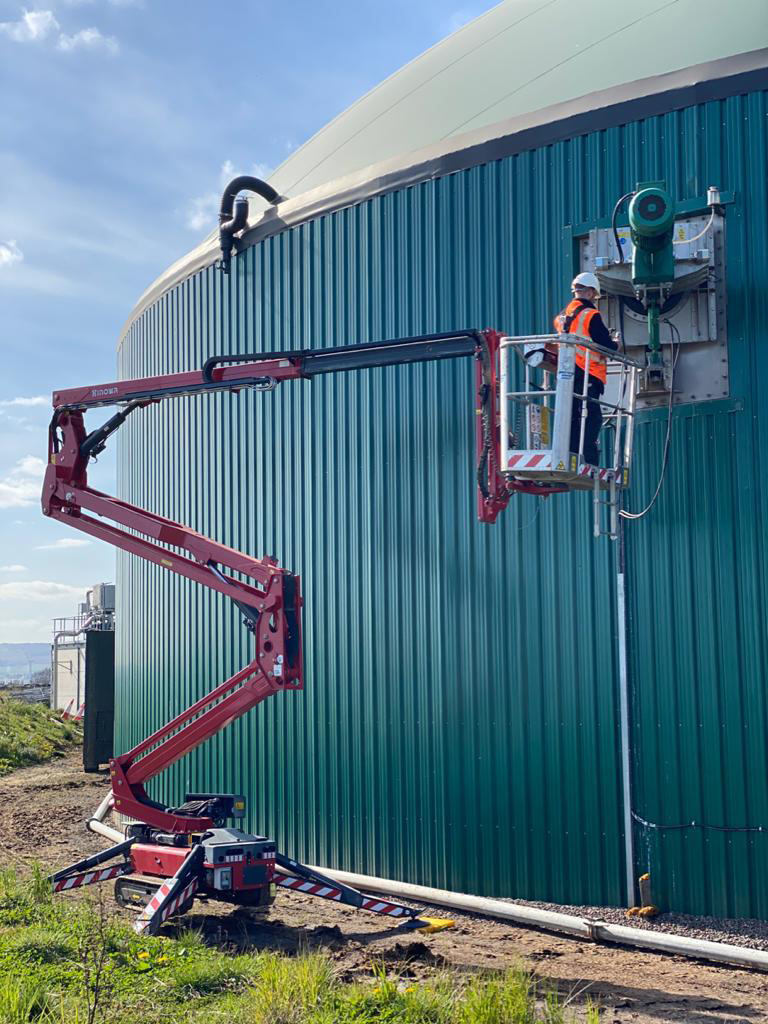 Jamie explained: "The Hinowa is an ideal machine for manoeuvring around these plants. Its two-speed tracking system gets us to lift locations quickly, so we make most productive use of our time.
"Its tracks and compact size (minimum tracking width: 798mm) means it can get into the tightest spaces. The one touch set-up and stow function makes it quick to get to height and safe to use."
"I can also tow the spider platform easily to all three sites, which is important because biogas plants can be located on quite out of the way places on farms.
"I used to hire platforms when I needed them. But now I have the Hinowa, there's no waiting for a machine to become available. I can just hitch up and get going. It's making a massive difference to my business."
The Hinowa LL 17.75 has a maximum working height of 17.06m and a maximum outreach of 7.5m. It has an unrestricted basket capacity of 230kg, a valued feature when there is a need to carry heavy tools and parts.
The platform also provides bi-energy performance. J Todd Plant Services has taken a diesel engine version. It can also be supplied with a petrol engine. Both can also be operated with a cable-powered 110v electric motor.
Jamie is not just impressed with the Hinowa LL 17.75. The service delivered by Access Platform Sales (APS) through its northern sales director, Shane Paver, and the fast delivery of the platform has also helped Jamie to seamlessly fulfil his new contact.
Jamie said: "The process from start to finish with APS has been great, with good communication and service. Shane also sourced me a very good skeletal trailer, which makes it easy and quick to transport, offload and load."
Shane Paver said: "We're very pleased that Jamie is so delighted with the Hinowa LL 17.75. Its rugged design and proven reliability are ideally suited to operating on biogas generation sites located on farms and other industrial sites, like food and drink factories.
"These anaerobic digestion plants are of growing importance to provide sustainable energy and products for other industrial uses. Being able to maintain them sustainably and effectively is equally important. Hinowa's range of spider platforms can clearly contribute to that process."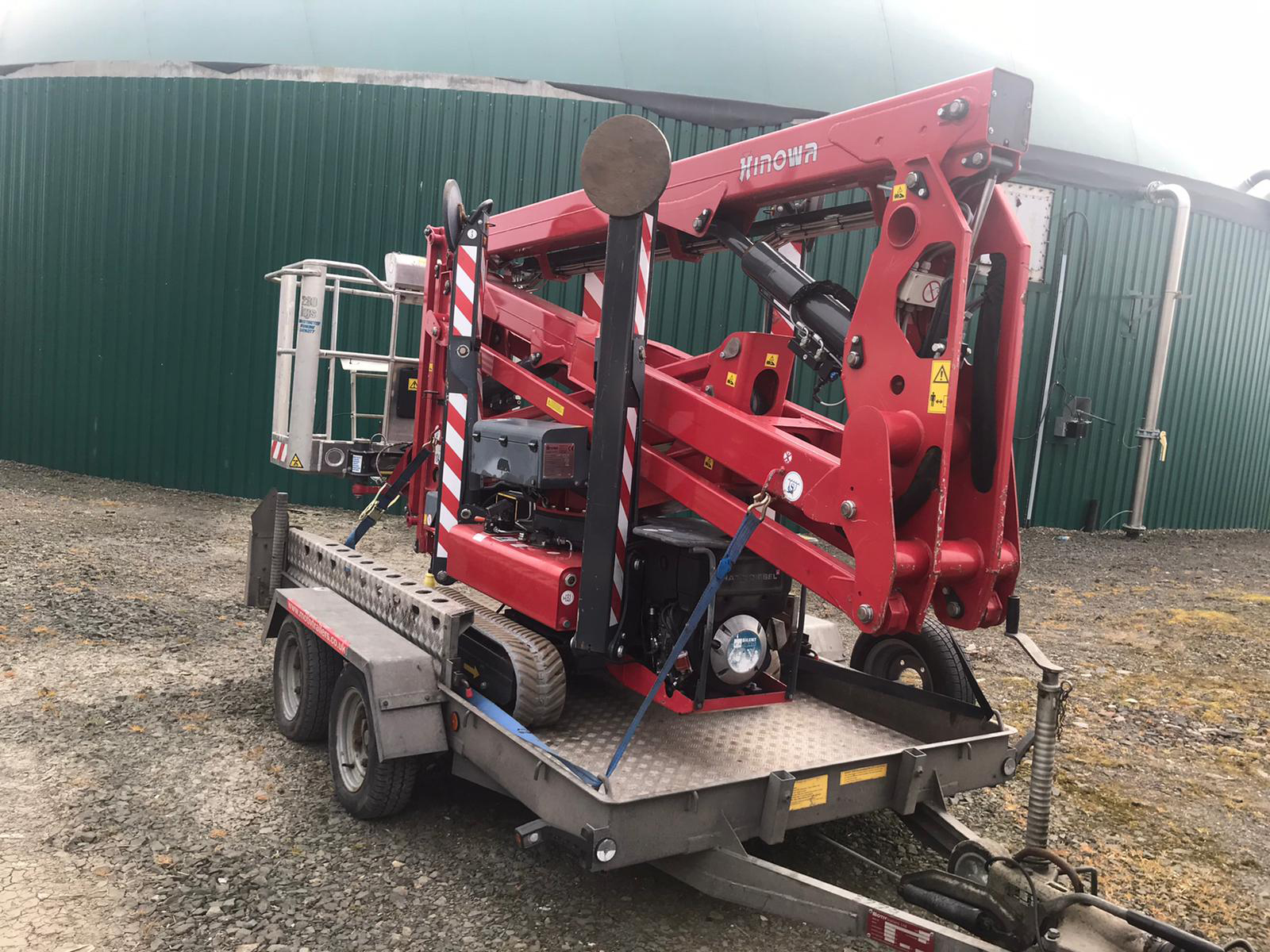 Jamie conducted detailed research to find the right spider platform, looking at online reviews and talking to other spider platform users. The positive feedback about Hinowa platforms gave him confidence he was making the right choice.
J Todd Plant Services will also use the Hinowa 17.75 for delivering other maintenance services, including tree surgery. At other times, it will hire out the platform to other companies and organisations such as building contractors and local authority maintenance departments.
Jamie said: "I wanted a bi-energy platform because it can be used both indoors and outdoors. Operating equipment with zero-emissions and low-noise is increasingly valued and stipulated by our clients as well.
"I have no doubt that our new Hinowa LL 17.75 will prove to be a good financial investment. There is a lot of demand for spider platforms in our area, and hire rates are healthy. It's great to have it."
The Hinowa LL 17.75 is one of a range of Performance IIIS spider platforms, which share the same industry-leading operating system, and provider maximum working heights ranging from 13.3m to 32.5m.
All can be supplied with the thermal/110v power or all-electric power lithium batteries. The 25.7m LL 26.14 and 32.5m LL 33.17 can also be supplied in another bi-energy format, with diesel engines and an electric motor powered by lithium batteries.