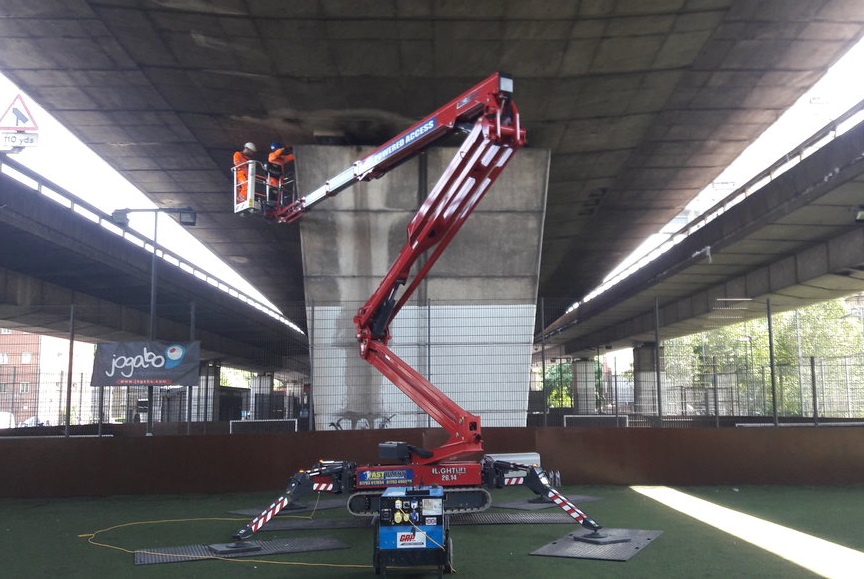 Tracked booms from Hinowa have helped Fast Plant Swindon Limited to solve a working at height challenge for Costain.
The A40 Westway, incorporating the Marylebone flyover, is a vital transport link for London that is used by 96,000 vehicles daily.
Costain required a working at height solutions in order to inspect 21 concrete supporting pillars along the route, which runs through the boroughs of Kensington and Chelsea, Hammersmith & Fulham, and the City of Westminster.
Fast Plant Swindon Limited worked closely with Costain to help it win the tender for the work. Managing Director, Mat Monet even carried out a detailed survey of the 4.6km route on foot, in order to recommend the best possible access platforms for each pillar. He selected a range of Hinowa Lithium tracked boom lifts, along with some Niftylift HR12 hybrid booms.
Marcus Hollan, Project Manager at Costain, said: "The service and support we received from Fast Plant Swindon Limited during the Westway tender was valuable to us in winning the works.
"Throughout the tender process, Mat continuously provided alternative and more effective solutions when presented with issues. I am excited to be working with Mat and the team on this project as it is reassuring knowing that we are getting the right service, which makes the difference. This will enhance higher productivity, increase customer satisfaction, and long-term ensure that there is less disruption to stakeholder/occupiers."
Following the successful tender, Fast Plant Swindon Limited supplied Costain with boom lifts specifically tailored to each task. The independent tool and plant hire company also provided an IPAF-accredited operator for the Hinowa machines, Sean Crowley, who was also required to oversee all access platform activities on site.
Inspecting the bearings at the top of the pillars posed some unique access challenges, as the area under the road is also densely occupied. It is home to a range of businesses, a leisure centre, football pitches and a comprehensive school.
The low ground pressure of the Hinowa booms meant that, when used with ground mats, they were able to cross over 3G football pitches. At one point, they also had to work on sand that was over half a metre deep.
Sean said: "Originally Costain had planned to use alloy towers for some sections that it had deemed too problematic for access platforms. I was able to demonstrate that the Hinowa Lightlift 26.14 Lithium could do the job in a fraction of the time. This also meant that they could eliminate the hire and labour costs of tower scaffold. The Hinowa boom had ability to fit into a pretty confined space, and had the up-and-over capabilities to get us over a 15 foot fence to where we needed to be.
"The Lithium booms are much quieter than diesel machines and this proved to be important for night shift work, as survivors of the terrible fire at Grenfell Tower were given emergency accommodation in the Westway Leisure Centre. During one shift, we were able to double the number of pillars inspected due to the efficiency of the Hinowa boom lift, which also improved productivity for Costain."
Fast Plant Swindon Limited has one of the largest fleets of Lithium-powered Hinowa tracked booms in the UK, with working heights of 15m, 17m, 20m, and 26m. All were purchased from Access Platform Sales (APS), the authorised UK distributor for Hinowa.
Mat Monet, Managing Director of Fast Plant Swindon Limited, said: "We pride ourselves on going beyond basic powered access hire, and instead we provide our clients with a full working at height consultancy.We have provided many hours of consultation to ensure that the project falls within time constraints and the correct equipment is provided throughout the assignment.
"This was a great opportunity for the Hinowa boom lifts to shine and they really impressed our client. The lithium-powered machines were quiet, emissions-free and solved some pretty tricky challenges."
Crawler-mounted booms have very low ground pressure and non-marking tracks, making them ideal for working indoors. Fast Plant Swindon Limited offers the Hinowa booms for hire with or without an operator nationwide. Kilo for kilo, the Li-Ion batteries can store substantially more energy than traditional lead batteries - and discharge that energy at higher rates. This ensures that Hinowa Lithium platforms have excellent operational performance while also being quiet, clean and environmentally friendly.