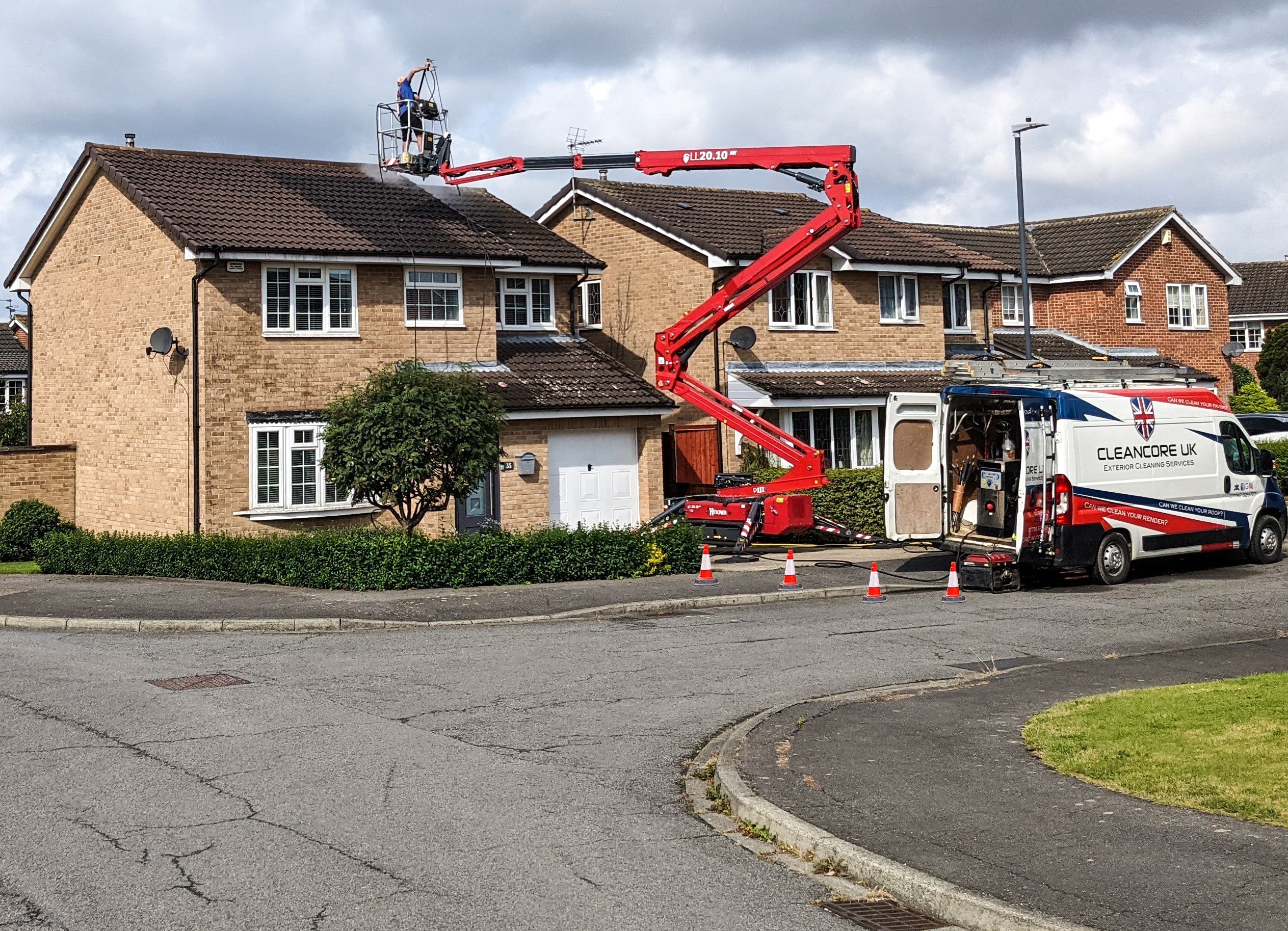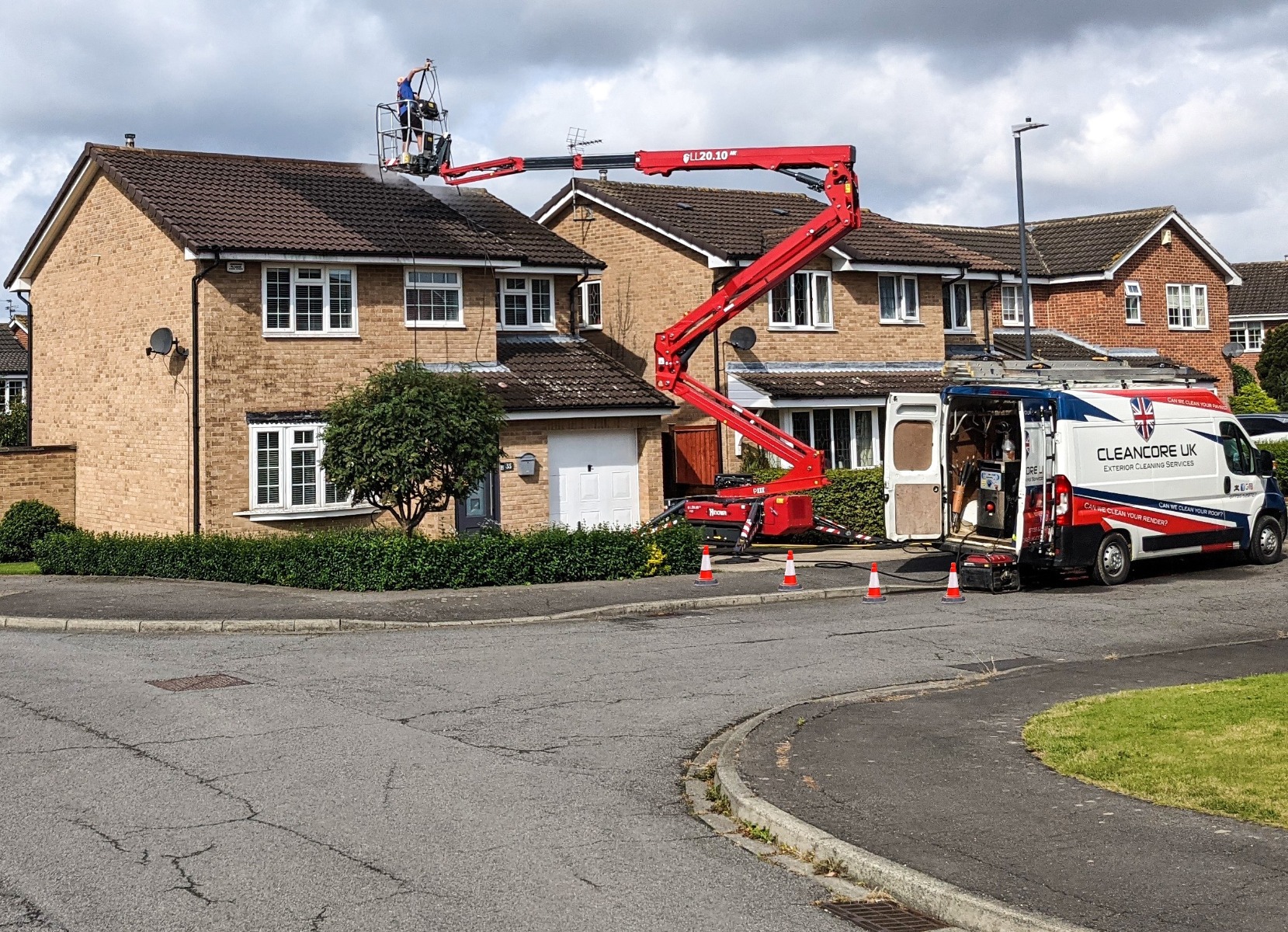 A specialist cleaning company has bought its own Hinowa spider platform and believes it will have a "massive" impact on its ability to attract new clients and grow the business.
Cleancore UK uses its new Hinowa Lightlift 20.10 Performance IIIS to carry out high level cleaning, including guttering and roof cleaning both for domestic and commercial customers.
Chad Campbell, Cleancore UK co-owner, said: "Having our own Hinowa spider platform is going to be massive for our growth as a business. It means we can respond flexibly to customer requirements.
"We're very pleased we made the investment. Having the Hinowa allows us to clean gutters and roofs from the best position, even if access is challenging, so we can do the best possible job for our customers."
Rapid growth
Chad Campbell founded Cleancore UK with his wife, Lisa, three years ago. The business, based in Thirsk, North Yorkshire, has grown rapidly ever since.
Previously, Cleancore UK had hired Hinowa spider platforms. But, as its high level cleaning service has grown, buying one of the spider cherry pickers has become the obvious option.
The Hinowa Lightlift 20.10 spider boom was supplied by Access Platform Sales (APS), the UK and Ireland distributor for all Hinowa products, along with a skeleton 3.5t trailer that allows the platform to be towed by a van or 4x4.
APS Northern Sales Manager Mike Weatherill said: "We're delighted that Chad and Lisa, and their cleaning team, are so pleased with their new spider platform. The Hinowa Lightlift 20.10 is perfect for the work they do.
"It provides unrivalled working height and reach for a spider platform of its size and weight. It's also the largest spider platform in the Hinowa range that can be towed by a 3.5t vehicle driven on a standard car licence."
Enhanced productivity
Cleancore UK delivers professional exterior cleaning services throughout North Yorkshire, including the cleaning of roofs, gutters, soffits and facias, render, brick and stone walls, patios, driveways and boundary walls.
The company is making full use of the Hinowa LL 20.10's compact design. In tracking mode, it is just 790mm wide, so can be moved through single garden gates to reach the rear of properties.
Yet the spider cherry picker has a maximum working height of 20.1m and as maximum outreach of 9.7m. It also has an unrestricted basket capacity of 230kg, enhancing productivity and safety.
The spider platform has other important performance features, including: one-touch fast set up and stow; dual speed tracking to get to worksites quickly; multiple safety sensors and alarms; and a stowed height under 2m to move through standard doorways.
Zero emissions
Cleancore UK has purchased the bi-energy diesel and110v mains electric powered version of the spider platform, so it can be operated outdoors and indoors.
It can also be supplied with an all-electric lithium battery, which is also ideal for outdoor and indoor use, while delivering zero emissions and low noise operation.
Chad Campbell said his teams, and clients, are particularly impressed with the low ground pressure exerted by the Hinowa LL 20.0's tracks.
"We've tracked our spider platform across the most pristine grass lawns and, with simple precautions, haven't left a mark," he added. "This is vital when we're working with domestic and commercial customers that take huge pride in their gardens and landscaped grounds.
"Having a Hinowa spider platform is a key differentiator for us. It's the equivalent of having a Lamborghini in terms of performance rather than a standard family car. Clients are very impressed."
Bright opportunities
The Hinowa LL 20.10 also opens up new income opportunities, including offering the spider platform for hire to other businesses when it is not being used, though currently it is being kept busy every day.
Having the Hinowa turns out to be a bright idea in another way. During the festive season, the company will also be able to offer its services to home owners to help put up Christmas lights.
Chad Campbell explained: "More and more people want to install elaborate lights at Christmas and we're already receiving enquiries from home owners who want our help to put them up."
APS supplies Hinowa spider cherry pickers with working heights that range from 13m to 33m, with the Performance IIIS range sharing the same operating system so operatives can easily switch between different models with no extra training.
Find out more about Hinowa articulating tracked spider booms from APS. Call 01480 891251.