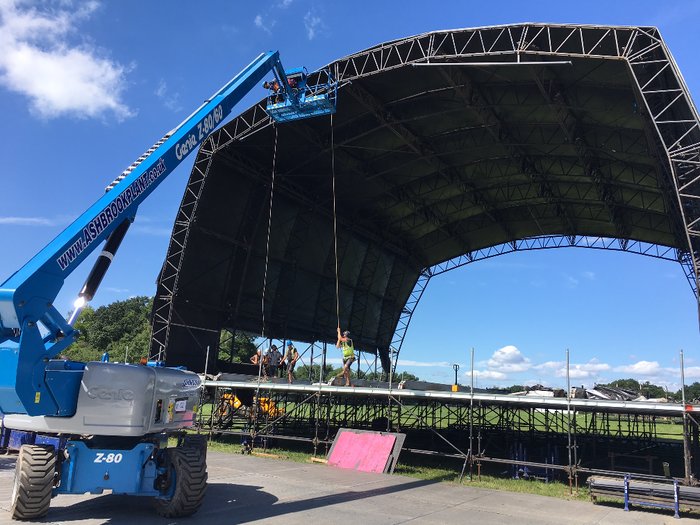 Plant hire company the Ashbrook Group is able to offer a more comprehensive service to its customers in the events sector, after investing in a fleet of Genie booms.
Ashbrook has purchased 124 access platforms in 2017, including an array of Genie Z-series articulated booms. Authorised Genie distributor Access Platform Sales (APS) supplied Ashbrook with Genie Z-30s, Genie Z-45s (diesel and bi-energy models), Genie Z-62s and Genie Z-80s. The high-specification machines include on-board generators, helping to serve events contractors with the most efficient product.
Mike Ashbrook, commercial director of Ashbrook, said: "Our oldest machine was acquired in December 2016, so we have one of the most modern access fleets in the UK. Our customers know they are getting modern, efficient and reliable access platforms.
"We researched the market and decided that we wanted to buy from the Genie distributor, APS, because of the after-sales support that they provide. They also went the extra mile in terms of warranty, which was exactly what we were looking for. This gives us much more visibility and transparency in terms of total cost of ownership."
The addition of Genie booms completes Ashbrook's offering to the events sector. "We have always supplied a lot of plant into the events sector, lighting towers, particularly telehandlers and rough terrain fork lifts," added Mike. "Now we can provide them with a single-source solution for lifting equipment and lighting. It has been a very busy summer.
"Our view is that articulated booms are in higher demand in the UK than straight-stick boom lifts. They can meet all of our customers' requirements in terms of working envelope and platform load. They are much more flexible, particularly for up-and-over access, which can be important in the events sector."
Founded over 25 years ago in Congleton, Cheshire, the company has undergone a rapid transformation in the past 12 months. In December 2016, Ashbrook acquired the former Hewden depots in Warrington and Bangor, after Hewden went into administration.
Along with events, the company is also growing hire sales in the construction market, particularly with steel erectors, as well as meeting burgeoning demand from quarries. It is a member of Access Link, where its presence in Wales through depots in Bangor and Amlwch is proving an excellent cross-hire opportunity.
"We have had our eye on the access business for a long time," said Mike. "The Hewden acquisitions brought us an access fleet and some extremely experienced people. We have drawn on that resource to develop our market strategy and it has been very successful so far. Our aim is to grow the access fleet to 200 machines by the end of 2017 and we currently have 172, so we are on course to meet our objective."