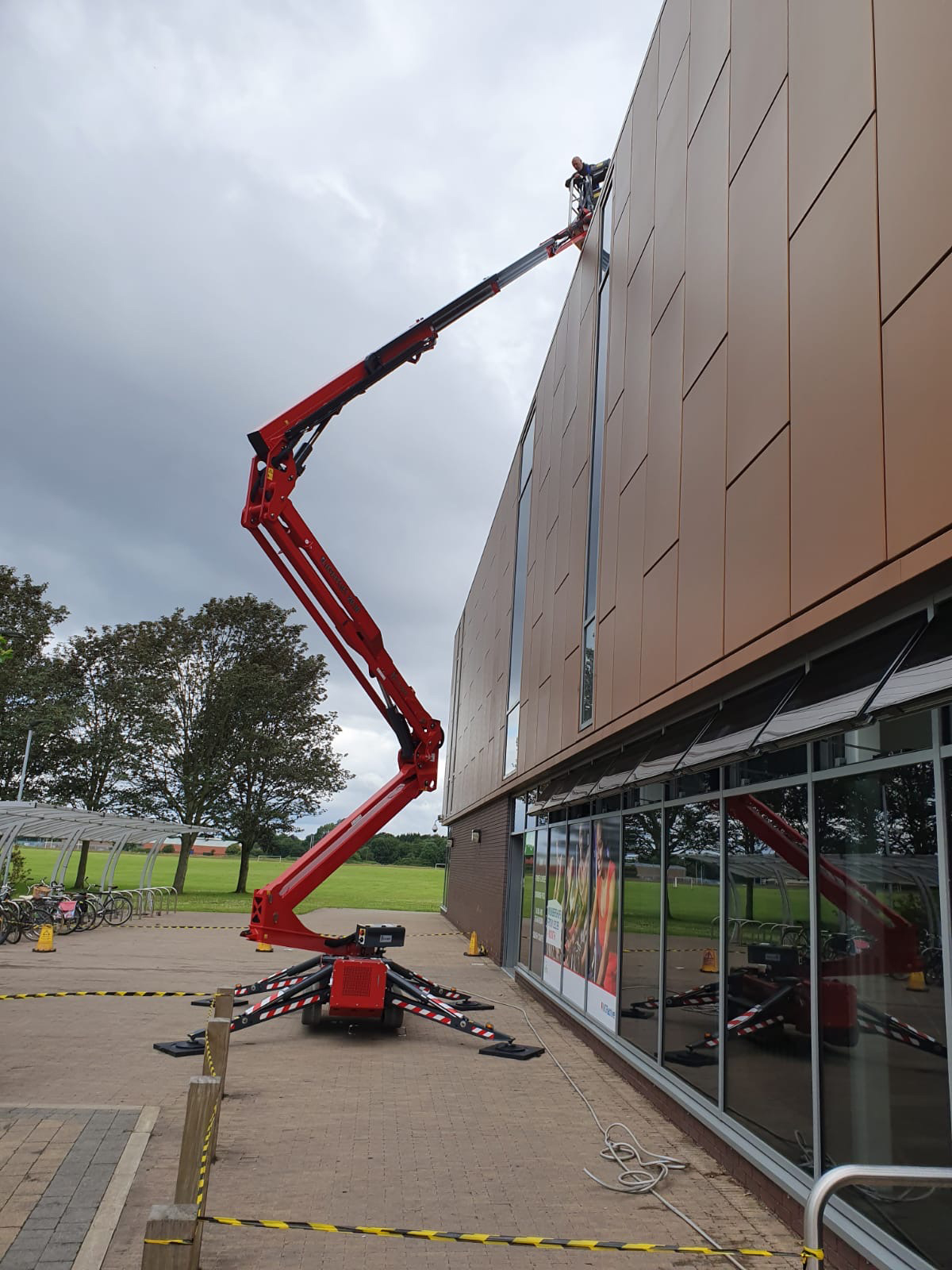 A cleaning and maintenance specialist has described its decision to buy a Hinowa spider platform – the biggest investment of its 20-year history – as an unqualified success.
Access Platform Sales supplied Lane Cleaning Services with a Hinowa Lightlift 20.10 Performance IIIS tracked spider lift, which has since made a major contribution to the business's growth.
Lane Cleaning Services Managing Director Anthony Lane said: "Having the Hinowa has opened up so many different opportunities for us. It was a big investment, but I haven't regretted it for a second.
"By having it, we've won more work from our current client base, added a lot more customers, many of them big organisations, and have moved into new sectors, especially building maintenance."
Impressive customer service
Anthony Lane also praised the service provided by APS, the UK and Ireland distributor for Hinowa products, saying the support given by the sales and technical team was impressive.
APS Sales Manager Mike Weatherill said: "We're delighted that Anthony and his team are so pleased with their new Hinowa spider lift.
"We were confident that the return on investment would be considerable and always do all we can to make sure clients get the maximum benefit from the platforms they buy."
The Hinowa Lightlift 20.10 spider platform delivers a maximum working height of 20.15m and outreach of 9.7m with an unrestricted basket capacity of 230kg, all industry-leading standards.
Lane Cleaning Services is based in Manchester and has customers across the UK. It had previously mainly hired in truck mounted platforms to work at height before carrying out a review of best options.
The company had wanted to diversify its service offer, as the 'reach and wash' pole cleaning market was becoming saturated with new entrants.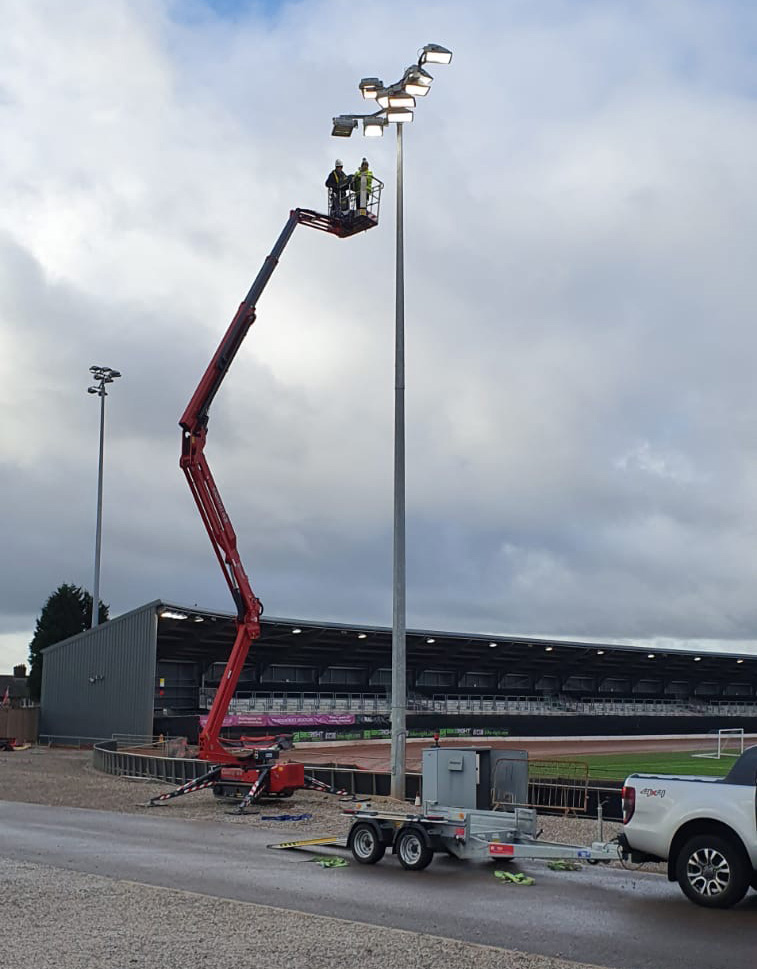 Hinowa platform 'right option'
"Having our own access platform looked to be the right option," said Anthony Lane. "We looked at various options, and after talking to APS selected the Hinowa, which has proved to be the right choice."
Over the last 12 months, having the Hinowa LL 20.10 has allowed Lanes Cleaning Services to deliver better service to current clients and move, as they had wanted, into new sectors.
The ability of the Hinowa to operate across uneven and low load-bearing terrain, and in confined spaces, has been key to this transformation.
On external cleaning projects, where previously a building would need to be scaffolded, they can now, in almost all cases, use the Hinowa spider platform, greatly reducing the time taken and disruption caused.
The company's teams have been able to complete jobs in one afternoon that previously would have taken days, if not weeks.
Attracting new customers
New customers have also come onboard. For example, a sports and leisure business that now uses Lanes Cleaning Services to maintain lighting at stadiums across the UK.
"Having the Hinowa allows us to provide customers with very competitive rates, because our work is so much more productive," said Anthony Lane.
"When we arrive on site, new customers are very sceptical because the Hinowa LL 20.10 is so compact. But when it's set up and the basket is in the air, they are instantly very impressed."
The company is now using the spider platform to carry out maintenance work for property managers as well as cleaning, adding to its service portfolio.
It is also being hired out, along with an operator, to work with surveyors, electricians and a range of other building professionals, who are all impressed with the spider platforms basket space and stability.
Setting high standards
Anthony Lane said: "We're still a relatively small business but we set high standards and having the Hinowa fits well with both the quality of service we deliver and the impression we want to make.
"Also, more companies are selecting suppliers based on health and safety when working at height, rather than price alone, with makes having the Hinowa a strong competitive advantage."
He added that Mike Weatherill gave good advice on platform options and "nothing had been too much trouble" for the APS team in familiarising them with the spider platform.
The Hinowa LL 20.10 is a popular choice for cleaning contractors, not least because it is the largest boom in the range that can be transported on a skeletal trailer, towed by a van or pickup truck.
Safety boost with one touch set up
The spider platform has a two-speed tracking system for fast and safe tracking to work sites and can be set up and de-rigged at the touch of one button, enhancing productivity and safety.
With a transport width of just 795mm and transport height of 1990mm, it can be tracked through a single doorway or a garden gate.
The tracked spider platform can be supplied with diesel or petrol engines plus AC mains electric power, or as a zero-emission all-electric spider platform, powered with lithium-ion batteries.
Hinowa Performance IIIS platforms range from a maximum working height of 13.3m to 32.05m. All share the same operating system, allowing operators to use all platforms with minimal extra training.