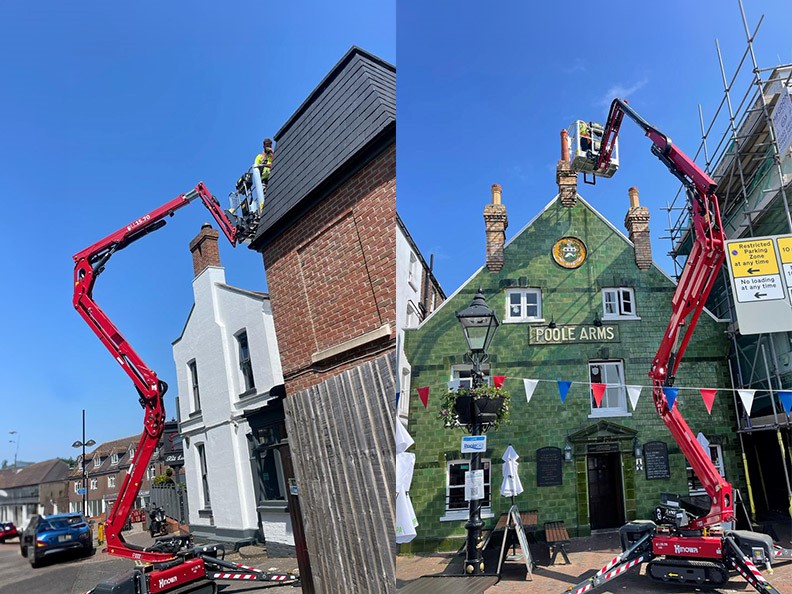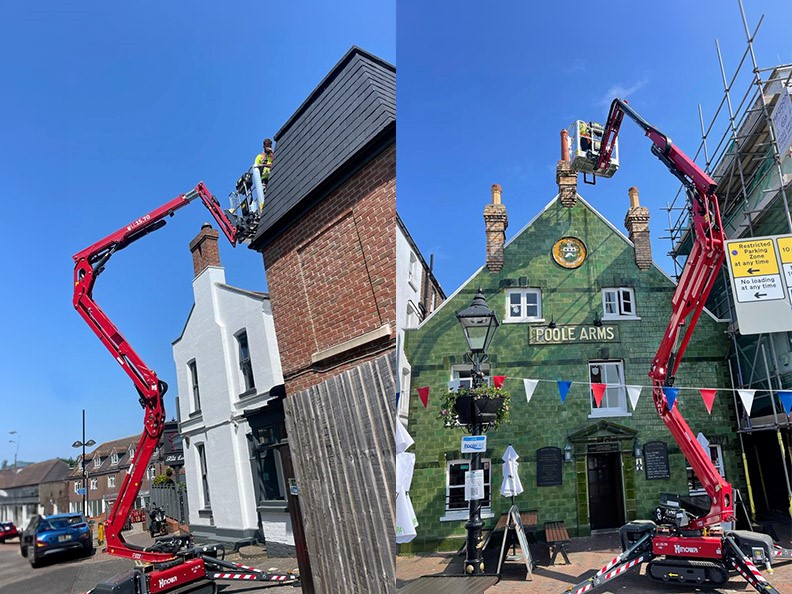 A construction and maintenance company has told how its new Hinowa spider lift has generated savings and new business worth over twice its purchase price in its first year of operation.
Hi-Tech Property Services has won new contracts and expanded its roofing work after investing in the Hinowa Lightlift 15.70 Performance IIIS tracked cherry picker supplied by Access Platform Sales (APS).
Impressing customers
Company owner Stuart Whitehouse said: "The benefits of having the Hinowa platform have been phenomenal. It's helping us reduce costs, it's impressing our customers and it's winning us new business.
"The platform has paid for itself at least twice over in the first year alone and, given the opportunities to win more roofing and building inspection work, its benefits for to our business can only grow."
Jonathan Wiseman, Sales Manager for APS, the UK and Ireland distributor for Hinowa products, said: "It's great to see Stuart and his customers gaining so much value from investing in Hinowa spider lifts.
"Their experience demonstrates that, in almost all cases, there is a win-win outcome, with companies like Hi-Tech Property Services and their customers both enjoying significant commercial gains."
Replacing scaffolding
Hi-Tech Property Services, based in Fareham, Hampshire, is a construction, repair and refurbishment company with a strong focus on the hospitality sector, working for hotels, pubs and restaurants.
It delivers maintenance, urgent repair and structural modification services for pub and restaurant chains across the south and south west of England.
Stuart Whitehouse and his teams are finding, for many projects, they no longer have to scaffold buildings – instead they use the Hinowa Lightlift 15.70 boom lift to inspect hard-to-reach areas and carry out repairs.
He said: "Because many pubs are a hundred or more years old and have been added to over time, they are complex and often fragile structures, so gaining access to high level areas isn't easy.
"In many cases, the only option has been to scaffold the building, which takes weeks to plan and to obtain local authority permits where the pub is right next to roads or pavements.
"Now we have the Hinowa, in a lot of cases, all that cost and effort is gone. Also, our customers appreciate it, because we can do the jobs much more quickly without any unsightly scaffolding on their premises.
"Often, we can carry out a first time fix on a roof or window repair within a day or two, when the same job would have taken a month or more to complete by conventional means.
"Also the work can be done by a team of two people not four or more, as is needed with a scaffolded project. It's certainly opened up a lot of new possibilities."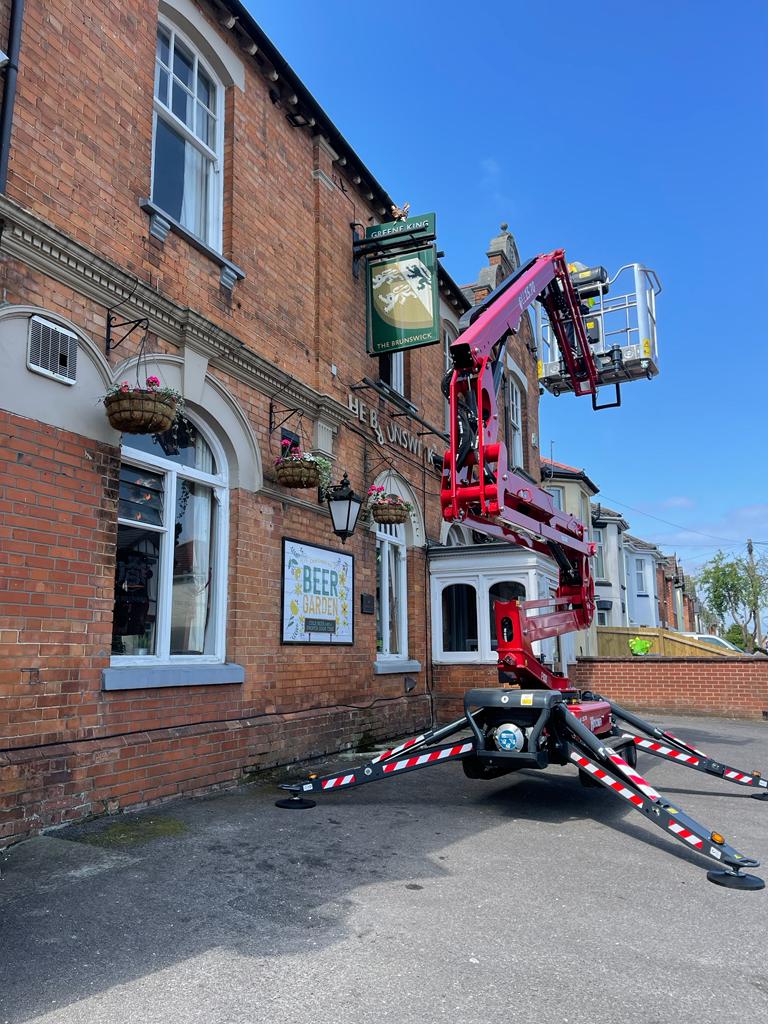 Reducing disruption
Those possibilities include expanding the company's roof inspection and repair work – as clients see the safety, speed and reduced disruption advantages of working on roofs from a Hinowa spider lift.
The company has even gone one stage further by investing in drones so it can offer its clients aerial surveys of upper floor areas of roofs, backed up by precision repairs carried out from the Hinowa Lightlift spider lift.
Hi-Tech Property Services selected the bi-energy version of the Hinowa Lightlift 15.70 spider boom, with a diesel engine plus the option of cabled 110v mains electric power for working indoors or in other zero emissions and low noise environments.
The spider boom has a maximum working height of 15.4m and a maximum outreach of 6.6m, which is ideal for working over the many low-level conservatories and restaurant extensions that have been added to pubs.
Low load-bearing
It has a tracking width of just 780mm, so can be moved through narrow gaps into, for example, pub gardens. In fact, Stuart Whitehouse tells how, in one case, they tracked the platform through a pub to reach a worksite.
Weighing just 1,950kg, the Hinowa LL 15.70 has excellence performance across low load bearing surfaces, such as paved outdoor dining areas and can be quickly set up in pub gardens using protective matting.
The spider cherry picker has an unrestricted basket capacity of 230kg – enough for two operatives or one operative plus tools and materials.
It has a suite of safety and productivity features, including one button platform leveling and stowing, for quick and confident operation. Also, it can be transported on a lightweight trailer towed by a van, a 4x4 car, or a pick-up using a standard car driving licence.
All Hinowa spider lifts are easy and intuitive to operate, with a shared operating system across the range – from working heights of 13m to 40m – so operatives can confidently switch between different models.
Find out more
Talk to APS's expert technical sales team today about how Hinowa spider lifts can transform your business, increase profit margins, impress customers and win new ones.
Telephone: 01480 891251. Email: sales@accessplatforms.co.uk.