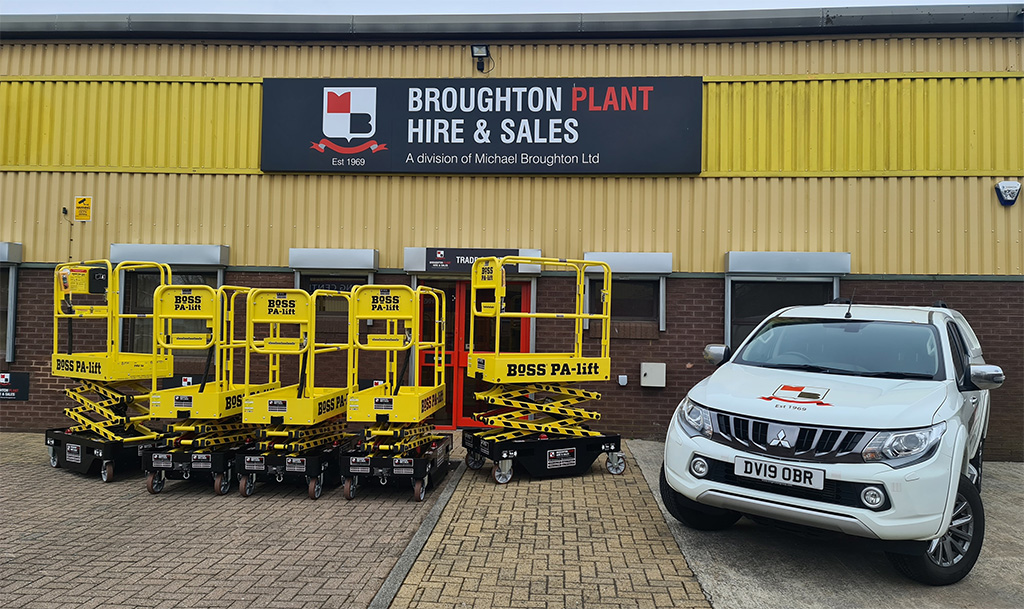 Low level access rental specialist Broughton Plant Hire and Sales is adding 50 BoSS PA-lifts to its fleet – the biggest order for the new scissor lifts to date.
Broughton's, which specialises in hiring tools and equipment to the heating, ventilation and fire protection trades, say the extra height the BoSS PA-lift provides means some of their customers will not have to rent larger self-propelled scissors.
Access Platform Sales, the exclusive UK and Ireland distributor for BoSS products, is delivering the first scissor lifts into Broughton's head office Southern Depot in Romford, Essex, and its new Northern Depot in Gateshead.
'Best low level platform'
The platforms will be rolled out nationally across all Broughton plant hire depots and the company is confident they will prove popular with its customers.
The BoSS PA-lift push around scissor lift, launched in 2021, has a maximum working height of 5.4m which is 200mm higher than the BoSS X3X and X3 scissor lifts it replaces.
Broughton Plant Hire and Sales General Manager Joe Zammit said: "We've looked at other push around scissor lifts. The BoSS PA-lift has the best working height and it's clearly the best low-level platform in its class.
"Adding 200mm doesn't sound much but it'll be a big benefit for our customers. For some jobs, it'll mean they won't have to move up to self-propelled scissor lifts, which need different IPAF operator qualifications, are more costly to rent and aren't as compact.
"At the very least, our customers will know their installation and maintenance teams will have that extra bit of height flexibility, making their jobs easier, more productive and safer."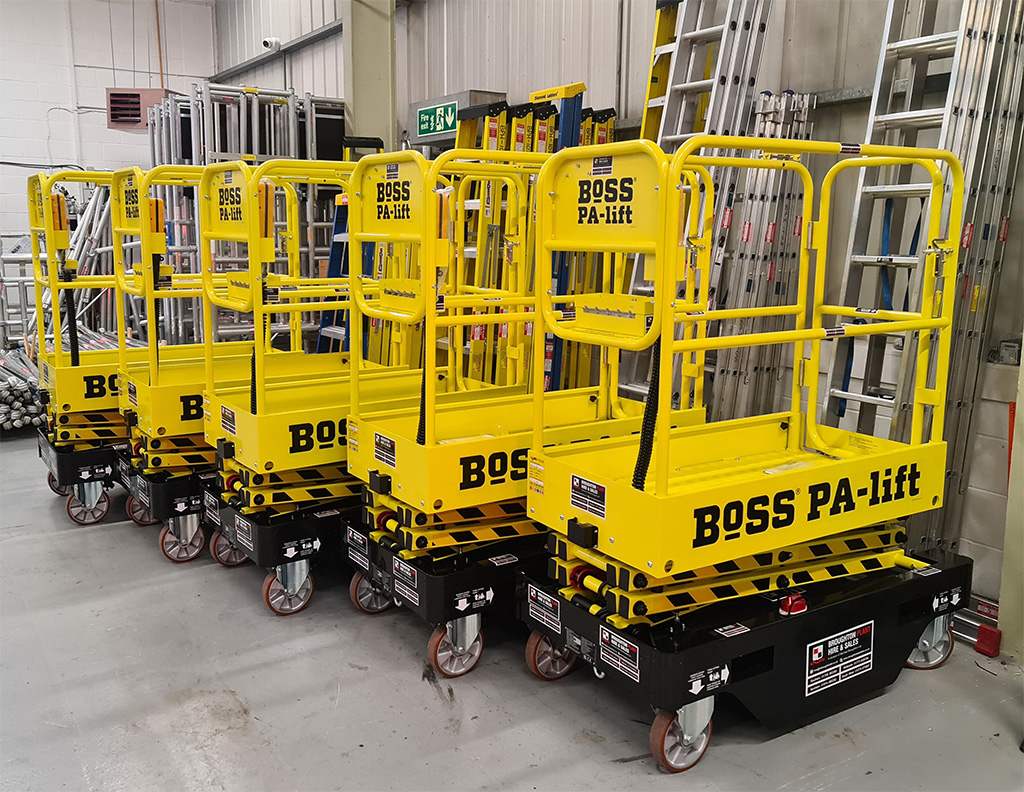 Functionality of larger platform
APS Major Accounts Manager Linda Betts said: "We're delighted that Broughton is one of the first access hire specialists in the UK to receive the new BoSS PA-lift.
"Low level access platforms have proven advantages over other working at height systems, in terms of safety, speed of set-up and productivity, and the BoSS PA-lift is a clear market leader, with functionality usually only found on larger platforms."
The BoSS PA-lift, which has a three-year parts warranty, is also the first scissor lift in its class that allows diagnostic data to be viewed and saved via a smartphone app.
Joe Zammit said: "This is going to be a big benefit for us and for our customers. We estimate that around 25% of maintenance call-outs we respond to could be resolved remotely if we have the right diagnostic data.
"That means a lot of time and costs saved for both us and our customers if we can use the BoSS PA-lift's remote diagnostic app as we hope to. It's going to be a big advantage for us."
Unique safety features
As well has increasing working height, the BoSS PA-lift's platform is 630mm wide, 60mm wider than the BoSS X3X and X3 scissor lifts it is replacing, and an increasing working capacity of 250kg.
Its overall width is still 760mm so it can be moved easily through a standard single doorway. Weighing just 375kg, it is easy to manoeuvre, and suitable for use on most floors where a low point loading is critical.
In another first for push-around scissor lifts, the BoSS PA-lift also has an overhead proximity sensor that increases the frequency of an ascent alarm after the platform gets to within three metres of an overhead obstacle – and stops platform ascent at two metres. The operator can then fine tune their working height.
The scissor lift has an array of other safety features, including tilt and overload sensors. It can also be fitted with a range of accessories, including a confined space guardrail and anti-climb guards.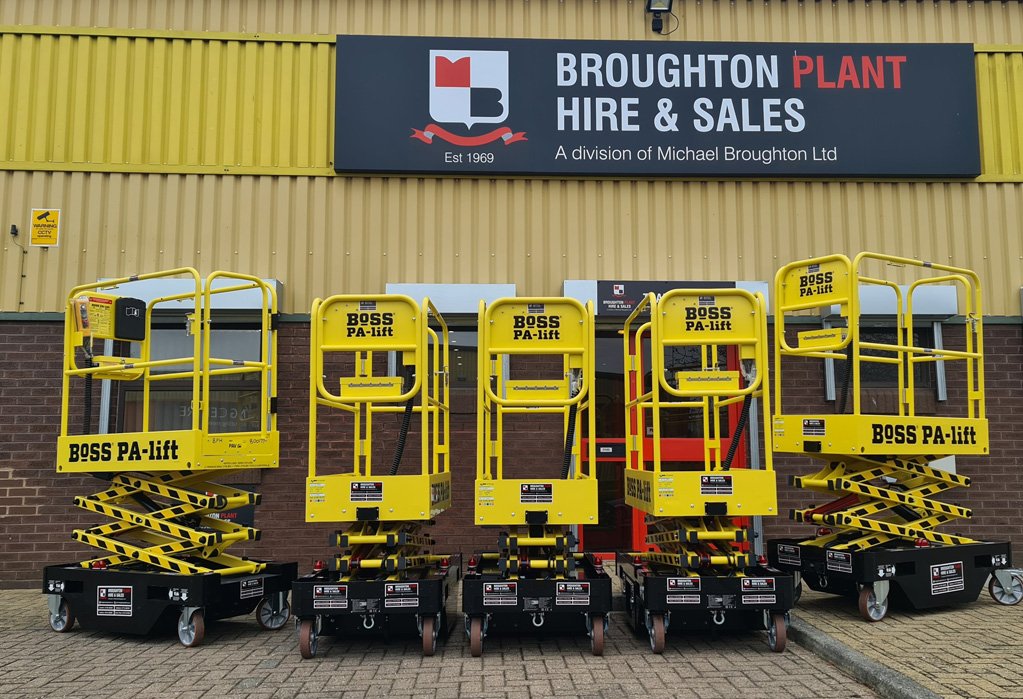 Low level access leader
Broughton Plant Hire and Sales was formed in 1984 as a trading division of Michael Broughton Ltd which started in a small yard in East London in 1969 and is still a family business.
It provides a national service from four depot locations across the UK in Romford, Alfreton, Bristol and Gateshead, with service founded on expert support and fast delivery of all tools and plant needed.
Broughton's runs a large fleet of both powered and push around low-level access equipment. It also stocks an extensive range of specialist M&E tools and equipment, including press fitting tools, pipe threading and fitting equipment and crimping and welding equipment.
Coupled with a large stocks of general power tools and site security solutions, Broughton's can provide customers in the M&E sector with a complete hire service.
Join the low level access leaders. Find out more about the BoSS PA-lift from APS. Call today: 01480 891251.