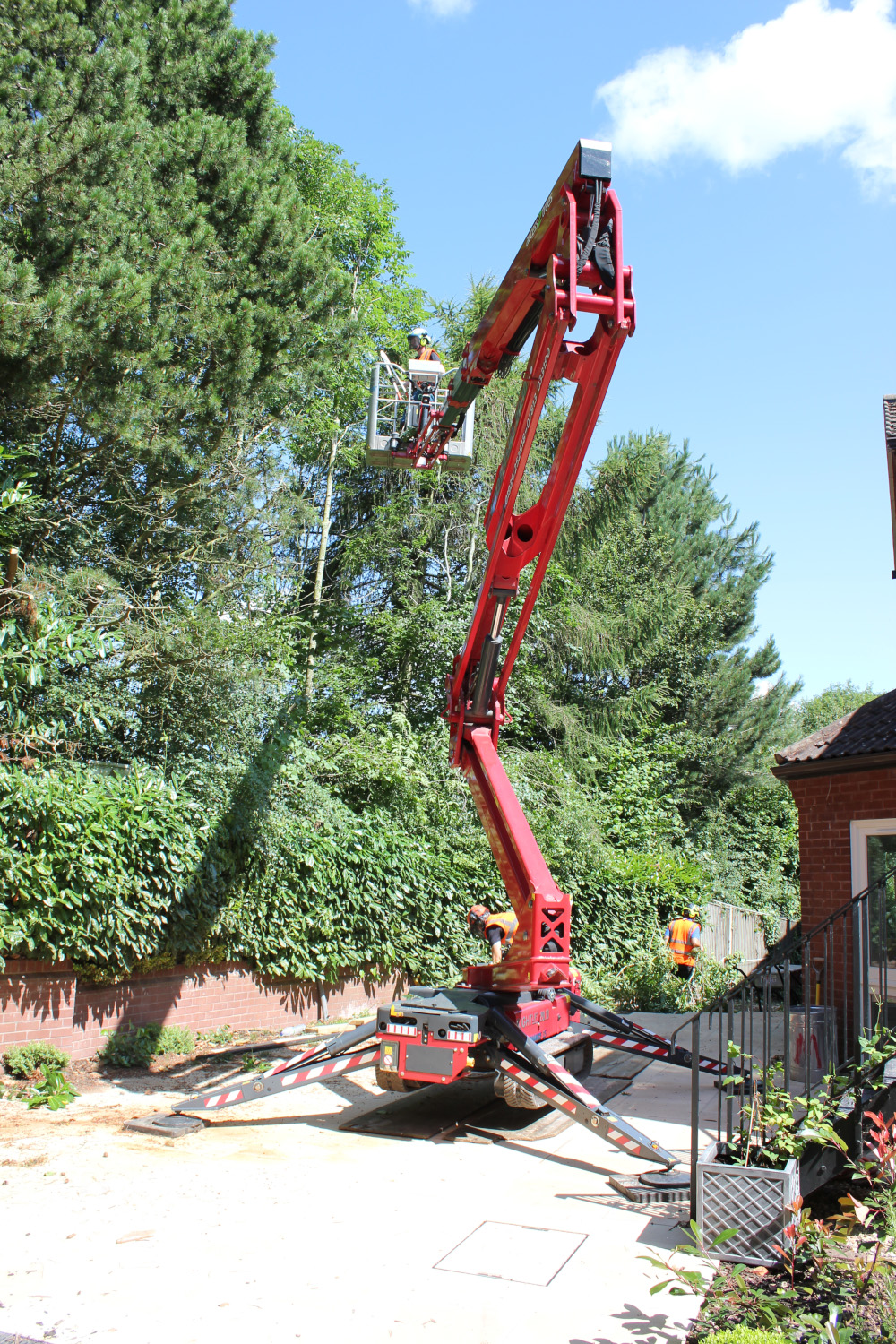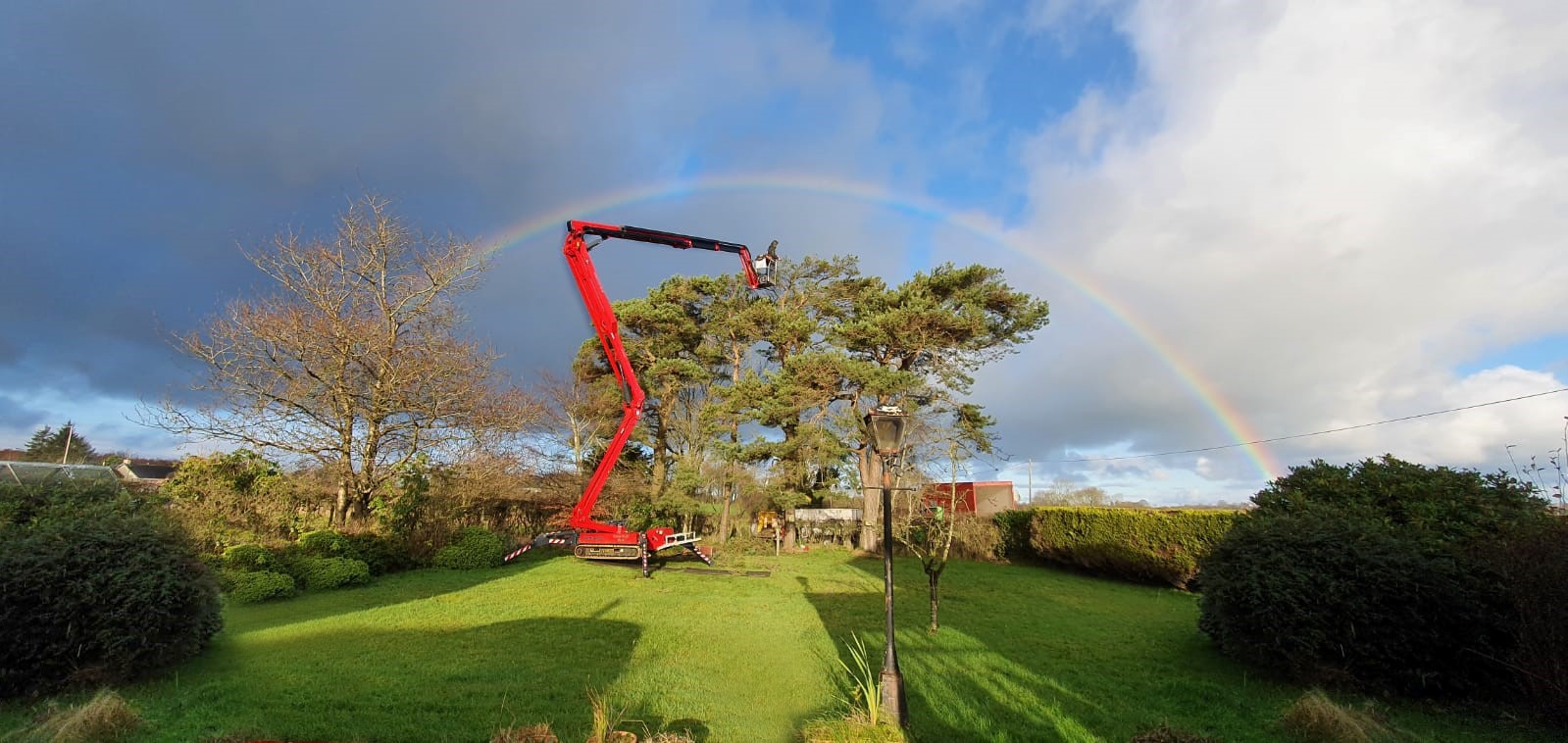 What is the best spider cherry picker for working on trees? It is a major consideration for tree surgeons as a switch to working from access platforms gathers pace.
The need to maximise safety and key challenges such as ash dieback and the presence of potentially harmful pests, such as oak processionary caterpillars, is driving the increased use of platforms in the arboricultural sector.
Hinowa spider cherry pickers, also known as spider platforms and spider boom lifts, are among the most popular go-to access platforms in the tree management industry across the UK.
Spider cherry pickers explained
The term spider derives from the hydraulic legs, also called outriggers, on the mobile elevating working platforms (MEWP). These are deployed to level and stabilise the machines when working at height.
Spider platforms are also tracked machines, which is why they are often called crawler boom lifts.
The combination of having stabiliser outriggers and being a tracked MEWP, allows spider cherry pickers to be designed to be highly compact, much lighter than a conventional wheeled MEWP, and very capable across rough terrain.
These design features are what make Hinowa spider platforms, distributed in the UK and Ireland by Access Platform Sales (APS), particularly suited to working on trees. And a clear favourite with tree surgeons.
Many Hinowa spider boom lifts are compact enough to be tracked down garden paths and through narrow gates to gain access to trees in gardens in need of pruning or felling.
Likewise, they can be tracked through dense woodland, where space is constrained by trees standing close together. Also, having tracks and being light-weight machines, they can be operated across uneven and soft ground.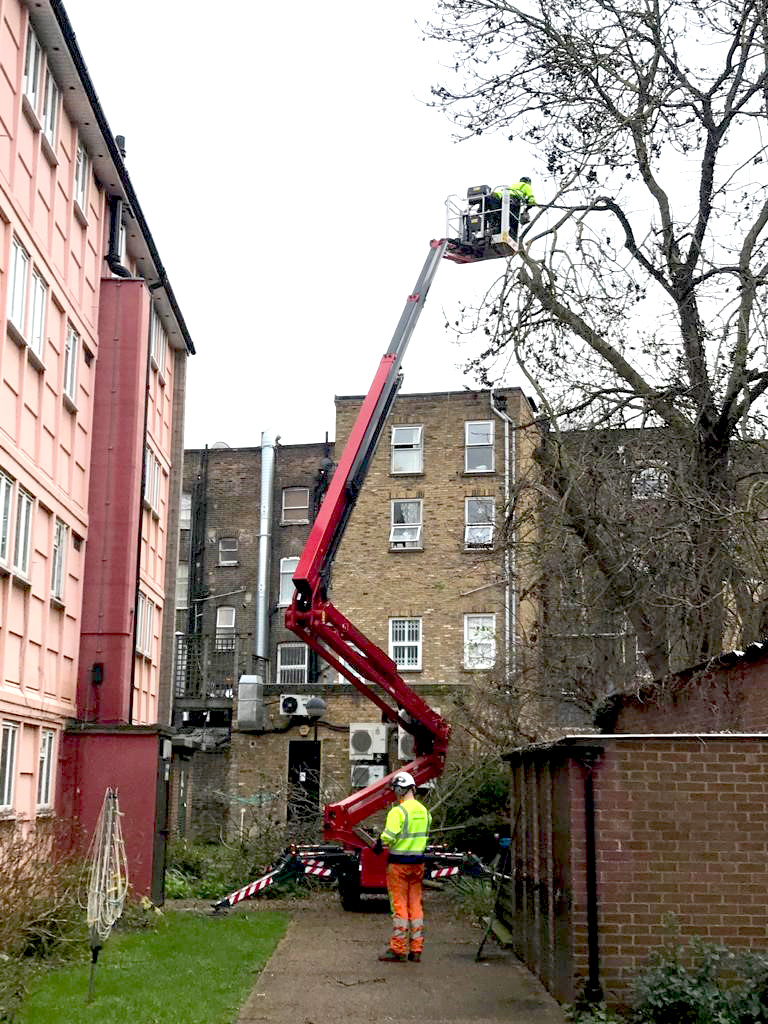 A Hinowa Lightlift 24.14 Performance IIIS spider boom lift being used to carry out emergency work on a storm-damaged tree in Surrey.
Safety case for spider cherry pickers
A key driver of change is the need to improve safety wherever possible. From 2020, the Health and Safety Executive (HSE) has insisted that tree surgeons must use a two-rope technique to secure themselves when working at height, not the single rope system they are more used to.
The arboricultural industry's code of practice has a risk hierarchy that places working from platforms firmly above using rope access to work on trees.
Industry experts say these tightening of regulations is likely to encourage more tree surgeons to use MEWPs to work on trees, and that will mean, in most cases, using spider cherry pickers.
Arborist James Plaskett, owner of Access 2 Trees in Shropshire, shares the views of many tree surgeons, saying: "Hinowa spider platforms are perfect for tree work, and have replaced rope climbing in most cases."
Jack Thompson, owner of Thompson Tree Services, in Derbyshire, said: "Our first thought is always to use the Hinowa. It's more productive and supports better quality and more sustainable tree maintenance as well as being safer."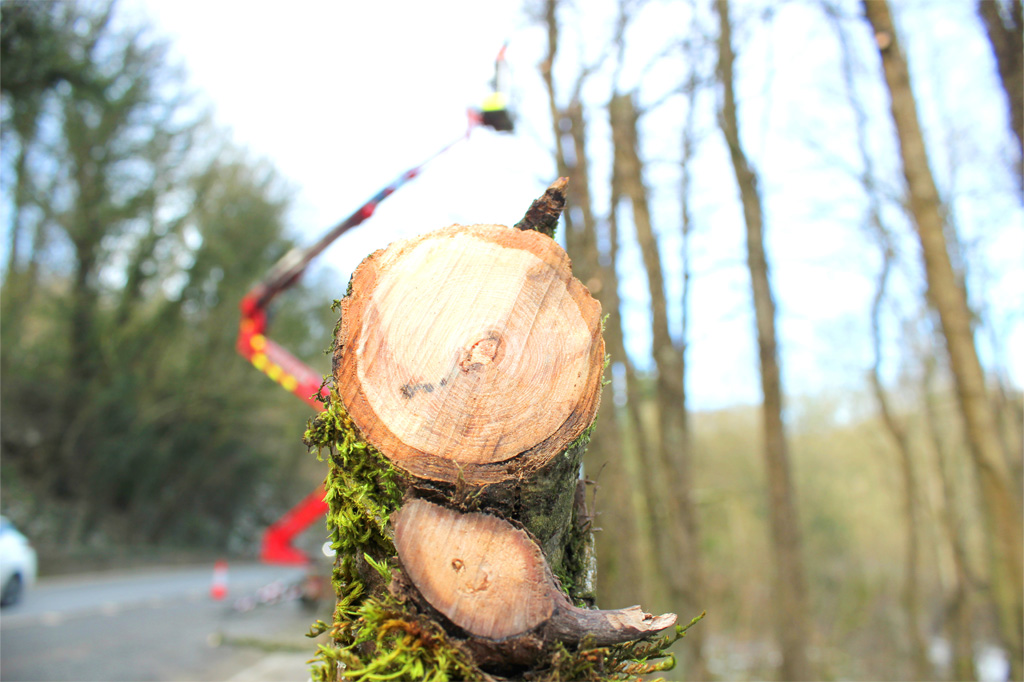 An ash tree infected with ash dieback – the tree surgeon was using a Hinowa Lightlift 20.10 Performance IIIS spider cherry picker to work safely to fell the trees next to a main road near Matlock Bath, Derbyshire.
Hinowa – designed for tree professionals
It should be no real surprise that Hinowa spider platforms are so popular with tree surgeons. The Italian-made machines have been designed from the bottom up for working on trees.
Hinowa has spider lifts that provide working heights ranging from 13 metres up to 33 metres. Perhaps one of the most popular platforms for tree work is the Hinowa Lightlift 20.10 Performance IIIS.
The spider platform has a maximum working height of 20.1m and maximum outreach of 9.7m, allowing it work on a wide range of trees. It is also just 790mm wide, which allows it to be tracked easily down paths and through garden gates.
A key feature is that it is the largest Hinowa spider cherry picker that can be towed by a van, pick-up, or 4x4 car on a light-weight trailer.
This means it is very easy for the Hinowa LL 20.10 to be taken off-road or down narrow farm or forestry tracks as close as possible to trees they need to work on before the spider is off-loaded.
Jack Thompsons said: "The Hinowa 20.10 is ideal for tree work. It gets up into the canopy quickly and is highly manoeuvrable. For example, boom slewing speed at full outreach is excellent."
The spider platform, like others in the range, comes with different power sources. In this instance, either a bi-energy version, with a diesel engine and 110v AC mains power, or an all-electric lithium battery version.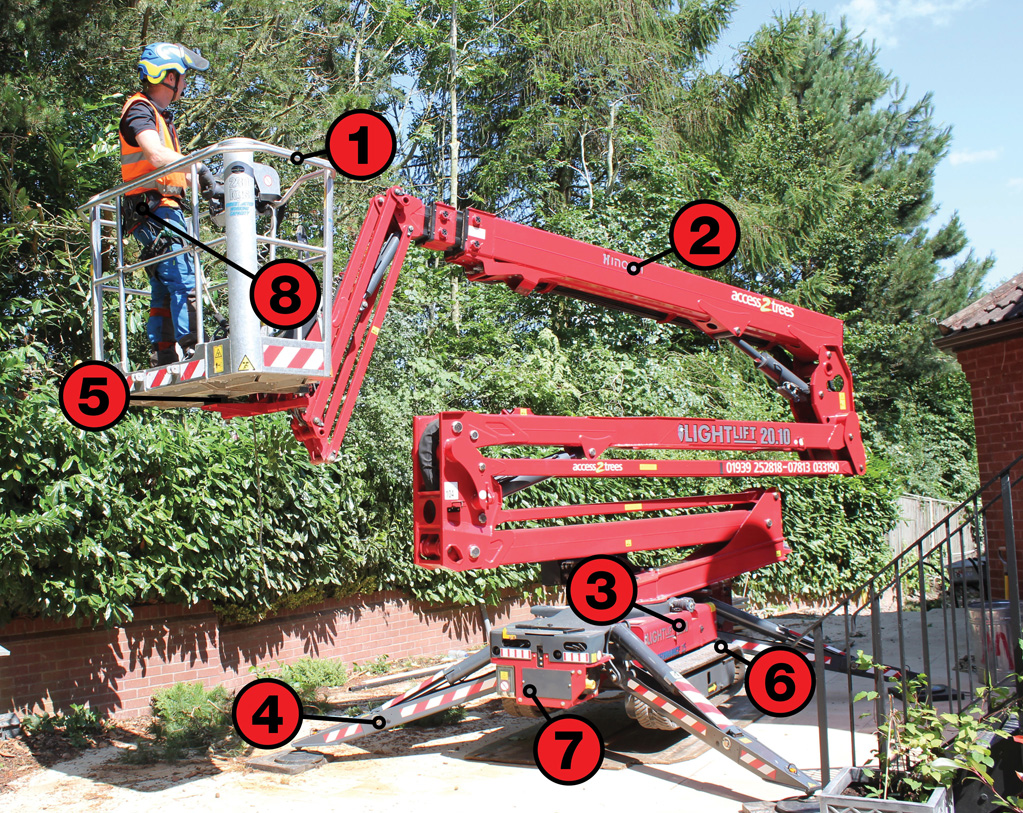 Hinowa spider platforms - a guide
1. Working height – 13m to 33m.
2. Articulating boom – For reaching over obstacles
3. Compact body – To get through narrow gaps
4. Outriggers – Self-levelling for speed and safety
5. Rotating basket – For precise positioning
6. Tracks – To travel over rough terrain
7. Power pack – All-electric, diesel, petrol, or bi-energy
8. Safety features – Include tilt alarms and auto return to ground
Larger Hinowa spiders for tree work
For tackling taller trees, tree surgeons turn to the two larger spider platforms in the Hinowa fleet – the Hinowa Lightlift 26.14 Performance IIIS and the Hinowa Lightlift 33.17 Performance IIIS.
The Hinowa Lightlift 26.14 has a maximum working height of 25.7m and a maximum outreach of 13.6m. The Lightlift 33.17 goes up a level again, with a maximum working height of 32.5m and outreach of 16.5m.
Advanced Tree Services, based in Surrey, has a Hinowa Lightlift 26.14. Its Operations Manager Christian Hodges said: "We were already well aware of the excellent capabilities of Hinowa boom lifts for tree services. But the Lightlift 26.14 is phenomenal.
"When you boom out, you feel it'll never stop. Its working height and reach are amazing. The Hinowa Lightlift 26.14 is allowing us to reach places at height that we couldn't do so before."
Safety and productivity built in
Hinowa has built in smart function that support safety and productivity. Working safely on trees at height does not mean working more slowly where Hinowa is concerned.
This includes a twin-speed tracking system that allows tree surgeons to get their Hinowa spider lifts to the worksite quickly, with less time lost.
There are one-touch set up and stow buttons that simplifies the process of stabilising the spider cherry picker safely for work and then quickly preparing the platform to be tracked away afterwards.
The range's unrestricted 230kg basket capacity gives operatives confidence that they will not have to reposition the platform, which is pretty important when there may only be one position to work from.
Tree surgeons also find Hinowa's renowned proportional control systems are smooth, easy to use, and allow them to position themselves precisely where they need to be to make the best cuts.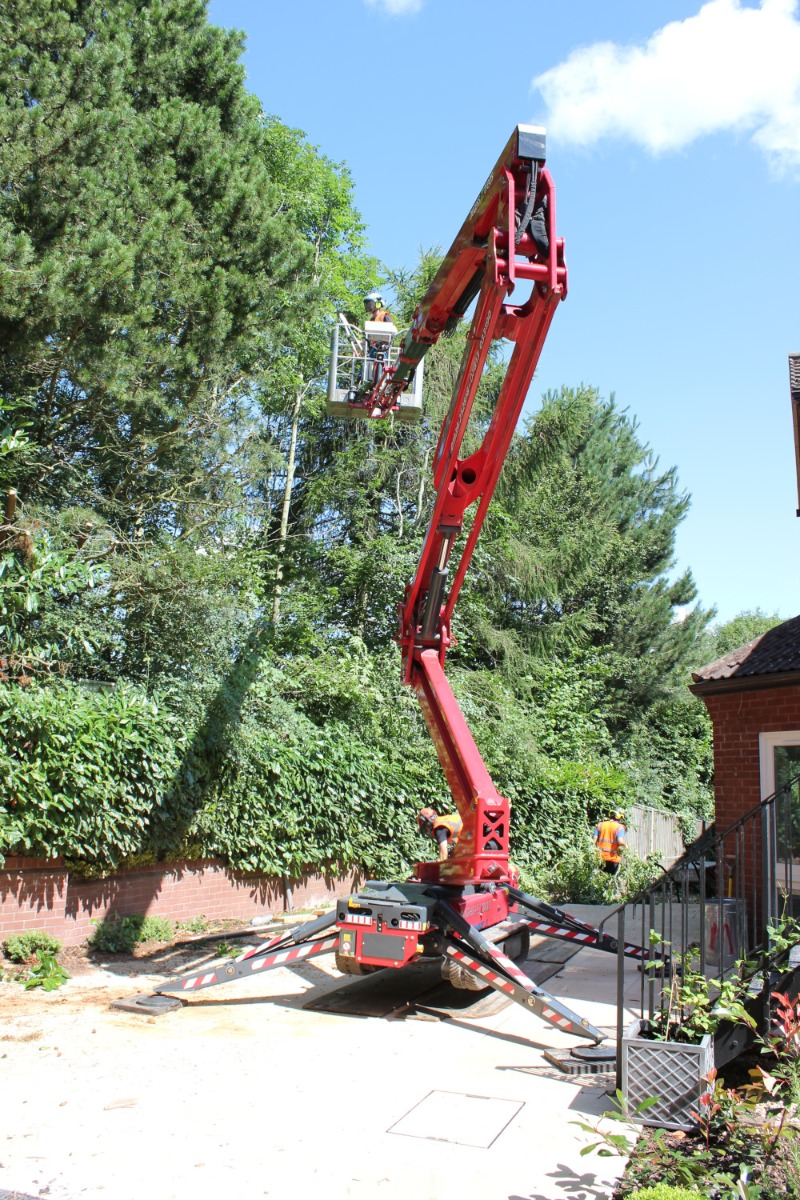 A Hinowa Lightlift 20.10 Performance IIIS spider platform working along a high hedge line in constrained space next to a care home in Shrewsbury, Derbyshire.
APS service excellence
Kirk Breeze, owner of Cutting Hedges, in South Wales, and his team of tree surgeons, use their Hinowa Goldlift 17.80 XL IIIS spider cherry picker to tackle a fast-growing number of ash dieback projects.
He said: "We're finding the Hinowa 17.80 to be perfect for that work. It's a brilliant machine. My team loves it. If we can use the Hinowa we do so because it's faster and safer, which is the case 70% of the time now.
"I was also very impressed with the service provided by APS. From platform selection through to delivery and familiarisation training, their expertise advice and support has been excellent."
Tree management companies considering investing in a spider cherry picker can contact the experts at Access Platform Sales for a consultation.
We can advise on the best spider for their needs – whether that be a new spider platform or a quality used machine prepared by APS, which saves on up-front cost.
Join the growing number of tree professionals working safely at height from the basket of a Hinowa spider cherry picker. Call us on 01480 891251.