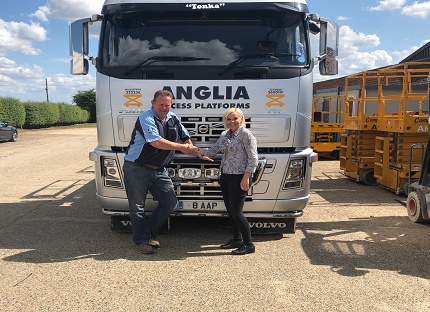 East of England powered access hire specialist Anglia Access Platforms has added two new Genie platforms to its expanding hire fleet.
Authorised Genie distributor Access Platform Sales (APS) has delivered a Genie Z62/40 articulating diesel boom lift and a Genie GS-5390 RT scissor lift. Anglia Access Platforms, based at Barford, near Norwich, in Norfolk, has a ready supply of hire customers for both machines, especially in the construction sector.
Mark Pratt, Anglia Access Platforms Director, said: "We work with a lot of cladding installers and the Genie GS-5390 scissor is very much one of their go-to platforms.
"It's very stable, has a good platform size and can sit right up against a building so installation operatives can work safely and quickly."
Fast service from APS is also a big plus when it comes to being able to select the best platforms, as well. Mark said: "With APS, you get quick delivery, so you receive the access platform when you need it. That's important when new business can come onstream quickly and a customer needs support straight away."
APS Major Accounts Manager Linda Betts said: "We're delighted Mark and the team at Anglia Access Platforms are so pleased with our Genie access platforms.
"A major benefit of Genie platforms is their residual value. After 10 years or so of excellent service, hire companies like Mark's can get good prices for their Genie scissors and booms."
The diesel-powered Genie GS-5390 scissor lift has a maximum working height of 18.87m, a double extension deck providing 7m of working space and a lifting capacity of 680kg. During cladding operations, for example, that allows up to three operatives plus tools and fittings to work comfortably around most cladding panels. With up to 50% gradeability, rough terrain tyres and proportional lift and drive, the scissor lift is also designed to cope well with uneven ground.
The diesel-powered Genie Z-62/40 boom lift has a maximum working height of 20.87m and a very impressive horizontal outreach of 12.42m. This makes them ideal for a wide range of uses, including structural surveys, digital communication mast installation and maintenance, and construction, including cladding and glass installation.
Anglia Access Platforms has been operating since 2003 and has established itself as one of the most successful powered access hire specialists across East Anglia.