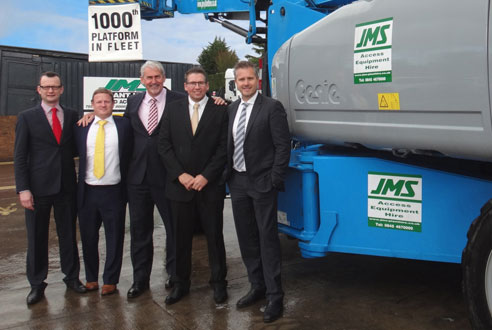 Access Platform Sales (APS) celebrates its 30th anniversary in May 2017. Jim Daintith, founder of APS, looks back on three decades in business without a single year in the red – and reveals how a fishing trip changed his life.
Jim Daintith started his career in civil engineering, before moving into sales of powered access – still a relatively new concept in the 1980s. After a successful spell at Southdown Plant, part of Hewden Stuart Ltd, he joined forces with Malcolm Brown, owner of access rental company Height for Hire, to set up a powered access dealership.
Jim and Malcolm were able to negotiate a regional distributorship for Genie personnel lifts and Niftylift trailer-mounted booms, along with Stothert & Pitt scissor lifts. In May 1987, Access Platform Sales was born in Huntingdon, Cambridgeshire.
APS was such a success that Jim and Malcolm were able to negotiate a larger territory from both Genie and Niftylift. In 1991 they took on more staff, laying the foundations for its next growth phase. Throughout the 90s, the company continued to expand. It became a regional dealer for JLG, then the sole UK distributor for Skyjack, followed by becoming the exclusive importer of Snorkel booms and scissors.
In 2007, Tanfield Group Plc, owner of the UpRight brand of platforms, acquired US-based Snorkel. This meant it had two UK dealers – Telford-based IPS, the UK dealer for UpRight, led by Tony Jennings; and Snorkel dealer APS. Rather than choose between them, Tanfield asked the two companies to work together. In September 2007, they formed a joint venture, named UpRight Powered Access Sales UK.
The financial crash hit Tanfield hard and ultimately both IPS and APS walked away from the distributorship. "Tanfield hit a sticky patch and it became unfeasible for both parties to carry on. However, the best thing that came out of it was undoubtedly the friendship I developed with Tony Jennings."
In 2012, a chance remark while on a fishing trip with Tony changed the course of both men's lives. "We were crossing this water meadow in our waders, fishing rods in hand. Tony remarked that, seeing how we got on so well, we should join forces. That was probably the best day's work we've ever done!"
The merger created IAPS Group, the UK's largest full-service distributor for powered access platforms. Bringing together APS's new and used machine distribution with IPS' award-winning replacement parts service and mobile engineer fleet, it gave the new company significant scope and scale.
"The Group very quickly became more than the sum of its parts. Tony is one of the most talented financial directors I have ever met, and he enabled me to focus on sales side of the business."
In 2014, Steve Couling joined as Managing Director from Versalift, enabling Tony and Jim to take a step back from the day to day operations – although both are still involved in the business. "Steve is an immensely capable and confident individual. He is exactly what the Group needed; someone to take it forward and drive the business through the next stage of its development."
In all its years of operation, APS has never once made a loss. "We had some years where the profit margin was pretty small, but we were always in the black. We never borrowed any money, so when downturns came, we didn't owe anybody anything, which put us in a very strong position.
"We always thought of ourselves as a speedboat, because we were small and agile enough to change course very quickly. We could react to whatever challenges the industry faced, whereas larger companies were more like super tankers – they took a long time to change course."
About APS
Founded in Huntingdon in Cambridgeshire in 1987, Access Platform Sales (APS) has grown into one of the UK's largest and most respected powered access distributors.
Today, the company offers a wide range of access platforms, lifting solutions and compact plant. It is an authorised Genie dealer and has enjoyed a strong relationship with Genie from the outset. APS is also the official UK distributor for Hinowa tracked boom lifts and tracked dumpers; MEC specialist lifts; Socage and Aldercote vehicle-mounted booms; and Youngman BoSS low-level access platforms. It is the UK dealer for Wienold Lifte material lifts and a reseller of Niftylift towable and self-propelled booms.
The company is an expert in providing finance and is a highly-regarded dealer in pre-owned access platforms, refurbished and sold through its Approved Used programme.
APS is part of IAPS Group, the largest independent full service distributor of powered access platforms in the UK. IAPS Group offers nationwide sales of new and used machines and comprehensive after-sales support including parts, mobile service and workshop repair for a wide range of powered access equipment.
APS timeline
1987 Begins trading as a dealer for Genie, Niftylift, and Stothert & Pitt
1991 Expands team to grow business
2001 Becomes UK dealer for Snorkel booms and scissors
2005 Enters tracked boom market as Omme Lift distributor
2007 Expands tracked boom offering with Hinowa range
2007 APS and IPS form a joint venture, UPAS UK, to sell UpRight lifts
2009 Enters low-level access market as Youngman BoSS dealer
2011 Confirmed as one of five official Genie distributors in UK
2013 Formal merger of APS and IPS into IAPS Group
2013 Enters vehicle-mounted boom market as UK dealer for Isoli
2014 Takes on UK distributorship for MEC
2014 Steve Couling joins IAPS Group as Managing Director
2015 Confirmed as one of three official Genie distributors in UK
2015 Takes on UK dealership for Aldercote van mounts
2017 Appointed UK distributor for Socage truck mounts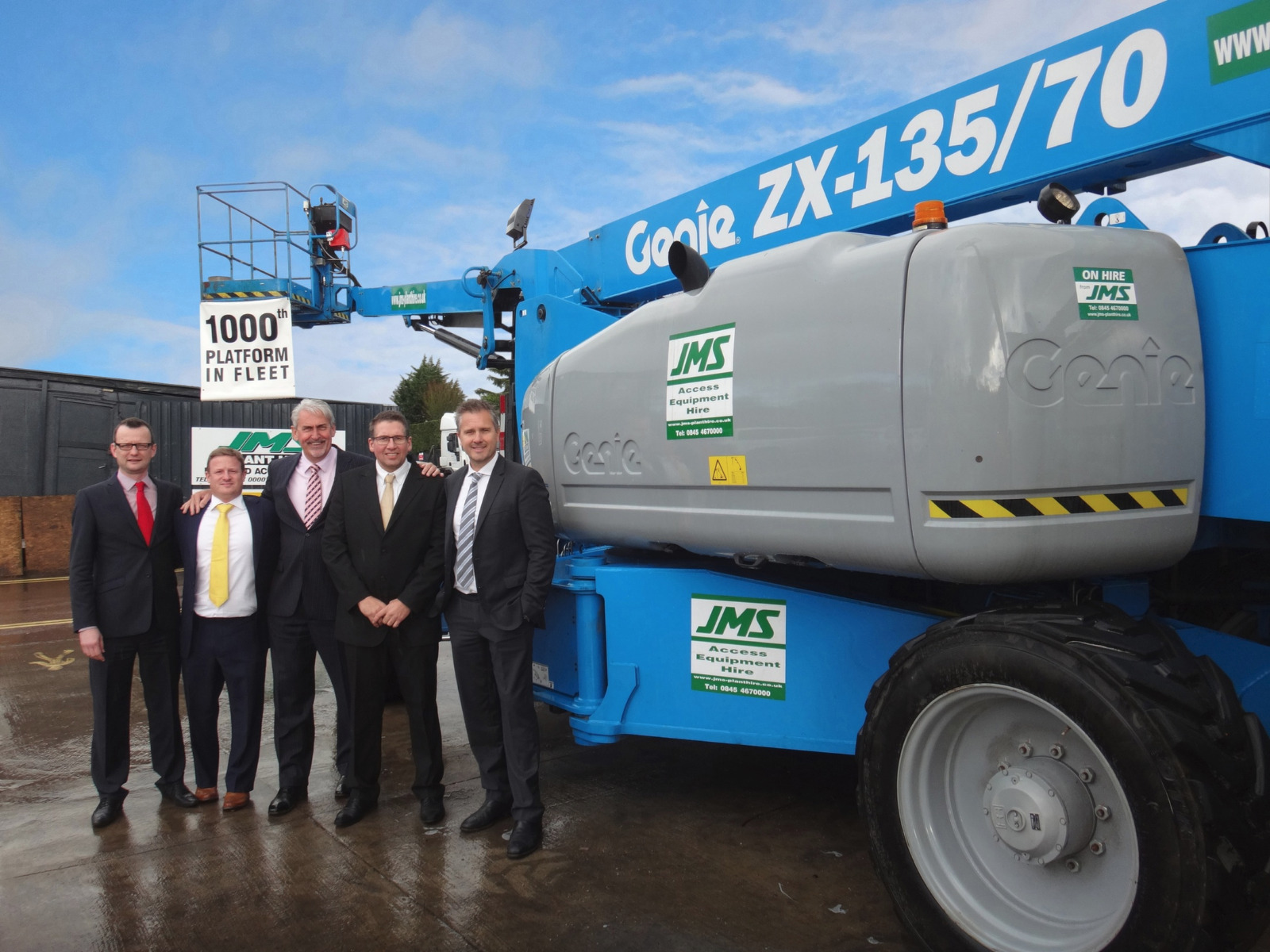 Jim, centre, hands over a boom to JMS Access