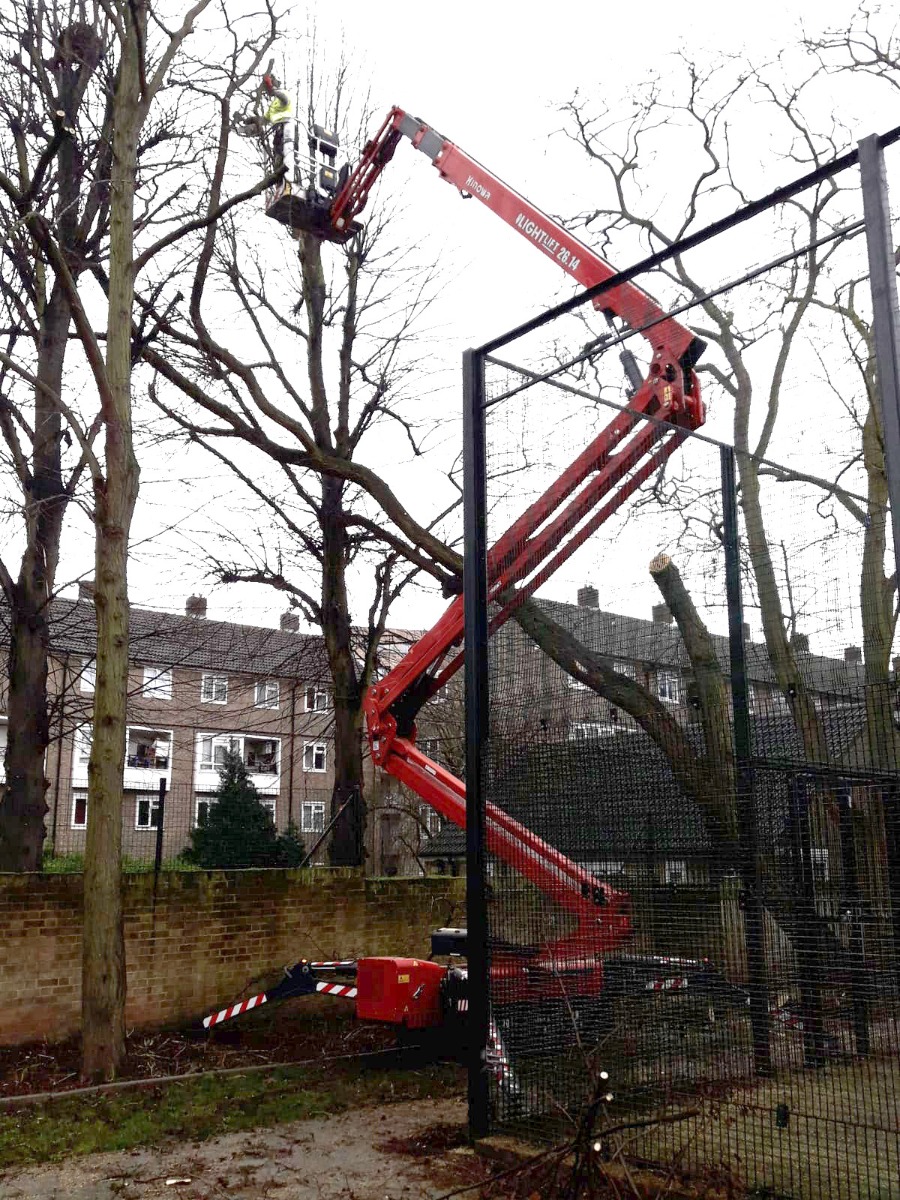 A leading tree service company has taken delivery of a Hinowa Lightlift 26.14 Performance IIIS spider platform and has hailed its performance as "phenomenal".
Access Platform Sales has supplied the tracked access platform to Advanced Tree Services (ATS), which operates across London and the South East of England.
ATS says the boom lift is already demonstrating its enhanced capabilities, which is contributing significantly to the service it can give to customers.
The company had operated a Hinowa Lightlift 23.12 Performance IIIS boom for 10 years, then decided to upgrade to the Hinowa LL 26.14 which has greater working height and reach.
ATS Operations Manager Christian Hodges said: "We were already well aware of the excellent capabilities of Hinowa boom lifts for tree services. But the Hinowa Lightlift 26.14 is phenomenal.
"When you boom out, you feel it'll never stop. Its working height and reach are amazing. The Hinowa Lightlift 26.14 is allowing us to reach places at height that we couldn't do so before.
"With the Hinowa Lightlift 23.12 there were only one or two large trees where we couldn't quite reach the top of the tree crown, but we haven't found one yet that the LL 26.14 can't comfortably manage."
Access Platform Sales (APS) is the UK distributor for Hinowa products, which also include tracked mini dumpers and tracked forklifts.
Lee Louder, APS Sales Director for the South of England, said: "We're very pleased to hear that ATS is getting such good service from its new Hinowa LL 26.14.
"It clearly demonstrates why Hinowa tracked spider lifts are becoming the access platform of choice for tree service specialists.
"They can be tracked through narrow spaces, such as paths to back gardens, they enhance productivity and safety and they're highly reliable."
APS also delivers a high quality after-sales service which includes familiarisation training, technical advice plus an on-site parts and maintenance service, if it is required.
The Hinowa LL 26.14 has a maximum working height of 25.70m and a working outreach of 13.73m. With a travel width of just 990mm, the spider platform is excellent for accessing confined spaces.
The LL 26.14 shares industry-leading functionality with all other spider platforms in the Hinowa Performance IIIS range, which makes it easy for operatives to switch between different platforms with no additional training. Other shared features designed to boost productivity and safety include:
An unrestricted basket capacity of 230kg, a key benefit for tree specialists who must often work with the basket at maximum outreach.
Hinowa's Auto2Speed system for fast tracking speed.
One touch automatic outrigger stabilisation for fast set up.
Similarly, a one-touch 'go home' function to automatically return the boom to the stowed position.
Smooth hydraulic controls allow precise basket positioning.
A highly effective anti-entrapment system supported by audible and visible alarms.
Within a few days of ATS taking delivery of its new spider lift, it was already proving its worth.
Its team was commissioned to reduce and remove poplar trees growing in a park next to tennis courts in Kingston-upon-Thames, in Surrey.
Christian Hodges explained: "We'd done the job seven years before, when we had to work from both sides of the trees, so we had to locate the boom lift in the tennis courts.
"With the Hinowa Lightlift 26.14 we could work from the park side only, booming through the trees to work over the tennis courts. It saved a lot of time and reduced inconvenience for our client.
"The Lightlift 26.14 will allow us to do more tree work in less time, which is very helpful when we often have limited time to complete jobs. For example, in Kingston, we had to reduce seven trees and fell seven others in just five days, which we could achieve using the Hinowa."
The Hinowa Lightlift 26.14 is one of six tracked spider lifts in the Performance IIIS series. They provide maximum working heights from 13.30m to 32.60m and outreach from 7.08m to 16.50m.
The platforms can be supplied with three power formats. They include bi-energy thermal engines (diesel or petrol) plus mains electric motors.
Certain models, including the LL 26.14, can also be supplied with bi-energy thermal engines plus Lithium-ion battery electric motors or as Lithium-ion battery all-electric platforms.